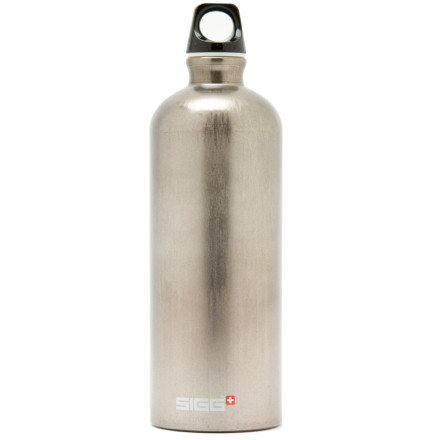 Share your thoughts
What do you think of the
Sigg
Traveler 1.0L Bottle
? Share a...
Bought this for my boyfriend but he left it at my house... so i started using it and found out that I really love it. I thought... "whatever it's just another water bottle" but the smaller mouth is much easier to drink from than a nalgene, my water tastes great, and the finish on the outside of the bottle is just nice and classy.

My only complaint is that there are a few too many threads in the screw top. I like to get to my drinking water a little faster than that. I would compare it to the Laken bottles... easier to get at your water especially nice when you are really dehydrated or just want a really quick drink. It sounds nit-picky but those kind of details can be really nice.
My Sigg is leaking. It has a very tiny...
My Sigg is leaking. It has a very tiny hole in the bottom that I've tried covering up with duct tape, but that doesn't seem to resolve the problem. What should I do? I'm not too confident about the durability of these bottles anymore, so I don't want to buy a new one. However, I would like to save my old one if possible.
I would return it to where it was purchased. Any reputable store would gladly give you the option of exchange or refund.
Write your question here...hoe much does...
Write your question here...hoe much does the empty bottle weight?
The 1L bottle weighs 5 oz. and the .6L weighs 3.5 oz. Hope this helps.
I can appreciate this bottle. My friend got one, loved it, so I decided to get one and see how I liked it. It's great. Way easier to drink out of than a Nalgene bottle. I always spill on myself when I drink from Nalgenes. The Sigg is great though. 5 stars
Sigg Traveler 1.0L bottle
Love this light bottle. Great for water or whatever you like to put in your mouth. The bottle does dent easily, but I agree with what someone else wrote before in that it gives the bottle 'character'. If denting bothers you, you might not want this bottle. The fact that it takes a while to unscrew might bother some too, I don't mind it, you can always get different tops (ie: sport top for easier access to the bottles contents). Also, liquids don't stay ice cold for too long. Overall, I love it.
it is what it is - a water bottle
It's a water bottle and it does what it is supposed to do - keeps water without leaking and does not leave an aftertaste. Yes it is expensive for a water bottle but it's very lightweight, it's eco-friendly, and the finger-loop is convenient to hold/strap down/etc. Larger ice cubes won't fit in it but smaller, thinner ones will. The bottle does dent, but the overall integrity is not jeopardized. To clean it, just stick a little dish detergent in it and rinse it out several times. You could also buy cleaning tables and/or a SIGG cleaning brush.
How do I clean and care for sigg bottle....
How do I clean and care for sigg bottle. Can I put hot liquids in it and clean it in the dishwasher. Also, does any leaching occur if OJ or other acidic drinks are put in it?Thanks
Best Answer
Wash the bottle with vinegar and water, they also make a scrub brush that works great for these bottles. And no OJ will not hurt this bottle at all nor you. There is a backed on liner inside the bottle that is pretty much impenetrable. Hope this helps.
Is the bottle dishwasher safe?
Is the bottle dishwasher safe?
No. You're supposed to rinse with warm soapy water at the end of each day. If you let it go and really need to clean it you can use baking soda and vinegar or SIGG make cleaning tablets and a special brush.
These things are great, lightweight, and......good for bait?.... I use this thing all of the time. They can get a little dented up, but that adds to the character, and they never retain flavor. I only have 2 problems with them: first, they can sweat quite a bit, which can be annoying for off-the-trail use, and second, the mouth isn't wide enough for ice. Other than that, it's a great bottle for anything.
Unanswered Question
THOUGHT ALUMINUM WOULD BE A PROBLEM VS...
THOUGHT ALUMINUM WOULD BE A PROBLEM VS STAINLESS INTERIOR.......THOUGHTS?