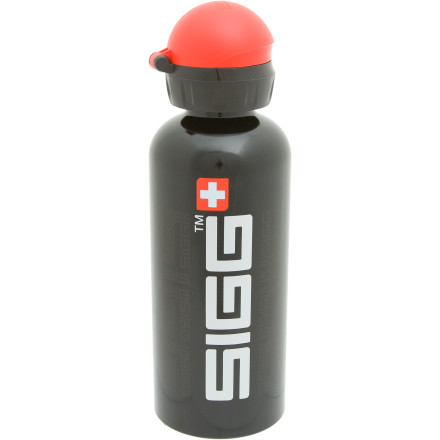 Detail Images
With Sigg's durability and trusted, leak-proof screw-cap design, the 20-ounce (.6L) Siggnature Water Bottle allows you to take along clean, cold water anywhere you go. Thanks to its oversized design, the screw top is easy to grip and features a heavy-duty rubber seal to ensure you can toss the Siggnature bottle in with the rest of your stuff and not suffer a flood.
Sharp looking, difficult to drink from
Familiarity:

I've used it several times
Great looking bottle, great quality but I did not like the drinking mechanism. I'm thirsty and I want to be able to consume a lot of water quickly, not feel like I am drinking from a kid's sippy cup which this bottle sort of made me feel like.
I've got 2 other Sigg 1L bottles that I use for hiking when I don't have to worry about weight (I'd use Platypus if I do). But it's the 0.6L that I use on a daily basis. It's just the right size to fit in car's cup holder, and small enough to put in my messenger when I go off to conferences, and hold just the right amount of water while I'm in my cube working - give me an excuse to get my butt off the chair to go top it off. I love the iconic design and the Swiss quality. All the other bottles in the market are just imitating the original. I'm not a big fan of the pop top, so I replaced it w/ a regular screw top since I've got one lying around.