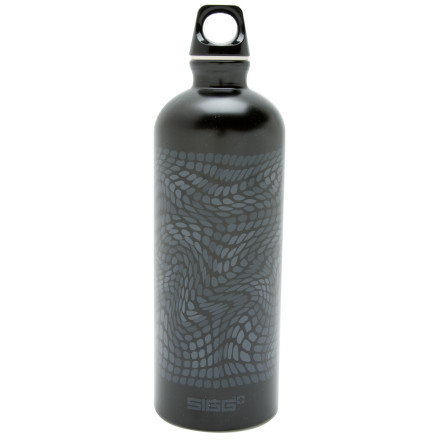 Detail Images

Community Images
I love these when I go backpacking, so tough & durable.
Durable, and no weird taste
I have a couple of these for carrying water around on hikes and road trips. Water tastes good, and I put juices and drink mixes in them, and there is no after taste. I've never noticed any metallic taste in the Siggs but have noticed it in the Klean Kanteen bottle I also own. KK's screw top squeaks bad when you twist it. Not so on the Siggs. I love the solid feel, and the aesthetic factor of the Siggs. I have dropped mine a few times on the concrete with a little water in it, and got nothing other than a few dings.
Sigg Lifetstyle water bottle 1.0L
I love this bottle, just the right size to drink from and comfortable to carry around.
Better than plastic, but not perfect either
I love my sigg bottles, but they do have a tendancy to dent. I use them more for climbing and day hikes than for backpacking or mountaineering. They can be less compatible with water filtration systems when backpacking and becasue they are metal, they are really cold for mountaineering.
My 16 year old son uses his Sigg bottle everyday. It's full of stickers, a little beat up, but works great. When he lost his old one, he received a knock off as a gift. The knock off leaked and he just wanted the high quality sigg bottle so we bought him the real deal.
Great water bottle. Stays cold for a long time.
Personally, I prefer the solid colored bottles for their simplicity and the abundance of sticker surface. The taste of the liquid is what it should taste like, no chemical or metallic flavors. Dent a little easier than expected, but it adds to the character. Added bonuses, they have a smaller diameter than a nalgene so they fit in most cup holders and don't squeak terribly when you screw the cap on!
Sigg bottles are excellent. Aesthetically pleasing, functional and hygienic. I throw mine in the dishwasher occasionally, but usually I rinse it well with hot water and it stays very clean. If you do put it in the dishwasher, be cautious to protect the cap from the heating element--I melted a lid, and though it still works fine, it looks rough and leaks a bit. The only problem with Siggs is that, if you're clumsy like me, you'll drop them, and inevitably, they look like they've been through war. If you ding 'em up just right, you can cause leaks, and the enamel will absolutely peel off. The lids are very threaded, so it can get annoying to unscrew, unscrew, unscrew... every time, but the narrow mouth keeps me from spilling water down my front like I do with my Nalgene. As critical as I am, I really do love my Sigg.
It works, but just not my Bottle for Tea
Yes, these bottles work for what they are but I've got two issues, they dent super easy and the top takes waaay to long to unscrew (not to mention looking like your drinking from a fuel bottle). Yeah the dents aren't that big of a deal, but when you need to drink something it seems like they could have left a good 1/4 inch of threads off the top and still have a functional seal. Most of the Nalgenes once loose you can kind of spin the lid off and take a drink, not so with the Sigg. Twirl and twirl and twist and spin and turn and... Additionally, don't buy the top holder, it will break eventually where it clips to the cap. I've never had an issue with any leaching tastes. Overall I'd rather rock my Nalgene or my Platypus bottles.
I bought this bottle in the Swiss Cross style. The bottle works very well, though as stated in other reviews it does dent very easily if dropped. IMO it gives the bottle character, but to each their own.

The bottle is very easy to drink out of as the shape of the neck fits very well, there is almost no spilling. Also, most importantly I have had no problems with tastes that should not be there.
What can you really say about a water bottle? It holds liquids, and doesn't leak. I don't hesitate to put hot liquids into the bottle, while I hesitate to do this with my Nalgenes. It it relatively lightweight, and the loop in the lid makes it easy to carabiner the bottle to your pack (or raft). Yes, it dents fairly easily, but this doesn't interfere with its function. About the only "problem" would be the fact that the mouth is too small to accommodate ice cubes, but (OTOH) this also makes it easier to drink from (so I don't spill my water down the front of my shirt like I tend to do when chugging from Nalgenes).
The name says it all, what more can I say? The bottle is durable, the top is solid and the designs are great. The one and only down side is not being able to fit ice throw the mouth, but I do enjoy not spilling water all over myself well trying to drink on the go, so it is only a small annoyance.
Good Bottle- Not Perfect Though
The good: Water doesn't leak out, looks cool, and very light.
The bad: Dents easy, a slight metallic taste, and doesn't keep beverage very cold long.

If you just want an awesome aluminum bottle and don't care about the slight problems with it- it's a good choice. Otherwise, maybe not.
Have to ask...what's the top made of? Looks...
Have to ask...what's the top made of? Looks mighty plastic-y to me.
It's made from polypropylene. Plastic, yes, but pretty standard, and plenty tough.
Siggs are light and definitely stylish, but it's easily dented and gives water a weird taste. I wouldn't suggest it for hiking, but maybe for a replacement of the bottled water bottles out of a vending machine.
Use it everyday! Water still tastes excellent after 2 years and barely cleaning the inside. Changes temperature based on the water inside very quickly. I love the dents mine has accumulated. They are battle scars.
This bottle is super light, I have the aluminum version. I'm not really sure why it cost so much. I realize that it's aluminum but what else justifies the cost? I like the smaller threads on the cap that allows the top to be threaded really easily but I prefer a larger opening for easier cleaning and the ice cube option. Overall, I agree that it's a great bottle but the price would deter me from buying another one. I would just buy a backcountry stainless steel bottle.
First off, I wrote the title before I realized that's what the 5 star caption is, but it's true! This bottle is awesome, I have found myself drinking a whole lot more water now that I have a dedicated water bottle (that's what it's for, right?). Additionally, the money that I've saved from buying plastic bottles has more than paid for the sigg, plus its good for the environment. I'm a little spoiled living in CA's east bay with the water we get (it tastes delish) and I've noticed no difference drinking it out of the stainless steel bottle.
Got this to replace 6 year old busted up Nalgene and in part due to the whole PBA leeching concerns with the plastic bottle and love it so far. Only downside is that I can't see where the water level is when filling so it can overflow. More comfortable to drink out of than the Nalgene. Don't know about denting yet but we'll see the first time I drop it.
can this (or any other sigg for that matter)...
can this (or any other sigg for that matter) be used as a fuel bottle for my whisperlite?? or just storage for fuel??
thanks
Best Answer
You might be able to but I wouldn't recommend it. The fuel is pretty corrosive and other bottles (like the MSR fuel bottles) are specially designed/treated for fuel. You're not supposed to use the MSR fuel bottles for food/water/anything but fuel, so that leads one to believe there is something special about them. If you do use this for fuel - be sure to never use it for anything else again. Also, I'd check that the fuel pump for your stove fits on the threads.