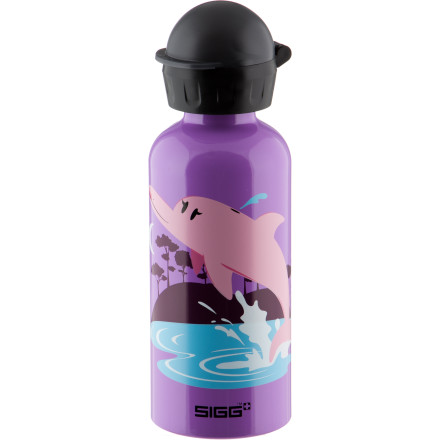 Stand up for the rain forest when you give your child the Sigg CUIPO Water Bottle to sip from. CUIPO is a brand dedicated to saving the rain forest, and when you buy this CUIPO and Sigg water bottle, you'll receive an activation code that will allow you to preserve one square meter of rain forest in your name.
Aluminum construction is crack-proof, leak-proof, and spill-proof (aluminum can dent if dropped, but it won't leak or crack even if it dents)
EcoCare liner is BPA- and phthalate-free so your water tastes exactly like it should
Pop Top protects the sipping spout from spills or germs in case this water bottle is dropped on the floor
Pop Top can be screwed off for easy water bottle cleaning
Includes a Cuipo activation code that allows you to save one square meter of rain forest in your name
What do you think about this product?
Have questions about this product?
Funky top
Familiarity:

I've put it through the wringer
I have the Hello Kitty version of this bottle. It's very mature and lends credibility to my persona of a true outdoor explorer.



I like the flip top on this bottle, especially for keeping the spout clean and free from germs or debris, but the closure system sucks.



It's difficult to tell when the bottle is open or closed. I often shut the stopper lid, thinking the bottle is sealed only to discover massive leaks in my backpack or bag. I even nearly ruined a friendship with this bottle. I threw it in the back of a friend's truck bed, which also happened to be his bed while camping up in Whistler. Said bottle leaked all over his mattress and he threw fits. It wasn't pretty. He hates the kitty.



If I, a grown adult cannot master this closure system, I don't have a great deal of confidence little ones will be aware that the bottle has to be carefully secured if you expect it not to leak.



Perhaps I am a simple fool, and the basics of the bottle elude me, but I think bottles should be a no-brainer. Especially if their ultimate purpose it to serve a young consumer. I'm not really impressed...