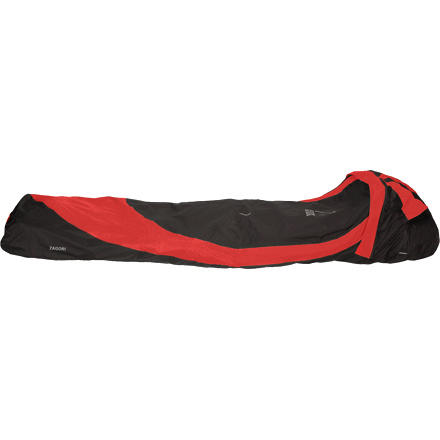 What do you think about this product?
Have questions about this product?
Decent materials but big design problems
I bought this bivvy intending to use it for winter guiding and as a lightweight shelter for fastpacking. I basically use it as a sleeping bag cover and an emergency bivvy in my search and rescue pack now, and in non-bug season in conjunction with a tarp for maximal rain/wind/snow protection. It's a decent bivy that, when rigged right, is fairly waterproof. The big issue is that the hoop is poorly designed - flimsy and too short to actually stand on its own and protect your head while keeping the bug net or fabric off your face and allowing enough ventilation. It would be reasonable to tie the hoop up to a branch or tarp line, but there is no loop on the arch to tie off to - I ended up sewing one on myself. I would also prop a crazy creek in the vestibule to create a decent head space. The vents in the hood don't really work (too small and won't stay open), so zipping in totally in is a recipe for discomfort. It only comes in one size, so I end up with about 8 inches of extra fabric at my feet (I'm 5'6") which just gets wet. It's fairly light, but the pole and vents are dead weight, so go for a basic sac if you just want an emergency shelter or a bivvy with real poles (like the BD bipod) if you want a bombproof shelter for all-around use.
This bivy didnt do well in the rain
I bought this bivy for a Mt Whitney trip. it did great against the wind but i didnt like the way the fabric overlapped over my face. Luckily it didnt rain on that trip. I tested this bivy in my backyard before a light rain. i had it guylined out, a full length pad and my sleeping bag inside. after a hour of light rian i checked the inside of the bivy. The floor of the bivy was covered in water. Since the material is "waterproof" the water was not easily removed from the inside. after countless emails to sierra designs we couldnt figure out how or why. i think this bivy would be fine if i had a thicker bag. the areas of water intrusion were where the fabric overlapped on itself.
How wide is the Sierra Designs Zagori Bivy?...
How wide is the Sierra Designs Zagori Bivy? My husband has broad shoulders and doesn't want to get trapped in a narrow bivy.
If this one won't work, do you have suggestions?
The shoulder width is actually about 32". It also features a pre-bent aluminum pole to keep the fabric off your face.