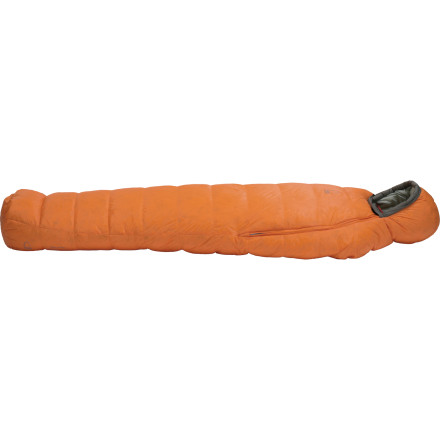 Thanks to its premium 850-fill goose down insulation, UL hood design, and truncated side zipper, the Sierra Designs Vapor Sleeping Bag lets you upgrade your backcountry sleep system without recalibrating your scale.
Premium 850-fill down insulation is lightweight, traps in gobs of warmth, and retains its loft after repeated compressions
Offset ultralight jacket zipper is 25-inches long to lessen the bag's weight and reduce drafts
Ultralight Jacket Hood is fitted to provide increased insulation and heat capacity
Ergonomic footbox is shaped to fit your feet in the resting position so you don't have to toss and turn to get warm toes
Zipper draft tube, draft collar, and drawcord hold warm air in
Offset layer construction and tuck stitch traps and retains warm air
Snag-free zipper tracks have a piece of fabric that creates a barrier between the zipper and the liner to prevent snagging when you really have to get out of your bag
Stuff and storage sacks included
Unanswered Question
How does this bag do in damp conditions?...
How does this bag do in damp conditions? I've heard that some of the down has a water repellent added.
does sieera design have a dir 900 goose...
does sieera design have a dir 900 goose down yet?/ if so what is the name and what is the weight of your regular bag and rating temp.
Hey there Stephen, sierra does have a 900 down bag that is rated for 15 degrees. Its called the cloud. It weighs 1lbs 15 oz and Sierra Designs says it is rated to 15 degrees. That being said, it has a half zip which is the only fault I spot, but its how they keep the weight down. If you are interested in a great bag as well, look at the marmot helium which is 3.5 oz heavier at 2lbs 2.5 oz but with a full zip.
Good one, the only bad thing I noticed is a zipper that is very thick and stiff that I believe affects this bag packing abilities.
A 15 degree bag lacking a draft collar, depressing indeed, every time I move air rushes into the bag bringing the the cold breeze of regret. Despite the short zipper' neat anti-snag lining it fails to keep the warm in and when shifting I would wake up suddenly cold where my arm had lifted the tiny draft sleeve.
While I was disappointed overall there were some decent features, It is light, and very compressible, and the snag free zipper liner is nice(never once caught the fabric), but overall the bag was a strike against sierra designs. I'm going back to montbell, they've never let me down, and fire-engine-red-orange is so much brighter than blah-yellow-orange..
Super light bag packs small!!!
Just as advertised this bag is super small and lightweight. They do this by making the bag dimensions slightly smaller so it is more cozy inside, not for those who like to move around a lot. The zipper is also shorter to save some weight, but I had no problems getting in and out of the bag. Keeps me nice and warm too, an expensive bag, but does what it is supposed to. Love it because it is super compresible and very light, but a tad on the snug side if that matters to you.