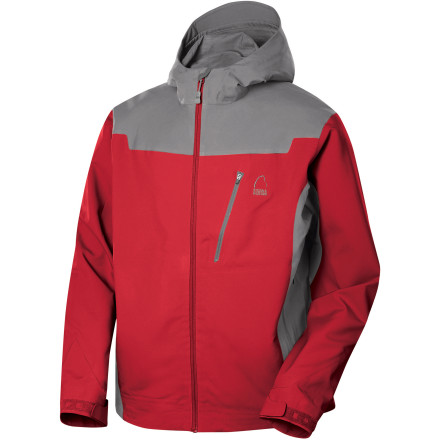 Community Images
Take the Sierra Designs Men's Vapor Hooded Softshell Jacket along for a spring backpacking trip. Without taking up all the space in your pack, this lightweight jacket stuffs away when you don't need it, and blocks hard winds and keeps you dry when storms roll in.
Fused seams cut down bulk and weight
Fully adjustable hood stays on snug when the wind starts howling
Adjustable hems and cuffs mean cold air can't sneak in
Water-repellent finish protects you from the drizzle
Bought this jacked late last summer on sale. (Great price at Backcountry!) Since getting it I have taken it on daily bike commutes, warm and wet hikes, in to town, and along northwestern Michigan shoreline in December on a dune-hike. Breathable and allows for easy layering due to generous cut. I have never experienced and "greenhouse effect" while wearing it.



In the Michigan, nestled between the Great Lakes, the weather changes in the blink of an eye. During those types of days it is nice to have a protective layer that can adapt to the changing weather. This is a great tool for such a job.



My only complaint is that the velcro on the cuffs has several squares in lieu of a strip. I think that over time this could wear down; however, I have not experienced any issues as of yet.
lightweight and breathable
Economical soft shell. I really like the hood, but don't like the things that hold the hood cords in place. They have a tendency to loosen on their own, but its not that bad. Seems to shed light water well, and even better after washed with Nikwax polar proof. Breathes well which reminds me of the m3 marmot soft shell line.
Awesome jacket for the price
Gender:

Male

Familiarity:

I've put it through the wringer
I wear this jacket everywhere - it looks pretty awesome. I gotten a number of compliments on it. Fits great as well - I'm about 6 foot and 200 pounds, and I got a large.

It's not very warm by itself though. I can wear it down into the 40's, but anything lower than that and I have to wear a sweater underneath to stay comfortably warm. That being said, I've worn it, with just a normal sweater/hoodie under-layer, in temperatures well below freezing while snowshoeing and it was perfect, borderline TOO warm. It does a pretty good job blocking wind, but it'll still let some through if it gets too gusty. It's also not waterproof, but it'll keep you dry for a while at least or if it's just drizzling out. Also pretty breathable - keeps me nice and cool once I start to heat up. It will be a perfect spring jacket.

I love the sleeves - not scrunchy, but still adjustable if you need them to be tighter around the wrist, and pretty stylish looking as well.

About the only downside in the hood - it's huge. I'm assuming it is meant to accommodate a helmet, which I don't ever use so for me it's a little annoying sometimes. You can adjust it to not be so floppy, but it's still not quite the same as just having a hood that's actually the same size as your head...

I've been using the jacket for about three months straight, just about everyday, and it still looks brand new. Definitely happy with it, especially for only 50 bucks, although I'm not sure that I would pay full price. But on sale, it's definitely worth it.
Better Than Expected!
Gender:

Male

Familiarity:

I've put it through the wringer
Fit's Great! Comfortable. Well made. Not Waterproof, but Nothing I've ever worn has been! Waterproof = Old school rubber/plastic Raincoats. very dry, but you pay the price. (you know what I mean)

Great jacket, excellent stretch. Good rain/wind resistance.

In the real cold and wind I put a shell over it and it makes an incredible mid-layer.



I will say...Hood is Huge, borderline monstrous. Great for helmet. But, that is my one hesitation.. I wish "Sierra Design "assembled there hoods like "Patagonia" they definitely do it right, but you have to pay $200 more.



not that big a deal.



this is a steal! I bought for under $55. Saweeeet!
Vapor Hooded Softshell
Gender:

Male

Familiarity:

I've used it several times
A lot thinner then I had expected, but this is not a bad thing. The waist was snug, but everything else is on point. Waterproof, breathable, and durable as far as I can tell. I think the adjustable wrists are nice and effective. Pockets are really warm! Overall a pretty gangster jacket!
amazing value
Gender:

Male

Familiarity:

I've used it several times
stoked on this softshell. at 6'3" 180 lbs i went with the large and it may as well be custom. good length in the sleeves and torso. i've done some cold morning bike commutes (high teens, low 20's) and it provides plenty of warmth when combined with a descent midlayer. this will probably be my primary shell when backcountry touring in the tetons this winter. at $50ish on sale it's a no brainer.
Versatile
Gender:

Male

Familiarity:

I've used it once or twice and have initial impressions
Nice, versatile piece. Good for light wind and precip protection. Pretty light and packable for a softshell. Should be good for spring backcountry tours. I usually wear a medium, but the small fits well with just a bit a room for layering.
How would this compare to the Marmot Tempo...
How would this compare to the Marmot Tempo Hoody? I have tried on the Tempo and not sure it is as heavy as I would like.
The Vapor Hoody will give you a bit more weather protection (wind and precip), and is thicker than the Tempo. The Tempo is stretchier and has a better hood. The Vapor is an awesome softshell,has a nice athletic fit, and for the price it is a great value.
just wondering about rear coverage - all...
just wondering about rear coverage - all of my jackets, cycling and non-cycling specific seem to ride up at some point or another during every ride. gets real cold real quick. just wondering how far down this jacket covers in the back. otherwise seems very well favoured among its owners.
This depends on your torso length, I have an 18" torso and I am fine while riding, but I would imagine people with longer torso's will ride up as this jacket does not have a longer coattail.
I like mine a lot. I got a lot of use out of it during the week on the trails in CO this year.
It compresses well enough to stuff into the top of an already full pack.
I wanted a non-insulated one for home in Arizona. Works well for blocking wind.
Did well in some steady rain. When it's really pouring for a longer stint, I put my packable waterproof jacket over it.
Great deal.
Is the hood on this jacket large enough...
Is the hood on this jacket large enough to accommodate wearing a bicycle helmut?
Almost certainly not. Hoods for helmets generally advertise that feature specifically because they're HUGE, and this one doesn't.
Hi bri,
Actually, yes, the hood does accomodate a bike helmet. I have a size Lg Vapor Hoody, and a medium size road style bike helmet, and could pull the hood over the helmet. Hope this helps you.
Angus is making a claim based on how this item is advertised...Jeff responded with actual testing. Call Backcountry for some help first...then decide.
If you had to own one jacket...
Where do I start..

There are more waterproof jackets, there are jackets with better insulation and wicking properties, and there are jackets that scream "I have more money than sense". The Vapor on the other hand is just a great buy. It's a fully seam sealed (welded) jacket, with all the basic features you would ever need. I have worn it in moderate rain on hikes, teleing in wet heavy snow, and as my first choice on cold windy days to take the dogs out; but I also appreciate it's limitations.

With a waterproof rating of 800ml it may 'leak' some with a heavy pack on your back or push water through when falling on wet snow, and with its high breathability you can feel the wind when it hits the 30-50mh range. But this also means if you won't stay wet under it for long, or feel like you've zipped into a sauna on warmer days.

The Vapor is a true soft-shell; you should still have a wicking and mid-layer as needed and understand that pressure will still force some water through. However it won't ever have a that crunchy plastic bag feel in icy conditions and you don't have to treat it with the kid gloves that most stretched Teflon requires.

Conclusion: The Vapor is a well priced waterproof softshell, perfectly suited for 4-season Colorado weather.
Great light weight jacket
I have been wearing the Sierra Designs softshell for spring skiing and it is just the right thing. Windproff and light weight, I love it. The only thing I would add is some sort of pull string on the side pocket zippers. They cannot be pulled without removing my gloves.
Tim,
Thanks for your question. The hood on the Vapor Jacket from Sierra Designs is fixed, ie non removable. I hope this is helpful for you.
Very Versatile Hooded Softshell
I was looking for a very weather resistant, breathable, and great fitting hooded softshell for winter trekking, ice climbing and also casual wear. I've always been a Sierra Designs fan, so I gave the Vapor Hoody a try. This is one sweet piece of gear! It was my main protection on one recent hike where temps were about 15 degrees and some areas of the hike were exposed to 20mph winds. I found the jacket fit very well over a base layer and mid weight insulation piece, the sleeve length is awesome with a nice diameter cuff for fitting over gloves and the length of the jacket is super nice in that it's a bit longer, compared to most jackets in this class. Breath-ability was perfect and the face fabric seemed durable. Overall, I'm extremely impressed with this hooded softshell, and love the fusonic bonding of fabric technology (no seams!). I'm 6' 185lbs and the Large fits me great.
This jacket is awesome! Worth every penny! Great look to it, light weight, keeps you dry, and can be worn in warmer weather or colder weather with layers underneath. Definitely recommend it! I wear mine all the time...
I just go this jacket in the mail and was very dissapointed. Its made with very poor quality material, the hood is made for some with a baloon size head. I have other softshell jackets and this one is by far is the worse quiality. Once you buy a better breand/better quality you will want nothing to do with this jacket. I will be returning it ASAP.
I love this jacket, I wore this fall mtn biking and now Backcountry skiing as well.

The lightweight material is very breathable for the skin track and then can be layered for coming back down.

It won't cut all of the wind but I find it to be super comfortable in all but the crazy winds we get on some of our high peaks.