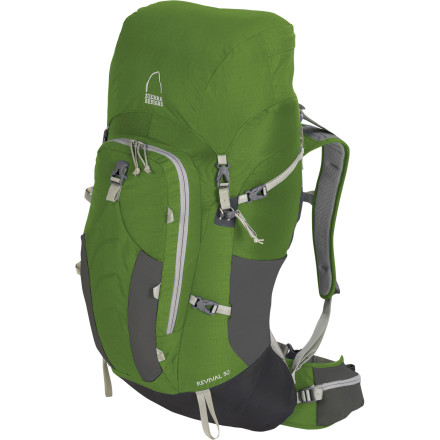 Detail Images
The Sierra Designs Revival 50 Backpack boasts a solid 50 liters of carrying capacity in a simple, lightweight pack. The pack's smart design, solid durability, and comfortable carrying suspension system come together to make a bag you can take across Europe or along the mountain trails for a weekend.
Pack's carrying capacity is ample for an overnighter, long weekend, or smartly-packed longer trip, and if you don't need that much space, cinch down the pack's compression straps
Hydration sleeve and water bottle pockets provide stash spots for your H2O close at hand
Fulcrum Suspension incorporates soft padded shoulder straps and hip-belt straps for a comfy ride
Ventilation Conduit backpanel lets airflow access your back and shoulders to minimize sweatiness
Trekking pole loops hold your poles when you don't need 'em
Men's Journal 2011 Gear of the Year Award winner
is this a 50L or a 2850 Cu in= 46L
is this a 50L or a 2850 Cu in= 46L
Best Answer
Hey,

It is a bit of a grey area. In order to maintain the most accurate calculation, I would refer to the 2850 CU in = 46L. Better to be safe than sorry. The 50L is a rough translation, but that is how it is advertised.
Typically brands will name the pack off of the larger size to keep things simpler. In this case I believe the M/L was a little larger and held 3100 cubic inches. But again, like Emily said its a rough translation because typically those specs are based on secured pockets and any open pockets are excluded.
I didn't see any questions answered,...
I didn't see any questions answered, previously. BUT I still hope somebody is listening, for I ask if the 65 has a larger (longer) hip belt? Than the 50? Because the 50's belt is pretty short in length; barely catches hip bone!
late answer; but, I am fairly certain that the 65 and 50 use the same belt. The overall dimensions are hardly different; but, an extra inch in height and width amount to a considerable amount of total volume.
How do I know what size i need, how do I...
How do I know what size i need, how do I use the torso measurements?
I'm sure you found your answer at some point since it's been so long. For others looking, measure your c7 to your iliac crest:

http://www.youtube.com/watch?v=7Qvt29gv0X8



18" to 18.5" is the in between size length for torso on this pack.
What is the max torso length of this...
What is the max torso length of this pack?
Depends on what size it is.

S/M- fits 16-18.5" torso
M/L- 18-20.5"
love this pack so much, it can hold every thing you need for an overnighter to a 3-5 day trip depending on your gear and how you pack. the suspension system is so comfy and breathes incredibly well. it has a lot of extra straps and stuff so you could take even more stuff for a longer trip but I haven't tried any week longs with it but I am sure it will do great.
Sierra Designs Revival 50
Sierra Designs Revival Pack
Sierra Designs Revival pack described by team athlete Eric Larsen.