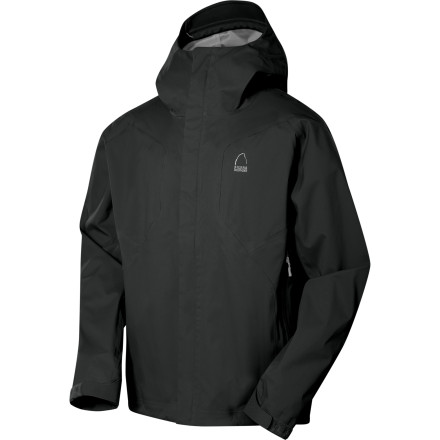 The Sierra Designs N2 Fusion Jacket gives you a great alternative to dragging a full heavyweight shell around with you. The fusion is great for 3 season hiking and warmer ski days when you need a light shell to hold the wind and snow at bay. Smart features like welded seams, waterproof zips, and an adjustable hood with a visor are the icing on this waterproof breathable cake.
Best. Jacket. Ever. Well, Pretty Much.
Bought the women's version of this for my wife thinking it was a decent jacket at a good price and was green with envy the moment I sat down to wrap it for her. So, naturally I bought on for myself and couldn't be happier with it. For the price, this is the deal of the year for me. My poor brother recently dropped half a paycheck on a shell from another outfitter and seeing his face when he got his hands on this was priceless.

I am 6'1'' 210 punds with a 48'' chest and 36'' arms (oh, and I like to talk and take long walks on the beach). Anyway, an XL fits me like it was custom fit. Snug enough to not feel baggy when worn over a T-Shirt but plenty of room for layering. Short of literally submerging myself in a pool I have not had a leak and the material is tough enough for everything I've put it through outdoors (hiking, bouldering, kayaking, fly fishing, shooting, trips to Target, etc.).

This is now my go-to jacket any time I walk out the door. Perfect for nearly everything mother nature can throw at me and light enough to never justify not grabbing it before I go.

Go ahead and grab one while you can. You will not be disappointed that you did!
good quality but returning
Jacket is shorter than I wanted. I am 5'11, 30 inch inseam, 210 lbs with 48 inch chest. ordered XL. Only falls just below waist on me and I prefer for my jackets to come lower. Sleeve's also seem a little long but I would have kept it if that was the only issue. Quality appears excellent and love the gator color. Layering would allow for a medium weight fleece under the jacket but probably not a heavy weight fleece nor a fleece and a sweater.
I guess what they call the 3rd layer is a fuzzy texture on the inside of the shell. This makes the jacket very comfortable and it doesn't stick to your skin like other jackets do. I wore this recently on a very warm humid rainy day with just a t-shirt on underneath. I was literally wore comfortable with the jacket on than off. The material just kind of sucks the moisture right off your skin. The jacket seems very durable too. I have the black which is more of a dark charcoal grey, but very nice.
is the black color true black or does it...
is the black color true black or does it have some grey hues to it? thanks
The black jacket is more of a charcoal grey, but is a really cool color. This jacket is awesome for the price.
Seems like a great jacket. The Blue color is very dull and not that awesome which is the main reason I returned this jacket. The quality seemed good. The sizing seemed a touch on the large size which i liked. The sleeves are nice and long, and the front the jacket goes up high when zipped up which is awesome for windy days. The jacket seemed a bit stiff from the thick material which I liked also. The Blue color was too awful.
I walk in out of the rain while wearing this jacket and immediately forget that it's wet outside. The jacket is so comfortable that I don't like taking it off. The weight of jacket works well for wearing as an everyday piece in the spring.
Unanswered Question
I would want to use this as an outer shell...
I would want to use this as an outer shell for winter climbing as well as warmer activities, and I see that it is 40D. How much abuse can it take--would it be durable enough for that sort of thing?
Unanswered Question
I am trying to decide between this jacket...
I am trying to decide between this jacket and the Mountain Hardwear Cohesion Jacket. I am looking for a solid three season shell that is waterproof and that could also be used for light winter activities if layered. Which one would you guys suggest?
Really nice jacket overall. The cut is very athletic with a short torso and long arms, which is nice. This shell is completely waterproof. All seams are welded. Waterproof zippers. Fully articulated hood with a nice brim. Draw-hem. Pit-zips. The collar zips up very high, more like a balaclava than the other jackets I own. Fits well over mid-layers which you will need because this is just a shell with a bit of nylon for a lining. Well worth the $116 I paid.
Edit: After half a season in mostly (very) snowy conditions I absolutely love this thing. Waterproofing is totally legit and the breathability is amazing. Sharp looking jacket too. At the SAC price this is quite simply the deal of the year. Hands down. It looks and feels (and so far performs) like jackets costing waaaaaaaay more money than this. You know the ones I'm talking about - I can't mention any names but you all know the grossly expensive jackets I'm talking about. This one is in their league in my opinion. Also, it seems like they've fixed the color online. The blue as it appears now is much closer to reality than before.

------------------------

So far love this jacket because the build is excellent and it fits me pretty much perfect in a medium. 6'2-170. A perfect jacket for me is usually a med body with longish arms - that's what this is.

Pit zips are great. Big with dual zips.

Agree that the collar goes really high, but when I keep the hood down and zip it all the way up it forms an almost perfect seal around the base of my face/helmet. Looking forward to that on a storm day.

Agree about the color. Darkish pastel blue, almost indigo. I like it though. Was hoping for the kind of blue they had on the website but this is pretty good. I have a shirt this color.
What I got and what is on the web page are not the same
The tag says this is 18K waterproof not 20K and the color of the jacket is closer to a faded pair of jeans / baby blue pastel and not the rich blue on the web. At first I was not even certian this was the right jacket. This also seems like the one shipped was an 08/09 model.

Build quality seems good
Lightweight, Waterproof, Well Priced
Love to get reviews before I buy, but couldn't find any on this shell anywhere, so I'll post this initial assessment. Very nice athletic fit, I'm 6'0 195 got Med. Still able to layer wicking base & Pati down sweater, no tightness in the armpit, but still slim enough to not bunch under your pack. Zips pretty far up the neck, great protection, but makes it hard to fully zip without making the hood stick out if not in use. Waterproofing is legit without field testing, have to wait for rain to prove this. Pit zips, semi soft material, and lack of insulation make it very breathable. Def needs some breaking in to get more of a soft shell feel though. For me, the best feature, besides the price, is it's light weight design. I'd rather layer and have the ability to pack this shell, then have a 4 season shell. I looked at a lot of shells and really liked the specs and looks of this one, so when it went on sale, it was a no brainer. If it holds up when it matters, consider it a 5 star.
Used this shell for 2 rain/sleet days in the midwest, and for 3 days skiing out west in low 30s high 20s weather. Waterproofing is good, no leaks in either my testing in the shower or out in the elements.

Fit is good for me, not baggy or bulky, but was able to layer (used with a powerstretch fleece or baselayer and down sweater). I'm 5'7" 145lbs, avg to slender build. Got the small.

Few gripes: 1. the material is fairly stiff out of the box, which leads to bunching (primarily in the midsection for me) and makes it uncomfortable when the collar is zipped all the way up, and the hood sticks straight out the back rather than lays on my back, which looks a bit funny. This has gotten a bit better with use, and I'm hopeful that it will continue to get better. 2. The drawcords for the hood don't have true toggles, just these little foam things on the cord, so the cords won't stay tightened. Not a huge deal because the hood is pretty small.

Overall, a heck of a shell for the money, and would recommend.
Any information on whether the sizing runs...
Any information on whether the sizing runs true or if the cut is full, average, or slim? Trying to decide on M versus L.
Sizing runs about a half size big.
I'm a 40L and usually need M body with L arms. I got the M because of what chris here said and it turned out great. I guess I should also say I like clothes that fit. If you like tall tees then by all means get the xxl.
Does this jacket have a powder skirt or...
Does this jacket have a powder skirt or gators?

Thanks.
The N2 does not come with a snow skirt.
i'm pretty sure this isn't a softshell,...
i'm pretty sure this isn't a softshell, but just wanted to make sure.
Best Answer
Not a softshell. It's a nylon 3 layer 2-way mechanical stretch fabric.
Does this jacket have pit zips? It says...
Does this jacket have pit zips? It says not venting on your website, but some other sites say it does. Anybody know??? It is a show stopper if it doesn't. Thanks
Best Answer
The N2 does have under arm zips.
Just received the jacket this week. Yes, it does have pit zips!