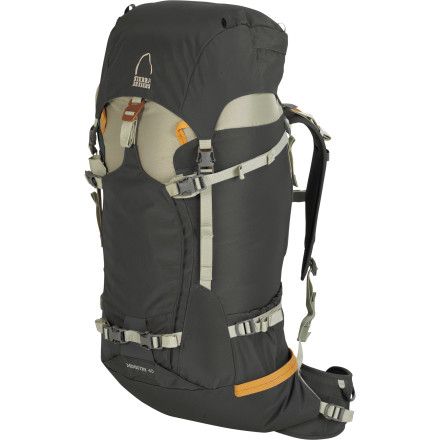 Detail Images

Community Images
Unless you're often heading out for extended, multi-day trips, the Sierra Designs Ministry 40 Backpack falls into the perfect capacity middle-ground to make it useful for almost all of your excursions into the backcountry. At 40 liters, the Ministry can easily handle an overnighter but won't weigh down your 2 hour woods exploration at only 4 pounds, 8 ounces.
Multiple compression straps allow the pack to adapt to load size
Gear loops for external gear carry
Separate crampon pocket keeps sharp, snow-covered crampons away from the rest of your gear
Ski loops for winter backcountry travel
Ventilation conduit promotes airflow between the pack and your back
Thermo-molded S-curve shoulder straps and waistbelt for custom fit
Hipbelt stabilizers keep your load from shifting suddenly and throwing your balance
Awesome daypack
Familiarity:

I've put it through the wringer
This pack kicks butt. It fits well and holds weight nice. I have used it on 20 or so 14ers in CO and many camping trips. Its not capable of carrying large items so you may need to strap them to the top or bottom (sleeping roll/bag) but i've managed a few days out in the wilderness without a bigger bag. The exterier is tough as nails and holds up great in all the elements. It didn't take on too much water when I was coming down Holy Cross in a torrential rainstorm, ankle deep mudd on the Tiguon road but my electronics inside were fine.
I bought this pack because of its unique features. Like a lot of the reviews, I'm thoroughly impressed by the design and sad that Sierra Designs appears to have dropped out of the pack game.



I've used this pack only a single time on a climb of Mount Shavano via the classic Angel of Shavano route. The pack nor the route disappointed.



Some positive features that I liked were the snow shedding back panel that kept cold snow away from my back. The straps were easily adjustable with my stout gloves. The soft top pocket for goggles really does the job. I like the adjust-ability of the fit, as well as the ski attachment loops. These had no problem slinging my 102 mm under foot Black Diamond Verdicts. They didn't even make me wrestle too much to get them in/out when I was tired. The pack is extremely well balanced and comfortable even on long ski tours.



I still have to check out the ice tool attachments and crampon pocket, but I'm looking forward to it. I really like this pack and its features enough to purchase a second pack in this particular volume range.



One thing that I felt could be improved was the weight. While not that heavy, I still think some improvements could be made in this area. It could also attempt to deal with a shovel and a probe better. Still I'm not worried about access to either.



Tickled to own this pack, get one if you want the nearly perfect backcountry ski pack (for 2-3 day, or hut-to-hut trips).
Good value at the price
Familiarity:

I've used it several times
This pack has a lot of versatility, and it's unlikely you'll find a better pack at this price. Having a removable frame, bivy pad, belt, and lid mean that the pack can be changed quite a bit from day to day depending on what you need. Ice tool attachment system is quick, easy, and secure, as is the crampon pouch. The frame-sheet and a decently large expansion collar mean that you can easily fit enough stuff for an overnight, but it still packs down to be reasonable for day trips.



The downside of this pack is that it doesn't excel for any particular use. It's got a few too many straps and extends a bit too far back to be ideal for climbing with it on (although scissors could help with this somewhat). The bivy pad doesn't do much to support the load if you take the frame out, and the pack is definitely heavy when compared to other alpine climbing packs.



If you need a pack for the alpine, and only have $70, it would be hard to do better than this. But if you want a pack that truly excels, take $120 and buy one from Cold Cold World.
Good quality bag but poor design
Familiarity:

I've used it several times
GREAT QUALITY BUT slightly bad design, the pocket for water bottle is too shalow, and water bottles are easy to fall. Also, there is no bottom straps and upper straps for sleeping pads. The only way to put ur sleeping pads is the side straps, however, if u put ur sleeping bad by sides u cannot put ur water bottle..... SO FRUSTRATED......
What size would you recommend for a teenager,...
What size would you recommend for a teenager, 5' 11", 140lbs, waist = 28-30" ?
You really want to size a pack based on torso length. Height can give us a general idea but too much of his height could be in his legs and we might end up suggesting him too large of a pack. If you can get his torso measurement from the c7 vertebra (the big bump where the neck and shoulders meet) to the top of the hips then we would have a better means to judge his size.



If he is 16-18.5 inches go with the S/M and if the is 18-20.5 go with the M/L. If your son is still growing and is in that half inch middle ground then size up to the M/L.
Well-Designed, Burly Pack.
Familiarity:

I've used it once or twice and have initial impressions
First off, while not the lightest alpine-style pack out there, this thing is made of some super tough materials. I like the philosophy Sierra Designs used in creating this pack - it's old-school toughness (nice, tough, cordura-like fabric, tubular webbing on haul points) mixed with forward-thinking features. I really like the ice tool attachment system, very secure, and the crampon pocket is tougher than heck. My one complaint is that the "brain" is maybe a bit over-designed - there is a fleece goggle pocket that folds out (which I love, by the way) AND another zippered pocket on the inside of a overly (for the pack size) large "brain". I'm not much a "brain" user anyway, so I strip it and save some weight. The cinch collar material at the opening of the pack is super tough and plentiful, so it works well for this. All in all, everything you could possibly want in a cragging/alpine pack is here, plus this thing will last a long time, from what I can tell. Highly recommended.



Also, for what it's worth, the "rock" color - which looked black to me on my computer screen online, but is actually a medium-dark gray - looks great!
I just used it for my trip to Chirripo, Costa Rica. It rained a lot, I'll say great for my needs!
Ministry 40 video from Sierra Designs
Sierra Designs YouTube video on this model.