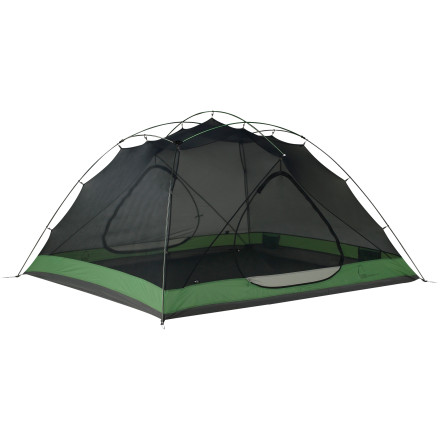 Detail Images

Videos

Community Images
Usually we would be lying if we described a four-person tent as large AND light, but the Sierra Designs Lightning HT 4 Tent breaks the mold with a trail weight of under seven pounds. Spacious inside and well-ventilated by design, this three-season family tent sheds weight without losing any stability or weatherproofing. Two doors and vestibules provide ample room to store gear and help to ease the sometimes complicated matter of climbing in and out of a tent with four people inside.
Waterproof fly and floor fabric features fully taped, PVC-free seams for added protection from rainstorms and soggy weather
Superseal floor tech combines the benefits of catenary and bathtub floors by featuring both raised and taped seams for a tighter pitch and better protection
DAC NSL Featherlite poles are made with less phosphoric and nitric acid for a greener tent pole, and they feature a wider diameter with a thinner wall to add strength and save weight
Jake's Foot pole attachment utilizes a ball-and-socket design to keep the pole end in place during setup and easily pops out for take-down
Mesh wall panels increase airflow to decrease condensation and stuffiness
Ball cap connectors and M hubs simplify and strength pole setup
Color-coded main door makes tent setup simple, and the door's D-shape reduces tent weight without requiring the door to be smaller
Reflective door trim and guy outs keep the important bits of the tent visible for safety
Internal storage pockets keep your flashlight, maps, and trail wares accessible
Gear-loft loops enable you to hang your headlamp when it gets dark
Footprint available separately
Sierra Designs HT 4 vs. Big Agnes SL 4
I wasn't sure which to get... the Sierra Designs HT 4 or the Big Agnes SL 4, so I checked them both out and the decision was easy. I went with the Sierra Designs even though it is heavier. The extra weight did not concern me that much, as I will be dividing the weight between the group. So what made me go for the Sierra Designs? Mostly layout. I fit more comfortably full length in the Sierra Designs, with extra room at my head and feet for gear. Couldn't do that in the Big Agnes. Having said that, if you arranged yourself parallel to the doors in the Big Agnes you would have plenty of room above or below your feet. I like having the door at my head/ feet, though, so that didn't work for me. Also, the floor on the Big Agnes was quit slick. I believe this is due to the impregnated fabric. I have definitely been in places where the ground was not level and I am fairly certain you would be sliding into your neighbor all night long. As far as setup... both were easy. The Sierra has more poles, but set up was a snap. The only thing, other than the weight, that made me hesitate were the doors. The Big Agnes has larger doors. I have not used the Sierra Designs in the field yet, so I don't know if the smaller doors will be an issue, but I don't think so unless you are trying to fit 2 people through the door at once. Although, you have to hold the side wall as you open the tent, I noticed no chance of snagging on either tent. One last thing, I really like how much of the Sierra Designs tent is mesh. I hope that helps someone out there debating on the two tents. I gave it a 4 star due to the door size and weight. I look forward to years of use.
I have the 2010 version of this tent, which appears to be almost exactly the same as this newer model. Extremely light weight, considering the amount of space. Sets up quickly once you get used to the H-shaped pole that runs along the top of it. Once you see it put together, though, it makes a ton of sense. The pole configuration is what gives you almost vertical side walls which is great for us tall folks (6'-2"+/-). I have comfortably put 3 really tall people (one was 6'-4") in the tent with a little extra room for gear, so calling it a 4-man is pushing it unless you really like snuggling together.



My only complaints (and they are minor) are the following:

- no gear loft.. the tabs are there to put install one, so why not include it in the price?

- the footprint for this tent is not cheap, but worth having. I actually leave mine attached when I roll it up to put it away... makes setup that much quicker. Again, why not just include this in a slightly higher price?

- the interior door zippers are a little awkward. Once it's unzipped, you are always having to move the mesh door out of the way so you can step into or out of the tent. Not a big deal, but could have been designed to be a little more convenient.



Other than that, this is an almost-perfect tent. Both of my friend who I go on paddle trips with are convinced that they are going to get this same exact tent. With a few minor tweaks, this would be flawless.
Sierra Designs Lightning HT4 Tent