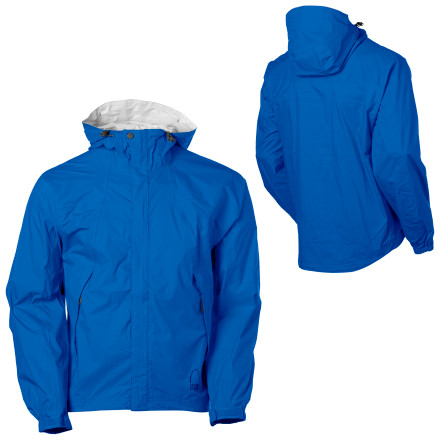 Detail Images
How does the jacket handle being stored...
How does the jacket handle being stored (like in a bag or lugage)? Does it get wrinkled easily?
Kyle, they will wrinkle easy if not rolled but the wrinkles will straighten out quickly when hung on a hanger for a short while or when you wear it.
The jacket is adequate for the job. Definitely waterproof, just a little short for me (6'5").
Write your question here...does this only...
Write your question here...does this only come in red?
I got a blue one. They come in Green too.
Regarding the underarm zippers. Do they...
Regarding the underarm zippers.

Do they zip from both directions? i.e. two zip pulls per arm

or can you only zip one way?
, ☃bcs_badge_alumni_label☃
Best Answer
Only zips one way. Just one zipper.
One-way zipper. From just below the arm pit to the wrist.
This jacket is just what I needed, an in-expensive jacket that will keep the wind and water out. After camping in rain for two days, I was still dry and still happy. I would have given it 5 stars but the front is a little short for me. I am 6'6" though so I am not surprised. The rear is a lot longer and was just fine. Great jacket and convenient with the little stuff sack.
I bought this on SAC so was a super deal. Its nice lightweight rain jacket to take hiking/backpacking or even to keep in the car for those unexpected downpours. I took it on my trip up Mt. Whitney and it performed like a champ. Not the most breathable piece on the planet, but its not awful. Love it!
there are zippers on the underarm of the jacket that you can open, so you cool down your chest / armpits without having to get completely soaked from the rain.
You can open up the jacket under the arms and through the breast pockets to keep cool and still stay dry while hiking in the rain. It works too.
High end performance at low end price
Fantastic rain and wind coat. I have walked to the bus stop in a driving rain with this jacket. I alway arrive to my destination dry and not overheated. It's also light and tough enough for trail life.
This basic, functional parka is a good deal. The seams are taped well, making it totally waterproof, which is not usually the case with $50 jackets! Put some fleece on underneath and you have a pretty good winter setup. I liked this one enough to buy it again when I lost my first one, which showed no signs of wear after a good solid five years of use. All in all one of the best deals I've seen on a parka.
Huurricane parka is a great parka to buy !! It is light and give you the protection you need to go out while raining time. In addition to it, Parka Hurricane is easy to storage. I bought one, tried it and order one more parka but in different color.

Thanks !! Pedro Torres.
Bought this for the Arizona monsoons. Used this in heavy downpour to light rain. The only complaint is that it does get hot when wearing this jacket. It's not very breathable but the arm zips help when it gets too hot. Other than that one thing, this jacket rocks. Completely waterproof, nothing gets through. It's somewhat windproof. Very lightweight. Two inner pockets come in handy. Love the adjustable hood, hem, and cuffs. Also enjoy the visor on the jacket, keeps the rain out of your face, so you don't need a hat. Definitely satisfied with the jacket.
got this parka using a coupon so i saved a few bucks off retail. after using it a few times in inclement weather, the parka def held up. summer rain can be tricky b/c the interior can stick to your bare skin when sweating. wore short sleeves under and had to open the vents while moving around...kinda defeats the purpose of waterproof. nice parka overall.
Just a little too short for my tall husband. Otherwise nice jacket.
Excellent quality/price ratio
I could hardly be happier with this jacket for what it is - a cheap, quality, good looking shell. It is very waterproof but after about 6 months now its finish is starting to wet out a little instead of causing the water to bead. Breathability is good for walking around but not sports. I doubt you can find a better jacket for the price, and it beats the Marmot Precip with its quality/price ratio.
Lightweight and effective
Works well, even in heavy rain. Packs nice and small to fit in your daypack. Underarm vents kept me cool.
This waterproof parka is perfect for cycling in any cool-temped weather (rain or shine). I wear mine as an overgarment on cooler days... I love the full length zipper in the sleeve that allow air to circulate inside the jacket after I've worked up a sweat. Pockets on the inside and on the outside are also waterproof - keeping my wallet and other items dry.

All in all - an excellent value for the money.
Hardly. This peice is quality, but very inexpensive. Stiff competition for Marmots Precip jacket.
Great price for solid jacket
I like the jacket a lot because of its light weight and stylish design. The zippers are actually semi-waterproof and the pockets are easy to reach too. Rain beads on it and just runs off, which is great, but I give it a '4' because breathability isn't very good. It is a great jacket for school or work, around town, etc, but definitely not for running or sports. Packing...it might be OK as long as you don't wear too many base layer. In all, I highly reccomend it for the price and quality.
Spent two weeks in beautiful, brutal Ireland. In a day we experienced every kind of weather. This jacket packed away into a cargo pant pocket and kept me dry and warm in rain and 70-kilometer winds.
Decent jacket - waterproofing issues
I bought this jacket last October, very pleased with fit, design, etc. Unfortunately, 2 mos of use rendered it almost completely non-waterproof. All around good jacket though, especially when considering the price