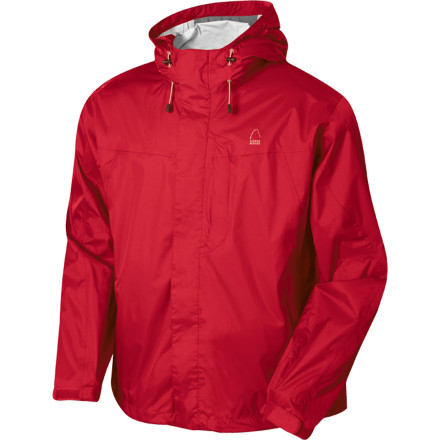 Detail Images

Community Images
Even though the weather outside is raging, you'll feel like you're in the eye of the storm when you wear the Sierra Designs Men's Hurricane Jacket. This lightweight and highly compressible rain shell feature PVC-free seam tape to seal out moisture and underarm zip vents to dump heat when things get steamy.
Solvent-free PU membrane provides protection against rain and falling snow
DWR coating encourages water and melting snow to bead up on the fabric's surface without affecting the garment's overall breathability
Fully taped seams mean water won't roll down the fabric and sneak in through the joints
Underarm vents lend airflow and increase evaporation when you work up a sweat
Center storm flap prevents rain from coming in through the front closure
This jacket is alright for a rain shell. Waterproofing is good, but the material is loud and plasticy. Also if you are doing anything active whatsoever, your sweat will condense on the inside and it gets clammy in a hurry. This isn't really a problem if you have a layer underneath it. (A mesh lining would help this jacket a buttload.)



The fit is large enough to layer under, which is great. The shoulders are a little tight/restrictive. It's fine for hiking but I play a lot of disc golf and it's not flexible enough for that.



The zippers are low-quality and not smooth. The biggest problem is the pit zips, which are SUPER NECESSARY to vent moisture (and opening them improves mobility)...but the zippers get stuck really easily, and it's a total bummer if you have to take the jacket off to unstick a zipper. Then you're just gettin' wet.



This jacket is very packable. It comes with a tiny sack that you are supposed to stuff it into, which is a gimmick. The jacket will pack down smaller (and deploy more quickly) if you just roll it up, but I will wind up using that bag for something.



Chest pocket: good. Flap closure for hand pockets: bad. Hood adjustment: good.



I also have a Venture rain shell by The North Face, which has very similar features. This jacket is almost as good, and at the price point I'd say very worth it. Material is very similar; I'd say the Venture is better because of the freedom of motion and the zippers are smoother.
My brother sent me this jacket when I was living in Wisconsin. I carried it everyday because I loved it so much. He sent me a Large and it is pretty big on me, I'm about 5'10" 180 pounds. Being big on me worked out in my favor because with the added room I was able to fit a 20l Heli pro backpack comfortably. During the summer in Wisconsin it would rain almost every week, and for me going inside wasn't an option. I had a bag full of paper and books and never once did anything get wet, even when I was riding a bike. It breathes pretty good as long as you are walking but if you pick up the pace you better open a vent, especially in the humidity.The jacket packs up really tight into the built in bag in the hood and can even go smaller than that when you need it too. The fabric holds up really well, there were times I thought it would rip on me searching for some discs in the bushes while playing disc golf, but it held strong. I wore it during the winter as an outer shell and once again it did not let me down. During the first freeze I noticed the water on the coat would bead up and freeze in small drops and then fall off if I moved too fast. The hood it pretty large it can fit over a bike helmet with no problem. The trade off for that is without a hat it can hang over your eyes. The only "problem" I ever had was that my friends kept trying to steal it from me. I got the jacket 4 years ago and it is still going strong. that puts it up to 2 years of constant abuse and and 2 years of camping in the Wind Rivers and Uintahs. Last year in the Wind Rivers it still kept the rain out with no problems and breathed as well as day one. This jacket does its job, year after year, and still makes everyone jealous that I'm dry and they aren't.
Super light packs up small and keeps me dry. Im 6'0 160 and I went with the large.
I purchased the jacket about a month ago and it was a great purchase. I picked it up for about $45 and to me that was worth it. I have taken it out in some light rain, and worn it while I kayak and it has kept me dry. Great jacket!
I'm 6'3", 200 lbs. with long arms and...
I'm 6'3", 200 lbs. with long arms and torso. I usually buy tall items if it's available. Should I go with the XL in this jacket or stick with the L?
It you want to wear only light layering underneath, then I think the Large will be fine. If you think you will see heavy layering under the jacket, probably step up to the XL. I'm 6ft 185, and wear a medium in this jacket.
got this for my PA AT trip good thing because Tropical storm lea came rolling in on day 3-5 jacket worked great kept me dry threw the down pours my lower arms where a little wet but that was probably from the pit zips that where open. Other than that light weight packs small. Im 5'6" 130lb and a small fits great
Unanswered Question
when i select electric blue it shows the...
when i select electric blue it shows the under arm having a lighter blue part and the logo is white, but when i click on the electric blue image below it it doesnt have the under arm different coloration and the logo is grey. If i were to order it in electric blue would it come like the picture that pops up when i select it? is there someway i can have it ordered like the electric blue below the main image, without the lighter blue seam and white logo? the picture below is how i Want it, just to be clear.
I got mine from the Sierra D outlet - obnoxious red was on clearance for $30! I was a bit hesitant about the loud color, but I've turned out to really love this jacket. I'm 6'3", 170lb and the medium works great for me, even with room for a fleece. It's super-light and has a stuff sack, so I can take it about anywhere. In moderately heavy rain with a heavy pack, I've seen the shoulders seep enough to turn dark red but not get me wet. 3 pockets are a plus, pit zips a must. Material feels sturdy, though not quite as much so as my buddy's mountain hardwear epic jacket.
Highly recommended!
Highly recommended
I was wondering about the sizing. i am...
I was wondering about the sizing. i am around 6'5 and around 165 pounds.Would the large be big enough but not to big? thanks.
I'm pretty sure you'll need the large so that torso and arm length are long enough. It will fit a little loose through the chest, but when you're tall and thin you're probably used to it.
Comparable to gear of the year jackets
My wife just got the 2011 Marmot Precip and was showing me all the bell and whistles, when I realized my Hurricane had all the same things. I got my jacket last minute, and did not realize the quality I had. I am 5'11 and 170ish, and normally have a layer on underneath, and it fits super comfortably and keeps the rain out. Packs super small in its own bag, which can be doubled as a water resistant storage bag.

I highly recommend this jacket
The se Jacket does the Work, it is super light and it packs in a super small bag that you can fold and keep in a pocket, it will protect you from the rain and it will dry super fast , it also have some zippers under your arm pit that allows air to flow freely, or just open the pockets for just some air to pass, the only problem that i see is that when exercising sweat can condense pretty fast but for the rest it is great it has a chest pocket that have a headphones access to the inside and it looks great!!
Very Sufficient For A Non-Crazy Price
First off,....what up? Anyway, this jacket is affordable and performs just how you need for a light weight and very packable jacket. Jackets below this range are cheaper but don't have the specs and their performance can't hang. The more expensive jackets are for the super serious hard core folks and the price could afford you a retired nasa space shuttle. If you're like me and need something that performs seriously but without going into the extreme performance range, or the extreme price range, then this is exactly what you need. Lots of protection, pockets, vents, stash bag, sinch cords mp3 pocket and convenience hidden hole, etc, etc, etc. Killer buy. DO IT!!!
Hi, I want to get this jacket for my hubby...
Hi, I want to get this jacket for my hubby but am not sure what size to get. He is 5'11" but super skinny ~ 145lbs. Any suggestions?
I would go with a Medium because a Large would be too big in the body. Hope this helps...