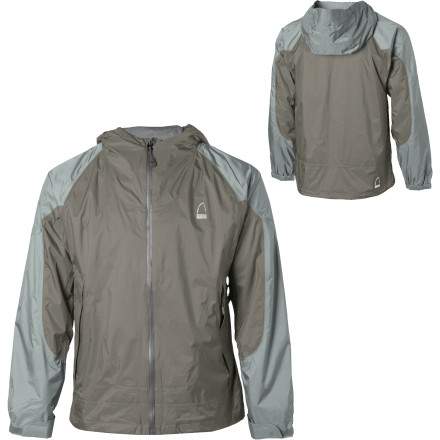 Detail Images
With a waterproof breathable shell and brushed tricot lining to manage moisture and insulate, the Sierra Designs Men's Hurricane Accelerator Jacket comes through when you need a little more than your summer rain jacket. Underarm zips dump excess heat and Sierra Designs' Condor Construction provides unrestricted movement for cold, active outings.
My girlfriend bought this for me around 35$. Ive told her once and I tell her all the time DONT BUY ME GEAR! And this Jacket is a perfect example.

My experience with this jacket so far is good enough for going around town and being close to a home base; work, home what have you. Why? Because it wets through fairly fast, the hood is huge, and the neck line fully zipped is horrible.

On the pro side it did keep me dry and warm. But in an extended hike or being outside for long periods of time this jacket does not cut it. Fresh out of the packaging in some spots it wetted through.

The neck line for this jacket is almost a deal breaker even for 35$. It comes up to the mid point of the neck, I personally hate anything that dosent reach the chin. It chafes the heck out of me and its annoying to have something around that area.

I didnt want to hurt her feelings but I would of rather had her save the 35$ and put it toward something useable, I would have pitched in the rest. Cheap gear is not a good idea at any time. If she paid pull price I would of flipped out and called Sierra Designs to let them have it. This is my first garment from them and im not impressed at all. I think its a good deal at 35$ but anymore and I would of have her return it.
Pros:
-Great bargain on SAC
-Waterproof, with a nice soft lining.

Cons:
-At full price, there are far better options available
-Doesn't pack into its own pocket, and packs down too big
-The lining makes it too warm for summer use for me.
I ordered a couple of different sizes and colors at the same time. Unfortunately, all of the jackets had problems with the seams where the stitching did not line up. One had the problem on the shoulder, another on the hood, and I can't recall where else. All in all, they were sharp looking jackets, but for something that was supposed to be rain gear, I was skeptical that it would keep me dry. Rather then take a chance, I just returned all the jackets.
I used to hate rain. Now I it's definitely bearable with this awesome jacket. It's comfortable and does work in the rain. The light fleece inside also makes it warm for those chilly rainy spring days. The only drawback is the hood is massive, seriously Chewbecca does not even need this large of a hood. But it does come with cinches which makes bearable. Otherwise a bomb jacket, with sweet features like stuff sack.
Great Jacket--the rain/snow beads right off. The interior lining is super nice for those fall and spring days that are just a bit nippy.

One design flaw--huge hood. Fits over a helmet for sure, but when biking or doing anything where it could catch the wind, it will. Cinching it down can work though
i ordered this jacket cuz it was un steep and cheap for $39. i thought it would be perfect for what i was looking for but wow, the hood was so big i could wrap it over the front of my face and touch my chest with the bill. i returned it for that reason. i am still looking for a good rain jacket with a hood that isnt rediculously huge. if anyone knows of a jacket that would work for me, please let me know. :)
Crumples up really small, and with the lining, is actually pretty warm too (considering it's weight) holds up pretty well in the rain, but will leak eventually (leaked after a couple hours of frisbee golf in the rain)

Definitely a great "throw in the car in case of rain" type jacket.
As for the claims of "waterproof" and...
As for the claims of "waterproof" and "breathable", is it really? Maybe only water resistant?
The fabric is waterproof and breathable. The seams are all completely taped. This is basically the Hurricane(http://www.backcountry.com/sierra-designs-hurricane-jacket-mens)with a light weight fleece lining.
, ☃bcs_badge_alumni_label☃
[Lining] 100% polyester jersey knit - Liner fabric details are actually shown pretty well in the 'detailed views' above.
Sweet Shoulder Season Jacket
The light weight fleece tricot lining adds just enough warmth for those early spring or late fall days. It comes with it's own fleece tricot lined stuff sack that doubles as a pillow... great for travel when you don't want to pack a bulky insulated parka.