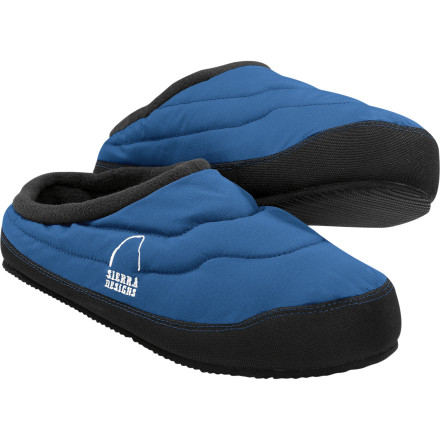 Thanks to the waterproof breathable Tropozone 2 shell on the Sierra Design Men's Down Shootie, you can enjoy sumptuous warmth without worrying about your feet sweating to death. Lightweight 700-fill down in these booties keeps your toes toasty, while the fleece cuff lining adds extra against-the-skin comfort. Underfoot, a die-cut EVA textured sole lets you scoot outside for the paper or more firewood as well as cushioning your tired dogs after a long day in mountaineering or ski boots.
Share your thoughts
What do you think of the
Sierra Designs
Down Shootie - Men's
? Share a...
So heres the deal, these are essentially the best down slippers I have ever bought. What I like about them is of course the fact that they are incredibly warm. I must say though these aren't the best to take on a winter camping trip as I have heard some others talking about; they perform best around the house. the sole is super durable and will withstand the elements, but the problem is they are just too low in the back. A bootie is much better suited for the winter environment, which Backcountry.com does state best uses for casual and lounging; I 100% agree. These also are much more compressed than what you think about with down fill. I have some sierra design booties, the name is leaving me at the moment,but the fill is not so compressed which means they pack down much nicer and have a little more of a plush feel when you put them on. Back to the low back, these fit much more like a clog than slip on much like a Baffin style slipper. I Would also recommend sizing up higher than the sizing chart by 1 size. I wear a 10.5 in most footwear and do not fit into the size large which is suppose to be 10.5-11. If you are a 10.5 definitely go with the XL, you won't regret it. So in summation, these are incredibly warm and super cush for around the house. Size up when ordering, and you will not be sorry.
These down slippers are the bomb! Since I've been waiting for winter, I've been wearing them around on my cold hardwood floors nonstop. When the snow starts flying, I plan on keeping my feet happy by changing in and out of my riding boots and taking them winter camping. They're comfortable and warm--and they've got an anti-microbial lining for your dog's slobber and a kick guard to save your toes. Sizing is somewhat small.
Comfy even at home around the house and outside if need be.Wear with assurance that they won't be wearing out in say six months and have to buy new ones.
A warm, rugged pair of slippers.
I heart these slippers, alright. Warm? Yes indeed. And the thick, ridged, closed cell foam sole ROCKS for those trips out to the woodpile or the outhouse. I'll be packin' 'em on my next hut trip, sure enough.
Go one size bigger if using with socks
Im a men, my shoe size is 7.5 US, I ordered Size small (7-8 US), they come a little bit small, they are fine without a sock, Im planning to use this while at camping at the mountain, that means I will be seeping with thick or mid socks, and I will have to take them out to use the slippers.....my suggestion is to go one size bigger if you are 1/2 size like me 7.5 US
Too small + heel slippage in back
I ordered a size L based on my shoe size of 10.5 and the sizing chart. Too small, my toes are jammed. Also there's heel slippage in back because the back of these slippers is so low. I do like the wear-resistance of the sole vs. the cloth sole on my North Face booties, which are shredding after some good years. Nonetheless looks like I'll be eating a $7 return fee. Not recommended.
Do these Down Shooties run small, large...
Do these Down Shooties run small, large or true to size?
Slippers with a legit sole and weigh nothing. So much better than slipping into boots to answer nature's call. These aren't as great as the booties for lounging around a winter camp site as the coverage isn't equivalent, but slip then on after emerging from your sleeping bag and your rushing to the latrine (tree) fast enough that you might just be back in bed before the cold even hits you. And it won't come up though the snow with these on.

Their long term durability is in question, but they aren't designed for hiking and daily use. This is either a comfortable house/get the newspaper or mail slipper or a great addition to a camping/mountaineering kit where comfort is worth an extra half pound.
What is size is a mens 9?
What is size is a mens 9?
go with the large it will fit much better they run small.