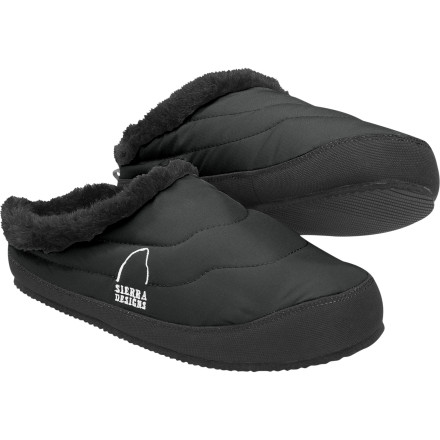 If you like to wear cozy down booties on cold winter mornings and secretly wish that you could wear them all day long, the Sierra Designs Down Shootie is definitely for you. Not only does this bootie come with 700-fill down to keep your toes warm during the cold winter months, it also features an EVA outsole for cushioning and protection for your walk to the corner store.
Tropozone 2L fabric is made from partially recycled materials and has a DWR coating to repel stains, water, and melting snow
700-Fill down retains its loft over time and offers light and airy insulation that won?t weigh you down
Textured EVA outsole provides traction and light protection for the bottom of your feet
How do I know what a large or extra large...
How do I know what a large or extra large is?
Hi Andrea,
Check the SIZE GUIDE located directly below the COLOR/SIZE options drop down box. The drop down box is located immediately below the price. Large is 8.5 - 9.5, and an XL is 10 - 11 (women's sizing)
I bought two pair. One for me and one for my mom. She has chronically cold feet and these shoes definitely get them warm. I can take my pups outside right after the sprinkles run and my feet stay warm and dry. We are loving them.