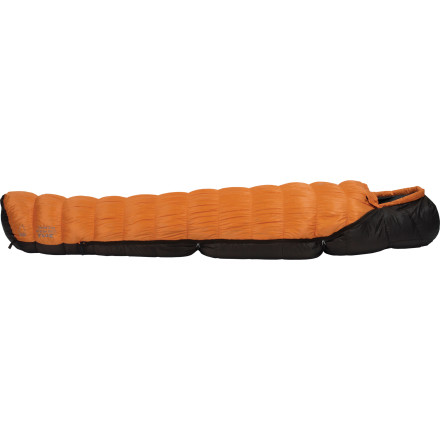 Somehow it's not as hard to bust out a high-mileage day after a good night's rest inside the stretchy 30-degree down Arrow Rock Sleeping Bag. Keeping you toasty three seasons out of the year, this mummy bag's Flex stretch construction gently pulls the 600-fill goose down close to your body for maximum warmth and comfort.
Rated down to 30F, this bag is suited for most spring through fall nights and summer mountain trekking
Tough ripstop outer shell withstands trail abuse
Soft, 600-fill down insulation is light weight, traps warmth before it can escape, and retains its loft after repeated compressions
Flex baffles stretch to eliminate constriction and allow the bag to move with you at night; improves thermal efficiency by keeping insulation close to your body
A zippered draft tube and adjustable hood seal you off from cold
Shaped footbox doesn't restrict your natural sleeping position
A pillow pocket lets you insert a hoody or camp pillow (sold separately) for maximizing your comfort
Compression stuff sack packs the bag down to its 7 x 16in size
Rated down to 30F, this bag is best suited for three-season camping in the mountains or winter nights in milder climates
Just pulled the bag out of the box, so this is strictly a prelim review. From what I can tell so far, this is a nice bag and I think I'll be happy with it for years to come. I was a little hesitant about the stretch aspect of it, but once I got inside, I decided I really liked it. Coming from a bag that was too long for me, it's nice to have a bag hug me. I can feel the stretchy cords in the baffles right away, but it's also 102 degrees here right now, so I'm in shorts, pretty sure that won't bug me when I'm sleeping. I'm a side sleeper and tend to move around a bit in my sleep so I think this feature is going to be a home run. The down is distributed so that the upper part of the bag has maybe twice as much loft as the bottom part of the bag, which is great for keeping weight down. The color is not my first choice, probably my last, actually. I want to blend in with the environment, not stick out, but whatever, I got this bag half off on SAC, so I can sacrifice the color.
Details you can't see in the ONE photo of this bag: there are two removable pad locks underneath the bag, there are multiple loops attached to the bottom and side of the bag for drying it out, etc, the zipper goes both ways, so if you're warm or wanna stick a leg out, you can unzip from the bottom, there is a small pocket on the outside near your head (probably big enough for chapstick and a pair of glasses), and the bag comes with a cotton sack for long term storage and a small sack for stuffing (not a compression bag, i.e., there's no compression straps).
The zippers and draw cords leave something to be desired, though. The zippers snagged on the outside of the bag a few times. The 'snag-free zipper tracks' are on the inside of the bag, so, sure, it doesn't snag on the inside, but they also make it a pain to unzip from the inside of the bag. The drawcords are just paracord (?) so there is no elasticity to them, but in a bind, it's nice to know there is some extra cord to use for other purposes.
Last thing, the description says there is a slip for a pillow, no, there is not in my bag!!! I'm thinking the bag I got was an older model or something.
Overall I think this is a great bag!
are there straps to secure a sleeping pad...
are there straps to secure a sleeping pad underneath the bag? it looks like it in the picture but i don't see this mentioned in the specs.
update: according to the sierra designs website, there are pad locks on this bag.
Kendall,

That is a feature Sierra Designs discontinued this season, so that bag might have it or they might have been removed depending on when backcountry.com received in stock.

Sorry that is not very clear but i would not count on it.
Lightweight bag for summer
I love Sierra Designs for sleeping bags. In fact, I own 3 of them for myself. I love the Arrow Rock for mid summer here in the PNW in Washington. For 2lbs this bag is so light weight that it feels like nothing but it still very warm. I personally haven't tested it out to much below 40F but I feel the temperature accuracy is spot on. For most sleeping bags I always add 10F to their rated temp for comfort. If the bag says 15F it is really a comfortable 25 and so on. I also like the pillow picket underneath the hood to help prop you up for sleeping or reading. The stretchy baffles make sleeping in it a dream. I also haven't noticed any down leakage which has been a problem in a REI bag I own.
Does this bag have a draft collar in the...
Does this bag have a draft collar in the shoulder area in addition to the one along the zipper?
No it does not, it is not necessary on a 30 deg bag. You will see draft collars usually starting in the 15 deg range and then for sure in anything rated colder than that.