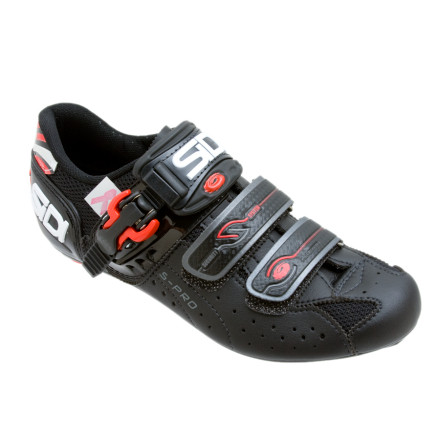 Detail Images

Videos
Sidi is the world's bestselling brand of road shoes, and the Genius 5 is the best selling model from Sidi. Its Lorica upper has all the upsides of leather with none of the negatives. Lorica is supple, conforming, highly breathable, and will not stretch. In addition, Lorica is water repellent, highly abrasion resistant, easy to clean and won't rot or dry out. Sidi combines Lorica with ballistic mesh to give you superb comfort, fit, and ventilation.
The Genius 5 Pro Composite Women's Shoes are made with Sidi's Millennium 3 Carbon Composite sole. Unlike the Nylon construction of the Millennium 2 sole, the Millennium 3 is constructed from an injected carbon fiber in a nylon matrix. This provides 37% greater stiffness than the Millennium 2, and it's more durable to boot. One other nice detail with the Millennium 3 is its replaceable non-slip heel pad -- great for when you're click-clacking through Starbucks.
Sidi adds a ratcheting Ultra SL buckle so you can micro-adjust strap pressure to ensure that the fit of your upper won't be too loose or too tight. The Ultra SL is mated to a soft Arch Compression Strap that more evenly spreads the upward stroke pedaling forces across the top of your foot. The Ultra SL buckle provides 4 clicks per uptake along with half-click releases, meaning that you can precisely tension the pressure of the strap. No other system so precisely and so gently provides custom fit. You also get the precision of two High Security Velcro straps per shoe. The Velcro is reinforced with integrated locking teeth to absolutely, positively resist slippage. Combine these straps with a molded plastic heel cup and you end up with unmatched security. Its padded tongue with fit "relievers" is one final small (but important) detail that helps deliver unparalleled comfort.
The Sidi Genius 5 Pro Composite Women's Shoes are available in White and come in most half and full sizes between 36 and 43 European.
Sidi Genius 5 Pro Carbon Women's Shoes
Sidi
Gender:

Female

Familiarity:

I returned this product before using it
Great looking shoe, but about a size too small and narrow as well.
Great shoes, I love them. It fits well and the design is beautiful. I'm very happy with it and got a great deal on Realcyclist when it went on special.
Great shoe and shoe fit: 1/2 size smaller than US size
This shoe is my first road bike shoe after all the years of wearing touring/mountain bike shoe. After lots of research, I finally come across to this shoe. Not only it's beautifully designed (typical European elegant design), but this shoe is so comfortable to wear. It hugs my feet nicely and it feels snug comfortably.

I know there are a lot of questions in regards to the sizing. So here's my experience. I'm 5.3 and I wear US 7.5 size (= 39.5 European size). I managed to try both 39.5 and 39 at the same time, and ended up buying size 39. Size 39 fits really snug while size 39.5, even though it feels a little roomier but I can feel a tad larger. I even did a comparison of feel by wearing size 39 for an hour, then took off the right shoe and swapped it with 39.5. (so left shoe was 39, right shoe was 39.5). Then, I sat down for 30 minutes with both shoes on. After 30 minutes, I could feel the difference between the two shoes. Size 39 fitted snugly on my feet while size 39.5 felt a little larger (similar feeling if you wear a shoe that's 1/2 size larger or maybe like wearing sneakers).

My old shoe (Shimano), I wear size 39 too. So my recommendation would be buy 1/2 smaller than your usual size, if you like the snug feeling. But if you like something roomier (feels like wearing sneakers, probably) then buy your regular size. The conversion between US size and European size on the drop down menu is correct. However, if you want to buy Sidi genius 6.6, their sizing is a little different. So this review is only for Sidi Genius 5 Pro Carbon.

Also make sure you line up the letter "I" and "D" on the top of the highest part of your foot when you try it on. It makes a huge difference on how it feels.

Hope this helps.
Love these shoes! Great fit, clean lines and easily to adjust.
I am a US size 8. What size should I buy...
I am a US size 8. What size should I buy Sidi road bike shoe?
I have a 40 Shimano and it is too big!
Thanks,
Vera
I'm a size 10 and I wear a 41 or 40... so you should go down quite a bit.
Vera,
if you use the drop down sizing menu for the Sidi shoe that you are interested in purchasing, you will find that the sizing is very accurrate. The sizing chart recommends a 40 for you.
If you hae owned other cycling shoes, be prepared for the best cycling shoe experience of your life.
Best Answer
Sidi seems to have changed their women's sizing over the past 10 years- they even mention this fact on their website. I am a street shoe size 8. My old Sidi Dominators are a size 40, but my new ones are a size 39.5. I'd be interested to hear if any other women are experiencing this, too.
I would find a bike shop and try some on. I'm a women's size 7-7.5 but have possible neuroma and need wide shoes - I bought a men's 40 and LOVE them. They may be too loose for racing, but I can tighten them adequately when needed. I've had them 4 years and I just finished the 2011 RAGBRAI in them. I also put a custom shoe bed in them that requires me to go up in size too - keep that in mind and try on shoes with any insert you plan to use...I don't even want to think about another brand of road shoe.
Sidi's sizing chart seems to quote a bit larger than other Italian shoe sizes; I wear a U.S. 7.5 and usually take a 38 -38.5...just have to try on in your home both sizes that sound like they 'might' fit. Also, Italian shoes are nortoriously narrow! Frustrating...
These shoes are great! They're comfortable and fit nicely (although run about a half size too big). The cleats are easily installed.