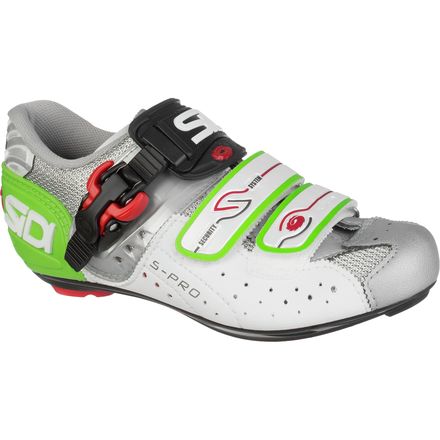 Detail Images

Videos
Description
Built to win.
Sidi is the world's bestselling brand of road shoes, and the Genius 5 Pro is the model that sells the most. Its Lorica upper has all the upsides of leather with none of the negatives. Lorica is supple, conforming, highly breathable, and will not stretch. In addition, Lorica is water repellent, highly abrasion resistant, easy to clean, and won't rot or dry out. Sidi combines Lorica with ballistic mesh to give you superb comfort, fit, and ventilation.
The Genius 5 Pro Shoes are made with Sidi's Millennium 3 Carbon Composite sole. Unlike the nylon construction of the Millennium 2 sole, the Millennium 3 is constructed from injected carbon fiber in a nylon matrix. This provides 37% greater stiffness than the Millennium 2, and it's more durable to boot. One other nice detail with the Millennium 3 is its replaceable non-slip heel pad -- great for when you're click-clacking through Starbucks.
Sidi adds a ratcheting buckle so you can micro-adjust strap pressure to ensure that the fit of your upper won't be too loose or too tight. It's mated to a Soft Arch Compression Strap that more evenly spreads the upward stroke pedaling forces across the top of your foot. The buckle provides 4 clicks per uptake along with half-click releases, meaning that you can precisely tension the pressure of the strap. No other system so precisely and so gently provides custom fit. You also get the precision of two High Security Velcro straps per shoe. The Velcro is reinforced with integrated locking teeth to absolutely, positively resist slippage. Combine these straps with a molded plastic heel cup and you end up with unmatched security. Its padded tongue with fit "relievers" is one final small (but important) detail that helps deliver unparalleled comfort.
The Sidi Genius 5 Pro Shoes are available in White and come in most half and full sizes between 38 and 52 European.
Share your thoughts
What do you think of the
Sidi
Genius 5 Pro Carbon Shoe - Men's
? Share a...
Didn't like
Gender:

Male

Familiarity:

I've used it several times
Very uncomfortable shoe. The insole is hard and very tough on the feet above pedal contact. Had to purchase insole pad which helped. But I shouldn't have had to buy extra stuff to make comfortable. The large SIDI strap hurt my instep. Had to force tongue straight on both shoes to prevent large strap from digging into instep/ankle area. Tongue on both shoes seemed to not be centered. These shoes seemed heavier than my cheaper Diadora from 2010. The carbon sole was no stiffer than the Diadora synthetic sole either. The heel was like walking in women's pumps. You must walk carefully to prevent turning an ankle. I could have overlooked heel if not for the other problems.

I had to return shoe. I really wanted to keep shoe since it is so hard to find shoes above size 50. I got the normal width. Oh well.
Replaceable parts = value!
Gender:

Male

Familiarity:

I've put it through the wringer
SIDI only makes Cycling shoes. A highly specialized Italian company devoted to manufacturing the absolute finest road shoes. I truly love the comfort & fit of SIDI.
Having sold quality footwear for 18 years I can attest to the craftsmanship of these fine shoes. Even a better value on sale! You won't regret this purchase.
I have a question about sizing. I wear a...
I have a question about sizing. I wear a US Men's 7 and according to some of the shoes I own that translates into an EU 39, and for others that's a 40. The sizing chart for these shoes says 7 = 40.5. So, based on others' experience, what size is most likely to fit? Or is it so widely varying that I should I order three pairs in different sizes and return the two that don't fit?
Best Answer
IMHO I would stick with 40.5
Standard
Familiarity:

I've put it through the wringer
This is about all you need in a shoe. It is nice that the majority of the parts are replaceable; this is a feature that extends the life of the shoe by quite a bit.
Nice Shoe
Familiarity:

I've put it through the wringer
Great upgrade over cheapish entery level shoe's without breaking the bank. Defenitly feel stiffer than cheap shoes, fit is nice, comfortable. The sidi retention system is nice very adjustable and simple. strap's buckles and heel pad are replacable all nice features when you put down alot of miles. Remember contact points are worth not beaing cheap, get good stuff for your feet.
Best Recreational Shoe
Familiarity:

I've put it through the wringer

Fit:

True to size
Not the stiffest, not the lightest but super comfortable and very functional. The Italians know how to make shoes! The leather kind of molds to your feet with time. Relatively narrow fit but the leather will stretch. Cant go wrong with this shoe!
Sidi Genius 5 Pro Carbon Shoes
If you have a wilder foot and need some extra room in the toe box this is not the shoe for you.
Lower end shouldn't mean cut corners
Gender:

Male

Familiarity:

I've used it once or twice and have initial impressions
If you have a volumous foot with high arch, do not buy. Even so, the tongue has little padding, millenium "carbon"is about as stiff as my specialized sports with a nylon sole I use for spinning and the insert is literally about 3 sheets of paper thick. Sidi makes good shoes but they won't give it to you for under 350 bucks. There are better shoes out there for this price point.
Are these shoes compatible with speedplay...
Are these shoes compatible with speedplay pedals?
www.speedplay.com will give you the most current shim and compatibility information
Just don't fit my high volume feet
Sidis are high quality shoes, but, unfortunately, they just don't fit my normal-width, high-volume/high arch, female feet. I had read that the heel cup on the narrow men's Sidis was the same as on the women's shoe, which doesn't have enough room for my foot. The Sidi USA website said the men's narrow was better than the women's for a high-volume foot. But they still didn't work for me. A regular men's is too floppy in the heel. Boo-hoo.
I've been using the Sidi shoes for about a month now. They are great. Very stiff and fit well, plus the ratchet and straps allow me to adjust on the ride. My only complaint is the insert padding. I swapped out some new inserts to cushion my foot a little more. Otherwise, no issues! I ordered 43 and they fit well. I didn't have to adjust the size from my other bike shoes.
Great shoe... know your fit
I just ordered a pair of these and really like these shoes. I originally got the size 43, which is my size for some shoes including my ski boots but they fit were a little big with some heel slip. I went into a local shop and tried on a pair of the 43's and 42.5 and in the store the 43s felt like the ones I needed as the 42.5's came right up on my toe. When I riding, the 43 had extra space and felt soupy. When getting road shoes, your foot actually slips back into the heel cup so toe space when trying on like normal shoes (i.e. standing and walking a bit) don't worry about the toe space. When in doubt, go for the 0.5 size smaller for the snug fit that you'll really want when your riding. I wrote them once and returned them; I emailed the dudes at realcyclist and they shipped out an order that day for the 42.5 for a swap. Great customer service, which is esp great when trying to order shoes online. These shoes are amazing; very much recommend them to anyone. I was wondering if the upgrade to the Ergos would be worth it, primarily for the heel tension mechanism, but once I got the right size these shoes fit exactly like you want them to when your riding. Usually my feet get a little tingly when I ride and i thought that was something that I'd just have to deal with; my first ride with these shoes my feet were warm and without numbness. Proves that having smartly fit and nice riding shoes are worth it.
Great shoe. Fits well. Adjustments are precise and easy to use. Sole is very rigid for power transfer. I have three pairs of Genius 5 Pro (two pairs in black and this pair is white). I punish shoes in double-century events, many of which are in the rain with the shoes unprotected from mud, grit, road grime, etc. They stand up to the abuse. They are on the expensive side but my experience is that they are worth it.
is the shoe strap (ratcheting buckle)...
is the shoe strap (ratcheting buckle) rebuildable on this shoe? That is, if it breaks, can you replace the strap short of returning it to the factory?
Yes, you can replace the strap or the ratcheting buckle with a screwdriver in 2 minutes.
Unanswered Question
Maybe shipping to Per?, for USPS First ...
Maybe shipping to Perú, for USPS First Class Mail International, thanks.
Great shoe. I'm on my second pair. If you use it with Shimano SPD cleats the 8mm bolts are too short and can stip the threads. I suggest getting 10mm cleat bolts.
Unanswered Question
Does Sidi make the White Vernice in mega...
Does Sidi make the White Vernice in mega sizes?
I buy regular shoes in 3E or 4E widths and searched extensively for a shoe wide enough for me. When I first tried on the Sidi Pro 5 'mega' I couldn't believe how perfect they fit. In the first 5 seconds of having them on my decision was made, no need to look further. The shoes are very comfortable, well made and are holding up well. If you have very wide feet you owe it to yourself to find a shop with these shoes and try them on. Highly recommended
Had these shoes since 2005,simply THE best shoe on the market! Time to replace the cleat and heel pad,but other than that these shoes Rock!!! Money well spent.