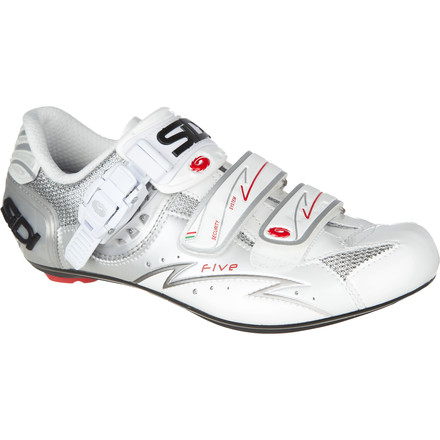 Detail Images
Few names resonate through cycling's history like Sidi, and that resonance is created by stylish kit like the Five Carbon Shoes. Though these shoes do earn a five out of five for style, their appeal runs much deeper than that. Fit, power transfer, ventilation, and even a bit of flex in the toe to facilitate comfortable walking — no detail, however small, is overlooked on the Five Carbons.
Sidi made its name with the kind of innovation that produces features like the Five Carbons' Lorica uppers. Lorica forgoes the usual breaking-in period of synthetic leathers, conforming to foot profiles almost immediately. It's also highly breathable and won't deform over long days in the hot sun. In addition, Lorica is water repellent, highly abrasion resistant, easy to clean, and it won't rot or dry out. Ballistic mesh in key areas of the shoe provides additional ventilation to key areas.
The sole, not to be outdone by the Lorica upper, is Sidi's Eleven Carbon Composite Sole. It's constructed from a layered 3k weave of carbon fiber shot through a matrix of Nylon 12, which ensures the sole doesn't warp after prolonged exposure to heat or humidity. It's also a full 20% stiffer than its predecessor, the Genius soles, despite its composite construction. Even with the uptick in stiffness, the toe area of the shoes offer a subtle degree of controlled flex to relieve stress in the plantar tendon as you ride. If overly stiff shoes are a bane of triathletes in the transition areas, the Eleven Sole should be something of a godsend, as it prevents excessive soreness after long rides.
Fit is, of course, at the heart of any cycling shoes, and this is where Sidi really shines. The classic ratcheting buckle manages the fit at the top of the shoe so you can micro-adjust strap pressure for a fit that's not too loose or too tight. It's mated to a Soft Arch Compression Strap that more evenly spreads the upward stroke pedaling forces across the top of your foot. Two hook-and-loop straps at the mid-foot and toe box finish the customization off, letting you keep the shoe snugly in place while still allowing for adequate metatarsal expansion. The molded heel cup deters slippage, and the whole system is finished with a padded tongue to relieve 360 degrees of pedaling pressure.
What do you think about this product?
Have questions about this product?
Unanswered Question
Hi, these aren't shown on the Sidi website. What is the difference between these and the Genius 5-Fit? I can tell they are different because the shoes on their website have '5-fit' on the side of it, instead of the 'Five' that is shown on this picture.