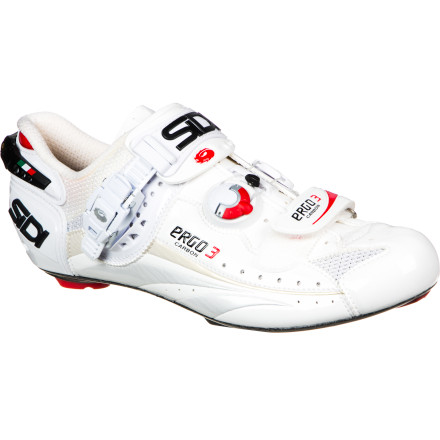 Detail Images
With the popularity of Speedplay pedals, it was inevitable that Sidi massaged the soles of their top-of-the-line racing shoes to have a specific shape to fit Speedplay cleats. These Ergo 3 Speedplay Carbon Shoes are identical in every way to the Ergo 3 Vent Carbon, save for a few changes underfoot.
The carbon fiber sole has a four-hole Speedplay mounting system, rather than the typical three-hole arrangement you'd find on Sidi's road shoes. The advantages of being able to mount the cleat directly onto the sole without an adapter plate are numerous: The cleat can be 4mm closer to your foot for a reduced stack height. The system will save 62 grams. You'll have 6mm more adjustment range towards the back of ...the Speedplay-specific sole lowers the stack height and saves precious grams without the usual adapters... the shoe. All these benefits do come at a cost; this Speedplay version lacks the vented sole of the standard Ergo 3 Shoes. It would seem that the four-hole Speedplay cleat bolt layout precludes the option for the venting inside the sole.
The Ergo 3 has the same three component arrangement as previous Ergo shoes -- Ratcheting Caliper Buckle, Techno II Buckle, and Velcro Strap. The Ratcheting Caliper Buckle is mated to Sidi's Soft Instep Closure System strap that more evenly spreads the upward stroke pedaling forces across the top of your foot. The buckle on the outside of the foot provides a maximum of two clicks per uptake along with single-click releases, meaning that you can precisely tension the pressure of the strap, even during a race. The Techno II Buckle allows you to micro-adjust strap pressure, so the fit of your upper won't be too loose or too tight. No other system so precisely and so gently provides a custom fit. The Velcro strap on the toe is reinforced with integrated locking teeth to absolutely, positively resist slippage during crucial all-out efforts.
Sidi adds their improved Heel Security System (HSS) to keep your foot positively planted in the shoe. It's an adjustable, rigid composite band that closes the shoe more securely over your heel to anchor it in place around your Achilles. So no matter how much power you're pouring into the pedals, your heel will stay in place inside the shoe. It's a detail that allows you to cinch down the straps of your shoes less tightly -- giving you more comfort along with more security.
With a degree of engineered flex in the carbon sole and a secure and slip-free heel, you won't have to worry about hot spots. And you don't have to worry about heat in the rest of your feet, either, thanks to the Ergo 3's combination of Lorica microfiber and ballistic mesh -- giving you comfort, fit, ventilation, and durability.
The Sidi Ergo 3 Speedplay Carbon Shoes are White and come in half sizes from 40-48. All the small parts on the Ergo 3 Shoes are fully replaceable. It's nice to know that you can wear your Sidi shoes for a decade's worth of riding. As wear and tear (and accidental damage) happens to your shoes, Sidi will be there to nurse them back to health.
Pedal stack height is reduced by three millimeters compared to using three-hole to Speedplay adapter plates
Dual-density insoles provide long-ride comfort, and won't move around inside the shoe
Padded tongue and Soft Instep Closure System eliminate hot spots
Speedplay-approved carbon fiber sole ensures maximum power transfer and excellent ergonomics
The redesigned heel retention device is placed lower and wider for a more comfortable and secure fit
What do you think about this product?
Have questions about this product?
comfort + and great ergonomics
Familiarity:

I've put it through the wringer
What can you say about Sidi shoes that hasn't already been said?

There's a reason why the pro's all use them. They are comfortable for long distance rides.
Seven hours plus? Not a problem.
Replaceable parts? Also not a problem.

The Ergo's have great latches (though they fooled the doctors at my latest hospital trip for a while ;-) and if you tighten them up too tight, then clip the top latch a couple of notches off and then slip the middle latch for a second, they give great fit and hold your foot perfectly without being too tight.

I'd recommend these to anyone that rides predominantly flatlands or rolling hills. All of the comfort and function comes at a slight cost and that is weight. Whilst they aren't any heavier than most shoes out there, they are not lightweights.

What you gain is great durability, function, comfort, spare part availability, and a great look.

I've got to give them 4 stars, only because of the 250gms extra they carry over my giro empire SLX's. ..But then most shoes carry that penalty.

Hi. I need a size 45/46, is that going to...
Hi. I need a size 45/46, is that going to be on stock? Br Claus


as of 13 July 2013 I do not see any current orders with Sidi to get these restocked. That does not mean we will not be getting these in again, just not in the foreseeable future.
Unanswered Question
What is the thickness of the sole at the...
What is the thickness of the sole at the cleat interface? I see the DMT states their carbon sole is 3.5mm thick at the cleat interface getting your foot even closer to the pedal.
Sidi, what's your's?