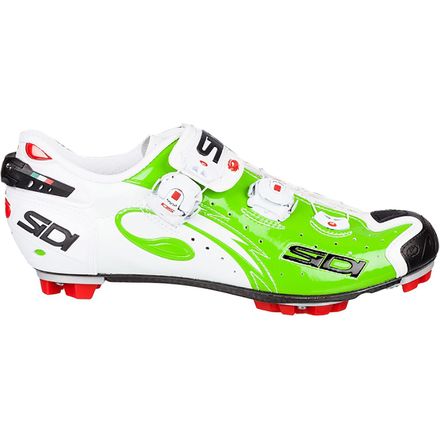 Detail Images
Description
Command respect.
We don't always put much stock in celebrity pro endorsements, but when we happen to notice a cyclist of Absalon's caliber riding the same model of shoes for years on end, we do take note. The latest model of Sidi's Drako SRS Push Shoes benefit from the same pedigree of World Cup domination that won Absalon's continuing patronage. This pedigree ensures that those of us who may currently lack the Frenchman's results — but aspire to the levels of XC respect he enjoys — know that we won't be shortchanged by under-powered kit.
The Drako SRS Push Shoes feature Sidi's newly improved Tecno 3 Push fastener. Like its predecessor, the Tecno-3 Push system involves two ratcheting dials, Sidi's proprietary, non-stretch wire, and a customizable fit at the instep and forefoot. The Push in the shoes' title refers to the incorporation of a red button on the buckles' faces that releases the ratchet's lever for quick adjustment, saving you the onerous task of flipping the lever up yourself. At ride's end, pinching two release buttons on either side of the dial loosens the wire. As with all of Sidi's fastening hardware, you can easily fiddle with the Tecno 3 Push buckles in the saddle.
The Drako's SRS Carbon Ground Sole and replaceable cleat wear plate return unchanged. This sole shaves 100 grams off its predecessor's weight without sacrificing comfort, efficiency, or durability. The sole comprises a medium-modulus carbon body supplemented with SRS tread blocks and a cleat wear plate, the latter two of which are replaceable. Using a medium-modulus carbon as the base provides a slight flex along the length of the foot with no compromise to the overall rigidity of the sole, a delicate but necessary balance for top-level off-road shoes.
Sidi's Heel Security System (HSS) also makes an encore appearance, using an adjustable, rigid composite band that closes the shoe more securely over your heel to anchor it in place around your Achilles. No matter how much power you're pouring into the pedals, your heel will stay in place inside the shoe, even if you leave a bit of slack in the Tecno-3 lines in order to alleviate pressure across your metatarsals. The shoes are finished with Sidi's synthetic Lorica uppers inset with ballistic mesh panels and capped with a rubberized toe shield.
Great shoes, right out of the box
Familiarity:

I've used it several times

Fit:

True to size
I've been wearing Sidi's for the past 10 years or so, and had my old pair dialed in, but this summer they finally gave out. I looked at all my options and came up with the Drako's. Pulled the trigger and my only fear was that they wouldn't fit correctly. Revceived my shipment on time and immediately tried them on. Right out of the box they fit perfectly, and have had no problems. The Drako's are definitely not the cheapest, but they fit great, are superstiff, and the new lacing system ties it all together. Thanks to Backcountry for the great service!
Nice but Relatively Heavy
Familiarity:

I returned this product before using it

Fit:

True to size
A little background: I've been using Sidi Dominators for the last 6 years. They fit great and work well, but are worn out. I started road biking about 5 years ago and have good luck using MTB pedals and shoes on the road bike. While I'm not a major weight weenie, I'd still like the lightest MTB shoes possible so I'm not significantly disadvantaged in road bike events.



Sidi indicates the Drako is 100g lighter than a previous models weight. Unfortunately Sidi does not publish the actual weight of their shoes. I even emailed them to inquire and got no response. The Drakos arrived today so I put them on the scale. For comparison, my old Dominators weigh 380g each (size 44.5). I figured the Drako will come in at about 280g (based on Sidi's claim of shaving 100g off of a previous model). The Drakos, weigh 375g each. No real weight benefit compared to the much cheaper Dominator. For an expensive high end race shoe they are a bit on the heavy side.



For comparison to other major manufacturers advertised weights for their top of the line, carbon sole MTB shoe offerings: Shimano XC90 and Giro VR90 both claim their shoes to be about 315g per shoe. Specialized SWorks 335g. All weights are without pedal cleat.



The Drako is a nice looking, stiff soled MTB shoe. With the ratcheting dials and the adjustable heel collar they have a nice amount of adjustability and fit me well (my foot is on the wide side with a big instep). Unfortunately they are just too heavy considering the price and what the other manufactures offer. I'm sending them back.
Luxury for dirty feet
Familiarity:

I've put it through the wringer
I have ridden every high end shoe imaginable, and all perform admirably well, but the Wire's are a cut above. The fit is such that your feet feel as one with the bike; no foot pain, no hot spots, no issues at all!

Not only are they the most supremely comfortable high-end shoes I have ever worn, they are every bit as stiff as the Shimano XC-90 and Specialized S-Works shoes I have recently owned.

I have been a Sidi fan in the past and recently converted back, and am seriously disappointed that I ever purchased any other brand's offering.

If you're looking for the best shoes money can buy without going custom, look no further!!

Oh, and get the green while they last; could you ask for a better colored shoe!?