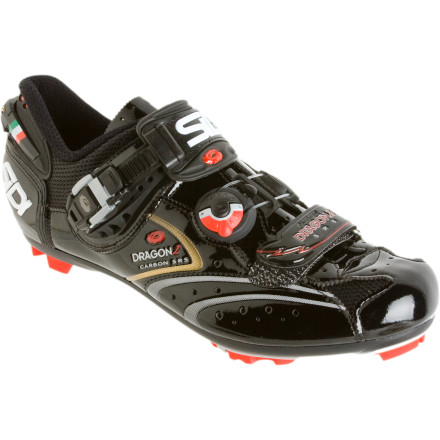 Detail Images

Community Images
Description
Visions of podiums become reality in the Sidi Dragon 2 Carbon SRS MTB shoe.
Elite mountain bikers and pro racers need a shoe that will match their off-road performance—that shoe is the Dragon 2 Carbon SRS from Sidi. Precision-cut, hand-stitched Lorica synthetic leather and breathable mesh panels keep the upper supple, cool, and comfortable, while the full carbon fiber soleplate slaughters rotational weight and dials power transfer past the redline. When the trail turns into a mud pit and you're scrambling, the replaceable dual-density SRS treads and optional screw in spikes provide ferocious grip, and Sidi's Techno II buckle and Heel Security System keep the Dragons clamped to your feet like pit bulls on steak.
Share your thoughts
What do you think of the
Sidi
Dragon 2 Carbon SRS Shoe - Men's
? Share a...
I have had 6 pairs now. I have never actually worn any out but I Love them and get new ones!

Stiff, adjustable, and fit so well.

Just bought blue ones.

You better go fast in these high price kicks
HELLO, I AM LOOKING FOR A DEALER NEAR...
HELLO, I AM LOOKING FOR A DEALER NEAR DETROIT OR IN CANADA WHO SELLS SIDI DRAGON SHOES
Hey,

Try contacting Sidi directly for that...They should be able to tell you who is carrying their brand and what exactly they have available.
I have a pair of Specialized S-works road shoes and wasn't sure these were going to fit as well because of the size differences (no half sizes and no stores locally to try them on). I'm glad I purchased them, the fit is really good and the carbon sole isn't an issue - walking/short hikes, etc. I have had them for 6 months, one thing to watch for / keep somewhat clean is the techno 2 buckle. After a few rides it wasn't releasing properly, after taking them off the shoe and cleaning the mechanism all was good again. Since then I put a couple drops of chain lube on the nylon string and all is good - no more worries. There are a lot of reviews of people loosing the screws on the bottom of the shoes, I just removed all of them and applied a little bit of blue loctite before the first ride. No issues. Great shoe, the heel support helps. If you don't have a narrow foot, you may not like them.
Expensive yes. Micro adjustable, light and efficient. I have had them for a year. Got six endurance and cross country races along with a pile of training/leasure rides on them and they have performed well and still look good. Very breathable. if you hike a bike on rock a lot I would noy buy a carbon soled shoe unless you have a fat wallet.
Need a pair of Ruby Reds in 41
Need a pair of Ruby Reds in 41
Sorry, that item is no longer in stock.
Unanswered Question
Large feet.

I have the Dominator 6's with...
Large feet.

I have the Dominator 6's with the non carbon sole from about 3 years ago and I like them but I never been completely comfortable with them. I thought about getting the Dom 5's in the Mega width, but I want something with a carbon sole.
So my question is, how do these handle wide feet with a large instep?
Where do we get warranty information for...
Where do we get warranty information for Dragon cycle shoes. Have a warranty issue with them...Corp, returns information
You should be able to find all the info on the little pamphlet that they usually come with, but if not you can go to the contacts section of their webpage. Just google Sidi.
In the States contact Veltec Boyer Sports for your Sidi needs:

http://www.veltecsports.com/index2.html
If you buy them from HucknRoll they will do all warranty issues for you.
These are some of the very best mountain bike shoes I've worn. I've been through about everything: Shimano, Carnac, Vittoria etc. and these are the most comfortable for sure. These are extremely stiff and do well even climbing out of the trees when you have a throw-off. These shoes also expel mud and crap out of the soles extremely well so when you're in the thick of it with nasty weather you'll be taken care of!
Typical Sisi high quality. The latching system seems over- complicated. Once you have them on the feel very positive. I use them for both road and off-road. I have yet to use them in nasty conditions, but I think the ankle cupping system would work well.