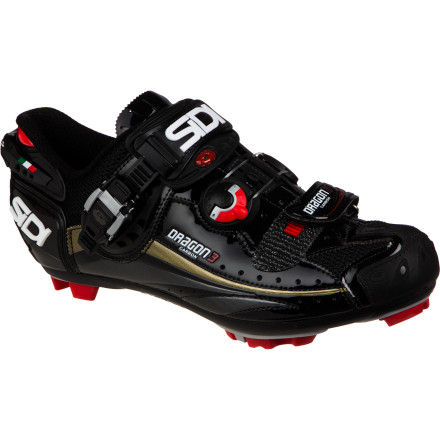 Detail Images

Community Images
The best riders in the world rely on Sidi Shoes for race day, and mountain bikers are no exception. Nino Schurter wore Sidi Dragons when he won the World Championships in 2009 and the World Cup the following year. The Sidi Dragon 3 Carbon SRS Shoes are the latest evolution of what has been Sidi's no-holds-barred effort at making the perfect MTB shoe.
The Dragon 2 was obviously a tough act to follow, but this Dragon 3 offers a few new details that make it even better. Most noticeable is the rubberized toe cap. The front of the shoes are now covered and protected against scuffs. To a certain extent, the toe cap protects you from injury from rocks flipped up from the front wheel. Improvements to the heel also make this one a touch more comfortable. Otherwise, the Sidi Dragon 3 Carbon SRS Shoes have the same favored upper (thanks to a blend of Lorica and mesh), and they employ the same four-pronged retention system to keep your foot in place when you stomp on the pedals.
At the back of the shoes, the molded plastic heel cup is reinforced with a Sidi's Heel Security System (HSS) -- a rigid, adjustable plastic band that closes the shoe more securely around the back of your heel to anchor it in place around your Achilles no matter how much power you're pouring into the pedals. You'll get less heel slip, and it's a detail that allows you to cinch down the straps of your shoes less tightly -- giving you more comfort, not just more security. The ratcheting buckle allows you to micro-adjust strap pressure across the top of your foot. It's mated to a Soft Arch Compression Strap that spreads the upward stroke pedaling forces across the top of your foot. A Techno II buckle across the middle of your foot is anchored by a monofilament line and dial that further allows you to control the pressure across the forefoot. The strap system relies on a third component, a Locking Velcro bottom strap. It's reinforced with integrated locking teeth to absolutely, positively resist slippage. No other system so precisely and so gently provides a custom fit.
The sole is crafted from high modulus carbon fiber. It has a customized layup to add stiffness where it's needed and some "give" where acceptable. A constant thickness of carbon would be punitively rigid. This sole permits some give (read: no hot spots and easier running) without allowing power-robbing flex. The trademark Sidi SRS fully replaceable sole system is affixed to the outside of the carbon sole, ready for times that dismounting is the only option. The Dragon 3 Shoes can accept toe spikes as well.
The Sidi Dragon 3 Carbon SRS Shoes are Black and are available in whole sizes 39-48 and half sizes 39.5 - 46.5. All the small parts (SRS tread plates included) on the Dragon 3 Shoes are fully replaceable. It's nice to know that you can wear your Sidi shoes for a decade's worth of riding. As wear and tear (and accidental damage) happens to your shoes, Sidi will be there to nurse them back to health.
Stiff, lightweight, carbon SRS sole transfers energy directly to the pedal for greater pedaling efficiency and features replaceable tread blocks
Optional SRS toe guard included for added durability and toe protection
Redesigned adjustable Heel Security System eliminates heel slip for maximum Caliper Buckle t2-way ratchet system for easy adjustment on the bike
Padded instep closure system eliminates pinching and pressure points
NOTE: Sidi's warranty requires the use of the Crank Brothers Reinforcement Plate (SID0069) when using Crank Brothers pedals
Share your thoughts
What do you think of the
Sidi
Dragon 3 Carbon SRS Shoes
? Share a...
Great Shoes, very comfortable, has 3 different attaches on each shoes (1. Caliper buckle, 2. Tecno II system, 3. High security Velcro.) Have a carbon fiber sole and a SRS sole that can be removed and replaced (instead of buying a whole new shoe)
One con, little expensive, but in general, they are great shoes.

Comfortable and Adjustable
I have been riding these two seasons now, and am glad I followed my road bike shoe onto the trail. The adjustability, even on the fly, is so nice. You can crank hard on the ratchet for a tough climb and back off when the trail eases off. Forget the footbed, it is flimsy, but that is usually the case. I use a Surefoot insole, which even further dials in the fit. Can you go too wrong with an Italian shoe?
Unanswered Question
How much do these weigh for a size 42?
How much do these weigh for a size 42?
I'm wearing a size 44 Specialized shoe;...
I'm wearing a size 44 Specialized shoe; will the Sidi 44 fit the same?
I would call customer service.

Small parts replacement is great.
Excellent shoes, very comfortable worth the money, very adjustable so that it makes them fit tight for better power transfer and much better traction on hike a bike very steep areas, heel stays tight in shoe. Best Mt Bike shoe I ve owned bar none. Been riding 30 yrs.