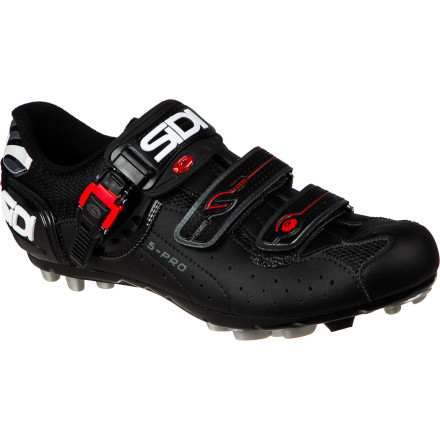 Detail Images

Videos

Community Images
Description
Dominate the sidewalk too.
The Sidi Dominator 5 shoes feature a lugged sole that hides the recessed cleat for ease of walking.
Sidi's Dominator 5 mountain bike shoe is one of the most popular in its line of shoes. This is for severla reasons, not only do they feature superb fit and a stiff sole, the mountain bike designation gives them a lugged sole which easily "hides" your two-hole cleat so that you're able to walk without slipping. They are ideal for any rider, even if you own a road bike. After all, the pedals don't make the bike.
The uppers of the Dominator 5's were built from panels of Lorica, a synthetic leather, and mesh. While it isn't the 'real deal,' Lorica doesn't stretch when wet and doesn't harden when dry. Mesh inserts allows warm air to ventilate so that your feet stay cool and dry. The uppers are secured using the Ultra SL Buckle system, which allows you to micro-adjust the fit of the shoes. It is matched with a Soft Arch Compression Strap which is able to distribute the pressure of the uppers over a wider surface area thereby providing a higher level of comfort. The hook and loop straps feature interlocking teeth that resist slipping.
A Sidi Competition sole is mated to the uppers. This wide-lugged sole helps to expel mud so that you don't slip and slide when you're forced to hike-a-bike. The composite sole is rigid while being compliant enough to minimize hotspots. A molded heel cup that includes fit "relievers," helps to hold your feet into the shoes so that your feet stay put and power is efficiently transferred to the pedals.
The Sidi Dominator 5 shoes come in Black and are available in sizes 38-52.
NOTE: Sidi's warranty requires the use of the Crank Brothers Reinforcement Plate (SID0069) when using Crank Brothers pedals.
Share your thoughts
What do you think of the
Sidi
Dominator 5 Shoes
? Share a...
They work...well.
Familiarity:

I've put it through the wringer
I have been riding and racing mountain bikes for 18 years and have come to a point where I only use products that hold up to the abuse mountain biking dishes out and that will last a few good years (or more). i.e. Chris King headsets, Thomson, Shimano pedals, DT Swiss hubs and Sidi Dominators. I have tried a few other brands over the years just to make sure I wasn't missing something (Specialized, Giro, Shimano) but came back to the Sidi's after these brands fell apart after one or two seasons. Bottom line, they hold up after severe beatings for several years before needing to be replaced. They are comfortable. The buckle has never failed me. They offer great platform support to transfer energy to the pedals. And for me they fit is perfect for my feet.
AVAILABLE IN WIDE->+++++
Familiarity:

I've put it through the wringer
I love SIDI hoes. Dominator on the MTB, Genius on the road. 42.5 wide fits me perfectly. Durability is superb.
Insoles suck but that is true of any cycling shoe. I use the G8 Archtech 2600 insoles for a truly custom fit.
Sidi Dominator
Familiarity:

I've put it through the wringer

Fit:

True to size
Best shoe so far. Riding and racing Mtb. Bike packing. Adventure riding. Some cx racing. This is my third pair in the last ten years. Fits like a glove. I've had the carbon Dragons also and keep going back for the Dominators.
Sidi Dominator 5
Familiarity:

I've put it through the wringer

Fit:

True to size
This was my first pair of Sidi shoes. They are by far the most comfortable mtb shoes that I've ever owned. Whether I'm climbing, descending, or riding on the rock and mud beaches along the Rio Grande, Sidis remain comfortable even when I stop for limited walking or standing still.
It took 2 tries to find the right size but backcountry.com / Competitive Cyclist were great to deal with when making the exchange.
I have a feeling that these shoes will last much longer than my Bontragers did.
buckle broke, buckle broke again
Familiarity:

I've used it several times

Fit:

True to size
This is my second pair of Sidi shoes. The previous ones lasted for 15 years. These ones lasted for one rocky mountain bike ride when a thin piece of the buckle broke off. Returned those & the second pair lasted 8 months before the buckle broke again. Great shoes except for the details of the buckle.
Been wearing Sidi bicycling shoes since the late eighties. Sidi always provides a good fit for my feet and these are no different.
I have been riding these shoes for many years. The ratchet upper buckle is nice and gives a micro fit. Strap velcro is ok, they have their own velcro style with a rubber center strip with teeth the help with against pull. Additional toe spikes help while hiking, yet I find these shoes pretty slippy and not the most comfortable to hike in since the sole is pretty hard. That translates into a stiff sole that climbs great. So if you have the foot and can get over the price go with these. I have even tried the next model up shoe and find these fit better in my opinion.
Guys/gals': Sounds like a great mtn.bk....
Guys/gals': Sounds like a great mtn.bk. shoe! This would be my first pair of bike shoes (don't believe in skimping on quality); what pedal system do you all recommend? As suggested in the 'ad' above?...(will be mtn./trail riding).
Also, how do they seem to run, fit-wise? Nomally wear a 7 1/2 ladies U.S.
Any help so appriciated
Best Answer
They run true to size in my opinion. They may have a slightly "european" fit that makes them feel a little narrow - but a tight fit is important with mtn bike shoes. They are also quite adjustable.

I would have to recommend the Crank Brothers Egg Beater pedals. Not because they are super light (they are) or because they shed mud the best (they do), or because of the four-sided entry (great feature) but because they are probably the most popular style right now, and its so so nice to be able to ride a buddy's bike without having to swap pedals.

PS. these shoes last forever... the people that say they've had them for 15 years don't surprise me at all.
They fit true to size, I tried a lot of shoes on before choosing the Sidis. I did go with an insole that helped with comfort for hiking my bike and raised my foot for a tighter fit.
Aaron is spot on with the Crank bros pedals. I ride the eggbeaters on my road bike and Candy 2 on my mountain bike for a little extra stability
Thanks, guys!

Now, what do you recommend for a great cyclocross bike (currently have a *Trek Fuel EX 8) ?!
...And, the same set up peddle-wise?
When I bought my last road bike I had tried a few, The specialized Crux was one I liked a lot. I don't have much for experience with cyclecross bikes. I'm a mountain biker mostly but road bike for training and cardio. I do like to use the same pedals on all my bikes, that way you don't have to swap cleats and can move pedals around without having to worry about your shoes
Thanks, that's the exact bike I was thinking of getting!
When I get the $$$$, I'll review how the whole system works out for me; for any other's with the same questions!

Thanks again so very much, very helpful!
Side makes the best cycling shoes on the market! I have both Side Road and Mountain Bike shoes and they are great.
Six years of solid service
Gender:

Male

Familiarity:

I've put it through the wringer
That's right, six years and lots of trails. The only thing replaced is a buckle. I'm just about due for another pair and I won't hesitate to buy again. Great fit, great value.
Fits like my Sidi Genius Wide road shoe, which is exactly what I was looking for. Very comfortable, very durable, stiff sole.

Note: Stiff sole definitely not optimized for walking - can certainly run up a short hill, but it's not as comfortable for walking around as my previous old specialized (but it's much better for riding).
I've had 4 pair and three are destroyed because the soles chunk up and fall off. The grey softer rubber just falls off.

Not a good buy at even half price.
and they're maintaining, but I don't expect them to be my primary shoes for much longer. The insanely long Sidi spikes ripped out of the soles and ruined the threads. Now the toe-box leather, like other people are experiencing, is wearing.

But, after three years of use it's not the end of the world, I'd probably destroyed 3 pairs of $100 kicks by now anyway. Biggest pet pev is the buckle always packs with trail-side vegetation and jams up. You can never get the buckle to release post ride without fussing with it.
I bought these for my road/commuter bike because I need the ability to walk around more than I need carbon fiber supersoles. The shoes feel light and fit very comfortably. They are great for walking around after reaching your destination, and then provide great performance when you're back on your bike. They are definitely worth the price.
It's the only shoe that fits my long, flat, and narrow feet (I'm a 46.5 A or B width). The insole/footbed is thin and wimpy, but that's the case with every bike shoe. I can replace it with something better. Sidi Dominators are notoriously sketchy when you need to put your foot down on wet rocks, roots, bridges, my wet deck, etc. The outsoles are hard plastic rather than sticky rubber. The Sidi Dragons ($$$) have softer rubber outsoles which are replaceable for a small fortune. If you've never owned these shoes, they last forever. The synthetic leather uppers and the hard outsoles are tough. The buckles can be fussy when clogged with dirt, debris, dry grass, etc. I've had a tough time loosening the ratcheting mechanism when the buckle is clogged. The heel cup is narrow but flares out away from your heel rather than in toward your achilles. It's a tiny bit loose on me, but my heels are narrow. The more expensive models have a tightening mechanism for the heel cup. Overall a great shoe. Light, durable, and simple.
Very comfy shoe. Rode them 13+ hours and over 55 miles in one day. No waterproofing! Only wear when dry and hot. First day review - bad heel slipage when in hike a bike mode, buckle broke, toe leather showing lots of wear, super comfy, fit one size smaller than you think, fit a wide foot. You can wear these shoes all day as song as you never have to get off your bike, shoes are not great when they hit the dirt, or snow, or water or a walking stride.
These shoes are great though i havent ridden in them yet and i will say that they are true to size don't order larger in fact im thinking i should have ordered a half size smaller but will see when the next pair gets here. good quality well made hope they stand the test of time might look into the optional inner soles as i see they offer a few. plenty wide for regular used to tight fitting these seem looser in the width area but that could be that i ordered a quarter size bigger thinking they would be too small- wrong
Unfortunatly I didn't have the chance to use them, the sizing I figure out with the help of your expert didn't turn out so well and the shoes were way to big, I had to rturn them and now not really feel comfortable ordering again until I'll get he chance to try it on to avoid another mistake.
They look very well made, that all i can say.
Sidi dominator shoe narrow
Shoes fit great as I was told they would and they are in fact narrow I got the 46.5 narrow...Very stiff sole, almost as stiff as carbon. Workmanship looks up to par and they have pretty good grip when walking...My only small gripe is that when I am sprinting really hard and pulling up on pedals as well as pushing down I get a small amount of heal slip. Problem goes away if I cinch down the ratchet but then I start to get pressure points...Will see how shoes holds up long term. I expect for paying 200 plus that they should last several years.