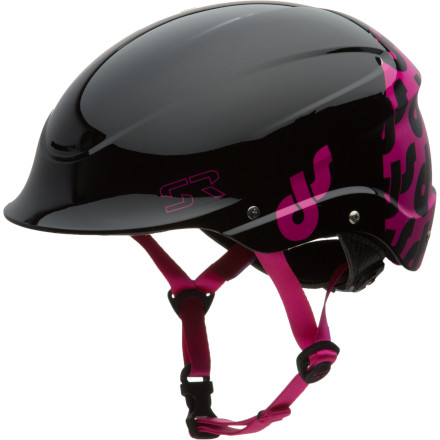 Detail Images
When you're going out for a paddle, it's smart to protect your dome in case you come into contact with rocks. Pull on the Shred Ready Standard Half-Cut Helmet. A combination of the ABS injection molded shell and the multi-impact molded EPP liner helps take the smack out of injuries in rocky rivers. This helmet comes with multiple closed-cell foam pads that you can insert inside the helmet for an ideal fit, making one size fit any head comfortably. You can also cinch the HOG2.0 Retention System at the back the helmet for a more secure fit that will keep the helmet in place no matter how rowdy the river is, and the nylon chin strap connects to four points to ensure the snuggest fit possible. Shred Ready made the rivets and burrs out of stainless steel to prevent corrosion so you can stay safe in this helmet for a long time.
ABS injection molded shell
Multi-impact molded EPP liner
HOG2.0 Retention System
Nylon chin strap with four-point retention
Interchangeable compression molded closed-cell foam
Stainless steel rivets and burrs
What do you think about this product?
Have questions about this product?
No Traumatic Brain Injury here!
Familiarity:

I've put it through the wringer
So I purchased one of these early last summer. And all and all I've been really happy with it. It's even saved me from racking my head against a boulder in a class 3 at peak flood stage after a week of heavy precipitation. On many occasions I have rain this river in my LL Remix XP 9 and haven't had a problem but on this day and at peak flood stage the current was stronger!... to say the least.



Anyways. I did an eddy peal mid current that I have done several times before and that day and the current grabbed an edge and rolled me over so fast I didn't even know what happened until I was under water. I tried to roll it back over and the current was to strong. Before I knew it my Shred Ready Standard Half-Cut took a strong hit to from a boulder that was normally above the water line. It rattled me a bit but saved me from being knocked out. And for that I can't say enough good things about it. With out it I most likely would of drown that day.



My Shred Ready has always been a good fit. But if you wear glasses like I do... watch out it can press your ears against your bows and make it a little uncomfortable. I have mounted two Sony Action Cam mounts on my Shred Ready. One on top and one on the right side. This was after my accident so sorry no cool pics or videos of my accident. The mounts did fit really well on the top of the helmet but on the side above my right ear the mount did hang off the edge of the contour a little. So it was a sadly necessary to crazy glue the mount a little to ensure that the cameras weight didn't come off.



Also after mounting my Action Cam on the right side for a POV cam it did make the helmet shift a little lower to the right side and added a little bit more discomfort to my right ear as it pressed my ear into the bow of my glasses even more. But all and all protection wise and the ability to adjust it and save you from Traumatic Brain Injury it's worth the money, and I speak from experience. I love my Shred Ready.
Awesome Protection
Familiarity:

I've used it several times
This helmet is pretty freaking sweet. I was hesitant about the universal sizing at first because I have a small head but these things are super adjustable. They come with three different sizes of foam inserts for both the front and the back of the helmet so it's very customizable and there's an additional tightening mechanism in the back for you to synch down every time you put it on.



The front peak is a bit short so it doesn't provide the greatest sun protection but since the helmet itself is so adjustable it's easy to size it over a hat to give your face some shade.



Another thing about this helmet is that it provides full protection of your head, going from the middle of your forehead, all the way down the back of your skull where it meets the neck without any gaps. This is awesome for your cerebellum and temporal lobe but a note for people with longer hair: it does limit the number of comfortable ponytail options that you can pull off while wearing the Half-Cut. For me, though, the level of protection and the sweet color options make up for it.