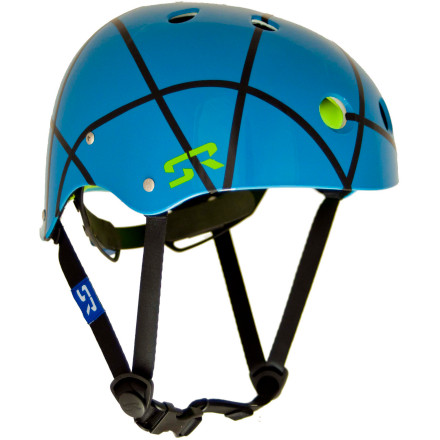 Detail Images
Surf your secret big-creek wave for an hour and then go to the skate or wake park without taking off the Shred Ready Sesh Kayak Helmet. Modeled after a skate helmet, this durable, versatile hard-shell bucket protects your learned brainstuff while you kayak, skate, wakeboard, or ride BMX.
ABS outer shell and molded liner provide impact protection to reduce head injuries along rocky rivers and concrete skate parks
Straps, Hot Lock sizing strap, and buckles provide a secure fit and ensure long-lasting durability
Several colors match your river, lake, and/or street style
Any chance you guys are gonna get size L in the next week? preferably mate black
Unfortunately we are not Richie. I dont see anymore on order for this season.
Minimal adjustment and protection
Familiarity:

I've used it several times
I bought a M and a L on discount to have on hand for guests in my raft. For this use they suffice. They protect from getting whacked with a errant paddle or the popular tumble backwards on to the rock that stopped the boat move. But I would not consider it safe for Kayaking where a person may need bomber protection while working to roll up. It is far too easy to have it roll back on the head and leave the forehead exposed. There is not enough adjustment range to be ideal for guest use either. Shred ready make some great lidz. This is not one of them. I would not buy this again.
maybe my expectations were too high
ok so i know its not expensive but this thing is junk. rear strap stiff and push ratchet in back is highly noticeable. i got the black helmet and discovered the padding is pink. really? Pink? shell is thin plastic with minimal padding that has no option for adjustment. got it at a discount so not worth paying to ship back. anyone want a free helmet?
Sesh - X-Small min;19.25" max;21.5"

Sesh - Small min;21.25" max;22.5"

Sesh - Medium min;22.5" max;23.25"

Sesh - Large min;23" max; 24"


The strap inside the helmet makes all the difference in comparison to other brands that don't have it and bobble around.