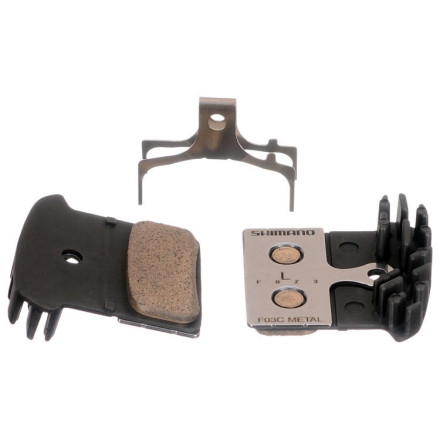 Description
Shake 'n' brake.
When you're boogieing down the trail, it's nice to know that you've got some shoes that'll help you slow down before things get out of hand. Shimano's XTR (F03C) Metallic Disc Brake Pads will do the trick and then some, with a killer F03C metal compound that's designed to bring your speed quickly down to sub-sonic levels, especially when they're paired up with Shimano's Ice-Tech rotors. The metal compound supplies more consistent stopping power than organic pads, and the cooling fins help dissipate heat to prevent fade when you're mobbing down long descents.
Steel body
F03C metal-compound pads
Cooling fins
Designed for use with Ice-Tech rotors
XTR compatibility
Recommend
Familiarity:

I've put it through the wringer
If you have Shimano brakes, you really can't use anything else... I recommend these ones! amazing
Road disc brake compatibility
Familiarity:

I've used it once or twice and have initial impressions
For anyone wondering, these pads are compatible with Shimano BR-RS785 road disc brakes. Despite my best efforts, the resin pads my bike came with simply wouldn't burn in and howled like a banshee every time I used them. I swapped them for the metallic pads and they've been great thus far. They have significantly more stopping power, no noticeable loss in modulation, and most importantly, they are dead silent. Highly recommended, especially if you're a clyde like me.
Can I Review Twice?
Familiarity:

I've put it through the wringer
Reviewed these a while ago...still same great quality! I ride 3-4 hours a day with around 30 miles average on steep declines and I've never found pads I trust more!

As my previous review stated, stick to the metallic! The resin pads are suppose to be "quieter" but I don't hear the metallics and they have 2x the stopping power!
Ol' Reliable
Familiarity:

I've put it through the wringer
While organic pads offer slightly better modulation, they wear out far faster. When logging big miles, the metallic compound offer great stopping power (and still good modulation), but keep you rolling much longer. Highly reccomend.
Worthy upgrade
Familiarity:

I've put it through the wringer
I recently replaced the Shimano Deore pads on my Santa Cruz Bronson with the ice tech pads and I'm pretty happy with the upgrade. My pads were due for a replacement so I decided to bite the bullet and go with these. My bike came stocked with the Shimano Deore M615 brake set and these pads work just fine. I have noticed slightly better performance on long downhills vs. the non-Ice Tech pads that were stocked on the bike. They tend to fade less and keep more consistent, especially near the end of the descent. I wouldn't say that it's such a night and day difference that you should scrap your non-Ice Tech pads if they're in good shape, but when it comes time to replace worn out pads, these give a pretty decent performance boost.

I ride mostly in Park City so we get mostly dry and dusty conditions. I've been happy with the metallic pads - I originally had organic pads and recently replaced my pads and rotors. The metallic pads haven't been any noisier than the organic ones, and have given me a slight improvement in braking power and modulation
GOAT IS GOOD
Familiarity:

I've used it several times
Metallic have held up longer and less squeak than the organic. Great stoppers. Running them on XT hydros.
Unanswered Question
I have the XTR M985 Brake set. Wondering if these pads are compatible?
Great Durability
Familiarity:

I gave it as a gift but have feedback to share
Quiet pads that last an exceptionally long time!
Trust your skill, but mostly your brakes
Familiarity:

I've put it through the wringer
I recently tried the resin pads on my SB95c w/XT trail brakes. Many online reviews had the resin pads above the metallic pads. Take it from a professional rider, they are not! Once I broke in my resin pads I let loose on them descending 1,200 feet at a time over rocky/loose terrain. I've also used them on cross country rides, moderate short downhill and long smooth downhills that require almost constant breaking. Safe to say they have been through it all?



Critics out there? I have sanded the Resin pads and my rotors twice. So they are properly broken in. I'm also using Ice Tech rotors 203 front, 180 rear.



The resin pads don't handle high heat and fade VERY quickly. They also don't supply a range of brake pressure. They are either off, or mushy on, with much more lever pressure to get the stopping power I needed on some of these descents.



Granted the metallic pads do work better when warm, however it doesn't take long to get heat going on your brakes and notice no issues getting full breaking power from a cold stop.



Metallic pads last longer, provide better braking control, and as I've noticed no difference between the two as far as sound goes...I'll stick with the Metalic Pads. You should too.
Awesome Pads
Familiarity:

I've put it through the wringer
Great replacement pads for Shimano 2 piston brakes. Super quiet and long lasting.
Guys, Are these compatible with the BR-M785...
Guys,

Are these compatible with the BR-M785 callipers?

Cheers
Best Answer
Hi Ruben,



These brake pads are compatible with teh BR-M785 Calipers. The M785's are compatible with the G01A Resin pads as well as the F03C Metal pads (which these XTR trail pads are). Feel free to chat online with one of our bike experts or give us a call with any questions or concerns that you might have.
Andrew, thanks a lot. Cheers
Good Pads
Familiarity:

I've put it through the wringer
These are my favorite pads, they are easy to install. I don't know whether or not the icetech is all talk or not but it does seem to keep them from getting so noisy. They are pretty long lasting too.
Great Pads
Familiarity:

I've put it through the wringer
I use these in my XT brakes and they are great. To be honest I have never used the same exact brakes without the cooling fins so I can't say for a fact, but this set up definitely does well on longer downhills. Super quiet which is a plus, and grabs my ice tech rotors with plenty of grip.
Great silent pads
Familiarity:

I've put it through the wringer
FYI these work in SLX, XT, as well as XTR brakes. Not sure if the cooling fins are noticeable due to a placebo effect or not but they do seem better than the stock pads that came in my XT brakes as far as keeping brake fade down. I wish they lasted longer but I've said that about ever set of pads I've ever bought for any brakes. They are also the most quiet pads I've ever used. When wet you get the occasional squeal out of them but that's it, they are silent outside of those conditions and bite like a pit bull.