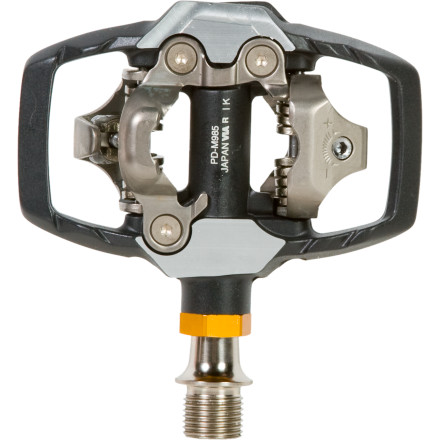 Detail Images
While racers often look for the lightest possible parts to lessen their burden, ultimate lightness may not be your first priority. Perhaps you'd like a greater platform to support your shoe when you stand up to bomb down a rocky descent, or to make clipping-in in the midst of a steep climb easier and more secure. Before these XTR Trail PD-M985 Pedals, if you wanted a big platform, you had to sacrifice for a lesser pedal.
These XTR Trail Pedals are exactly like the XTR Race in both performance and function. The only difference is that the pedal body extends fore and aft of the retention mechanism as a lightweight cage to better support the sole of your shoe. Otherwise, they're still super light, and shed mud better than ever before.
The retention mechanism is basically the same as the benchmark 970 pedals with wide, open ended tabs that allow easy entry and security for your cleats. In this case, no change simply means that Shimano had their pedals completely dialed already. The open design allows muck to flow through, not hampering your ability to engage in a hurry. Other than the cage, the most significant design change is that the pedal body has flat platforms on the inboard and outboard edges to keep the sole of your shoe from twisting on the pedal. By comparison, the XTR Trail Pedals have nearly ten times the platform area than the older M970 pedals.
The XTR Trail PD-M985 Pedals come with SM-SH51 (single release) cleats and are also compatible with SM-SH56 (multi release) cleats. They have chromoly spindles and spin on sealed bearings. The tension of the retention mechanism can be adjusted via a hex screw on the back of each pedal on both sides.
I beat the crap out of them...
Familiarity:

I've put it through the wringer
I wreck, I do urban riding, some off road, all weather, etc.. I have about 5000 miles on these so far, still going strong. Absolutely solid product, you can't go wrong.
Love these.
Familiarity:

I've put it through the wringer
I had a pair of xpedo titanium pedals and they just didn't give me the stable platform I needed (It also sucked that the pedal kept coming loose on a descent one time, nearly throwing me off my bike). These XTR pedals are amazing. I never have issues with my rides and I do a lot of pretty hard single rack runs, as well as very steep descents. Never misses a beat. If I ever buy more bikes, they will all have these pedals.
The XTR Trail Pedal from Shimano is the prefect trail pedal. Light, durable, great mini-platform size, and functionality is amazing right out of the box. I'm a big fan and will have a hard time riding anything else going forward.
Absolutely no regrets. Performs perfectly. I have these pedals on three bikes and love them.
The Definitive Trail Pedal
Familiarity:

I've put it through the wringer
The problem with dainty-light pedals is that there is never enough contact between the shoe sole and the pedal body, leaving the rider feeling less connected to the machine. This pedal fixes that problem without compromising in mud clearance or weight. You get the classic engagement of SPD with more stability and purchase for quickly gaining footing after throwing a leg out through the turn.



Bearings have been durable for over 600 miles. Pedal body can take a punch too. Overall, there is not a better Trail pedal on the market.
Hard to choose this over XT
Familiarity:

I've put it through the wringer
I honestly think that the weight savings is the only selling point of this over the XT. I have owned both, the XTR required more maintenence, and developed more wear from clipping rocks than the XT's.



This is still an amazing pedal, and I would have these on my bike in an instant, if the XT's weren't a better pricepoint.
Love these pedals!
Familiarity:

I've put it through the wringer
I've been running these pedals for year, never had a single problem. I've smashed them on lots of rocks along the way with no real damage either. Light, strong, and more stability underfoot than a normal SPD pedal.
Purchased these before a week long trip to Oregon to ride in Hood River / McKenzie / Bend and I'm glad I did.



Felt extra lateral stability, always stayed glued (I crank these two within two clicks of fully tight), and never had a problem. Wasn't particularly concerned with weight, so I won't comment on that, but I'll keep these pedals for years I'm sure.



Short-term review: two thumbs up for aggressive trail riding / lots of pedaling / pumping and blasting.
Light! Yet a broad, stable platform.
I upgraded to these pedals from my old m646's. Shaved more than a half-pound off my bike. I'm no weight-weenie, but it made an immediate difference. Still waiting for my Giro shoes to completely mate with them but so far, the cleat retention is great.
I've had many Shimano SPD's over the years. Only one pair has broken on me...ever. The rest I've gotten rid of through rationalizing a "goodwill" donation to friend in need.
After fighting with my CB mallets and breaking a few beater springs, I've gone back to the ol' SPD's. And man, I forgot how much better these are! The adjustable tension is and has always been awesome. I find I can feather my foot position with much more confidence on these by using the spring tension as a marker point. CB's just kind of wiggle around, where these inspire confidence. Probably my pedal for the next decade, because yes they will last that long.