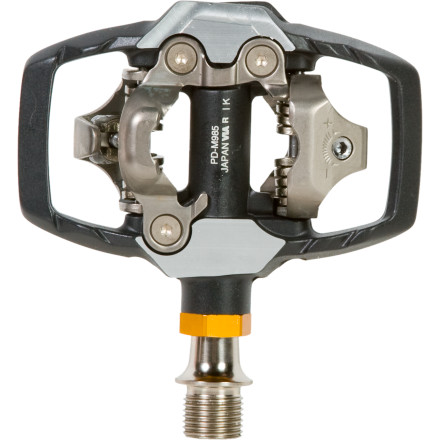 Detail Images
While racers often look for the lightest possible parts to lessen their burden, ultimate lightness may not be your first priority. Perhaps you'd like a greater platform to support your shoe when you stand up to bomb down a rocky descent, or to make clipping-in in the midst of a steep climb easier and more secure. Before these XTR Trail PD-M985 Pedals, if you wanted a big platform, you had to sacrifice for a lesser pedal.
These XTR Trail Pedals are exactly like the XTR Race in both performance and function. The only difference is that the pedal body extends fore and aft of the retention mechanism as a lightweight cage to better support the sole of your shoe. Otherwise, they're still super light, and shed mud better than ever before.
The retention mechanism is basically the same as the benchmark 970 pedals with wide, open ended tabs that allow easy entry and security for your cleats. In this case, no change simply means that Shimano had their pedals completely dialed already. The open design allows muck to flow through, not hampering your ability to engage in a hurry. Other than the cage, the most significant design change is that the pedal body has flat platforms on the inboard and outboard edges to keep the sole of your shoe from twisting on the pedal. By comparison, the XTR Trail Pedals have nearly ten times the platform area than the older M970 pedals.
The XTR Trail PD-M985 Pedals come with SM-SH51 (single release) cleats and are also compatible with SM-SH56 (multi release) cleats. They have chromoly spindles and spin on sealed bearings. The tension of the retention mechanism can be adjusted via a hex screw on the back of each pedal on both sides.