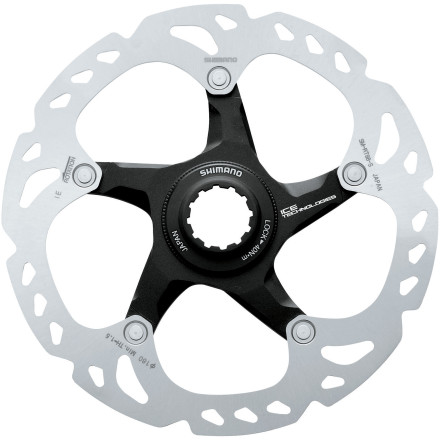 Description
More effective than cooling overheated brakes with your H2O.
While these may not jump out at you and scream high tech, the XTR Disc Brake Rotors are actually the result of some forward thinking by the folks at Shimano. The big headline is Ice Tech. Technically these XTR Ice Tech Rotors are a composite. Two layers of stainless steel are bonded to an aluminum core. So you get the benefits of both -- the durability and powerful braking properties of stainless and the lightness and heat dissipation of aluminum. If you've ever boiled your brake fluid and experienced serious fade, enough to scare you, then you'll appreciate that heat related fade has been reduced by 35%. And cooler running rotors will help your brake pads last longer as well.
Aluminum also gets the nod for the spider. This type of construction typically saves a few grams over one piece stainless rotors, but the biggest advantage is that the aluminum spider, again, dissipates more heat and adds rigidity, so your rotors will warp less and be less susceptible to getting dinged out of shape.
The XTR Disc Brake Rotors SM-RT98 are available in three sizes -- 160, 180, and 203mm. Even with the Ice Tech sandwich construction, they're the same thickness as Shimano's other rotors at 1.9mm, and they're Centerlock compatible only.
Share your thoughts
What do you think of the
Shimano
XTR SM-RT98 Rotor - Centerlock
? Share a...
I came off of Avid Elixir 1's to Shimano XT 785's with these XTR rotors. Wow, just wow. These are so light yet super strong. An awesome upgrade.
I have 160 on the front and rear of my ASR5 and love um. Even as a big boy the 160 up front combined with the new XT brakes is more then enough to slow me down. Zero brake fade even on long shuttle runs. Happy I spent the few extra $ on the these.
I own this rotor in a 203 and 180 and one thing I can say about them is that they are strong. The 2 piece design is much stiffer than the traditional solid steel rotors. These things can take a beating and come out true every time. Keep in mind this rotor is for centerlock hubs. If you need a 6 bolt look at the XT RT86.
Great Rotor but Watch Clearance
This rotor is great if you've got center-lock hubs (which I love; high end Shimano hubs are great, and the center lock system is super easy to work with, I'm sad it didn't catch on). It's super light, it stays true nicely, and it doesn't squeal or shudder (unlike say, most Avid rotors). Did I mention it's crazy light while still being highly durable and functional?

The only thing you have to watch out for is clearance if you don't use it with Shimano brakes. I've used these with both Avid BB7s and Avid Elixirs and have clearance problems with the holder arms. For the BB7s (and Juicys as well) you have to file or cut the tab off of the inside brake pad or the holder arms hit it. For the Elixirs, you have to use a small spacer (i.e. extra washer, you really only need 0.6mm) when mounting the brakes or else the rotor holder arms brush the inside of the caliper body. Either fix is easy and leaves the rotors and brakes fully functional, just watch out before you plan to roll out.