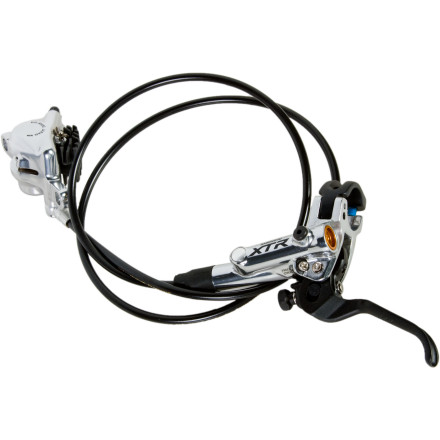 Detail Images

Community Images
Just as you can get XTR Cranksets in two versions, Race 2x10 and Trail 3x10, the brakes are available to match. And with the wholesale design change from the previous 970 brakes, the performance is more akin to the Shimano brakes we relied on for years, and they weren't recent models either. These XTR Trail Brakes M988 are visually similar to the 985 XTR Race Brakes, though a close inspection will reveal that there are indeed a few differences that make the 988 Trail Brakes more suitable for extreme use.
The lever blade itself is one mm wider, at 14mm, to give you a bit more surface area, and it's dimpled for extra gription. Your fingers will appreciate the beefier blades after lengthy, white-knuckle descents. This version also allows you to adjust the free stroke of the lever blade where the XTR Race levers do not. This function lets you determine how far you like the blade to travel before your pads make contact with the rotor, and couple that with a reach adjustment and you can dial them to perfection.
In comparison with the previous 970 XTR's radial master cylinder design, this 988 XTR master cylinder is far different. For starters, the integrated barrel reservoir sits along and atop the master cylinder which is positioned at a tangent to the bar rather than straight out from it. Sizewise, these levers are much lower profile, but more importantly, the movement of the lever pivot towards the bar creates a more ergonomic design. In essence, the arc of the lever optimizes your natural finger movement and position of strength with the point in the lever travel where your power is transferred through the system to the caliper. These also feature Shimano's Servo Wave technology where the Race Levers do not. Servo Wave allows the pads to sit further from the rotors at rest (a great feature for trail/all mountain bikes that might see more rotor abuse than a race machine). This is possible as the piston travel changes relative to lever travel as you squeeze on the brakes to close the gap to the rotor quickly, then slowing to allow predictable modulation.
The calipers are the same for both the XTR Race and Trail Brakes. They both use a 22mm piston for inspiring stopping power, and Shimano has brought back a banjo fitting for the hose attachment. We're glad because it allows more flexibility with hose routing to keep it safe and looking nice. It should also be noted that these M980 Calipers are lighter than 970calipers, and the polished finish looks great to boot. These 988 XTR Trail Brakes provide 25% more power than 970 levers with no weight increase. They employ Shimano's Radiator Pads. These are specific to the Trail brakes and have integrated fins that rise up out of the caliper to dissipate heat from the pads and caliper body, reducing the temperature by 50° C.
The Shimano XTR Trail Brakes 988 are available separately as right or left levers and calipers and have hinged, split clamps for easy mounting. They come as pre-bled lever/caliper/hose assemblies and are complete for each end of the bike except for rotors (sold separately). Shimano XTR Brakes will work equally well with XTR Ice Tech Rotors or the more standard XT 6-bolt rotors. Please Note: If you plan to run 180mm or bigger rotors, you may need to also purchase the proper Shimano caliper adapters. Check your frame and fork compatibility to determine your needs.
Servo-Wave technology with a claimed 125 percent increase in stopping over previous XTR generations for reduced arm-pump and one-finger-friendly braking
Wide 14mm brake lever for a positive, secure, fatigue-reducing grip
Hinged-clamp mounting bracket and compatibility with i-spec bracket for ease of setup and a clutter-free cockpit
Ceramic caliper pistons and radiator-fin-backed pads for optimum heat dissipation and consistent, powerful stops
Ultra-stiff, mono-block, two-piston caliper for efficient, flex-free transfer of energy
i guess this is pretty atypical as most of the guys at my LBS hadn't seen it and my bike wrench brother hadn't come accross it either. but, for what it's worth, i severed my rear line. i had read that the lines that come with xtr brakes were special blah blah blah, but i guess we haven't made them totally rock proof yet.
best used
Familiarity:

I've put it through the wringer
I love this brake system. Its light weight and dependable. I also like the longer lever on these. You can pretty much stop on a dime with them. highly recommended.
How is the lever feel of the Trails with...
How is the lever feel of the Trails with Servo Wave vs non-Servo Wave Race? I hate pad rub so a SW design is an eye-opener.
so the sw doesn't move the pads away from the rotor, but changes the contact point during your lever pull. as far as disk rub goes though, i have had to make the occasional adjustment to my caliper alignment, but i have no rubbing issues.
shimano XBR M988 sold in pair ? or you...
shimano XBR M988 sold in pair ? or you sold it rear and front lever and caliper separately ?
Hey Carlos, thanks for your question!

These brakes are not sold in pairs. The rear and front brakes are sold separately. Feel free to use the 'Live Chat' feature on the top of our website to speak with a bike technician if you have any more questions.
Ditched SRAM XX brakes for these...
Had the 2012 SRAM XX brakes. They were horrible - initially were ok, but lost stopping power quickly through the season. I switched to the XTR brakes and they are amazing. Great one finger stopping... don't seem to fade on long descents. Such a contrast to the XX brakes.
You get what you pay for
Gender:

Male

Familiarity:

I've put it through the wringer
I know these brakes are pricey, but they are amazing. the modulation is incredible. i haven't noticed any fading and i had to ride them HARD on a trail that ended up not being so fun. toolless reach adjust is great, and free stroke adjust lets you dial in brake contact to your specs. The power combined with the mini lever make one finger braking easier than two fingers on my old shimano hydros.



I've had no technical issue whatsoever.
Until recently I would have said SRAM Avid trails are the best brakes on the market, but Shimano has really stepped it up in the lastest generation XT and XTR brakes, which have insane stopping power and the icetech rotors are impossibly good at shedding heat. So light weight and so precise when it comes to braking.
Made the move from mechanical to Hydrallic and wow what a difference. Paired with my xtr ispec shifters the front of my bike looks super clean and performs even better.
After a painful warranty period, I now like these brakes. :-) While they were not working and I was trying to get them warrantied, I really didn't like them.

The brakes came preinstalled, but since you have to disconnect the lever to install, I suspect that some air was introduced. So I had to bleed them early in the process. managed to drop ( and lose) the bleed screw, and that was a proprietary screw that I had to source from a bike store in Korea as it's not available from US distributors at all. Then contaminated the pads, but managed to get them working again and then the rear piston was leaking fluid, so can imagine all sorts of fun that caused.The replacement came with a hose that was about nine feet too long, so had to cut and install the barbed fitting and new compression olive. That barbed fitting doesn't like to go in the hose.

Had to purchase a bleed kit, because you can't do much with a special bleed kit.

Here's what I like.

Shimano has the best lever feel. Truly one finger braking, even in crazy downhill sections.

Good stopping power.

Goofy finned pads seem to work.

What I don't like;

Shimano mineral oil (really? it's how expensive?)

Barb and compression fitting set up.

The fact that the first pair leaked oil.



I wouldn't have bought these if they didn't come on the bike. Not convinced that I'd buy them again. I've had a better bleeding/maintenance with other brands (Magura and Hope). But now that I've got them working, I'll keep them for a while.
Best functionality ever...
Best functionality in a high end MTB brake that I have ever ridden, but with some reliability shortcomings.



I have ridden all kinds of Avid, Magura, Hope and Shimano brakes, and these are far and away the best Ive ridden. The lever size (small - 1 finger braking) is perfect and the modulation is top notch. Paired with the ice-tech rotors and I have done some serious descents with them (off the passes here in PC and Jackson) and not had any over heating, fading or squeeling. EAT THAT AVIDS.



One problem popped up however with the hose at the crimp for the banjo bolt into the caliper. On my first set, both the front and rears began to leak fluid, which in turn flowed down onto the pads. Riding the ribbon in Grand junction with no front brake was not awesome. Alas, they have a lifetime warranty and within a week, they fixed me up and i havent had issues since. It sounded like a common problem for the early releases that has now been addressed.
does someone make a hydraulic brake for...
does someone make a hydraulic brake for rims on a bike
If your asking about rim brakes specifically, then no. To my knowledge there are no hydro rim brakes. Nothing else compares to hydro discs. Not only because of modulation but also stopping power and performance in adverse conditions such as mud or water.
They do make them for trials bikes. they are hard to find in the us an they are notoriously hard to adjust and expensive. Probably better just to stick to discs.
Many moons ago Magura made a hydro v-brake. It was a neon green set up. Had a friend who had them and had nothing but problems with them, but they do/did exist
Best brakes I've used yet
I've been riding mountain bikes since 1992 and these are the best brakes I've ever used. And I'm not just saying that because I work for the company!