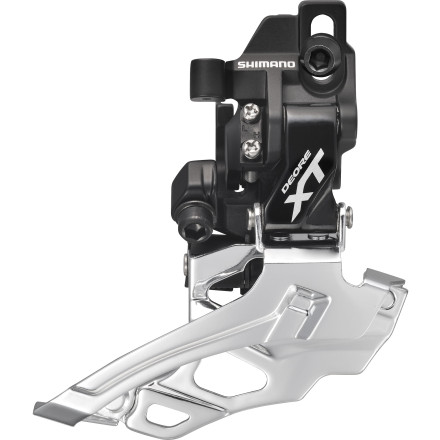 With the flood of proprietary, fixing-problems-that-didn't-exist-before-the-fix-was-invented tech solutions in the industry, Shimano's XT FD-M786D-L Front Derailleur is refreshingly simple and intuitive. Instead of a gee-whiz clamping mechanism, it just slots straight onto any frame that has a direct-mount front derailleur bracket.
Once the XT FD-M786D is mounted, you'll be able to dial the shifting with limit screws that are angled to avoid the impositions of awkwardly designed rear suspension systems. After that, Shimano's meticulously demanding shifting expertise takes over for precision chain management that can't be equaled at this level.
Compatible with double cranksets
Precise Shimano shifting engagement
What do you think about this product?
Have questions about this product?
What's the diference between the M786D,...
What's the diference between the M786D, and the M786D-L?
Best Answer
There is no difference except the new version has an "L" after the part number. We just added the "L" to the name because Shimano changed their part numbers. FYI- there are no more "M786D" left in stock and we will not be getting any more in.