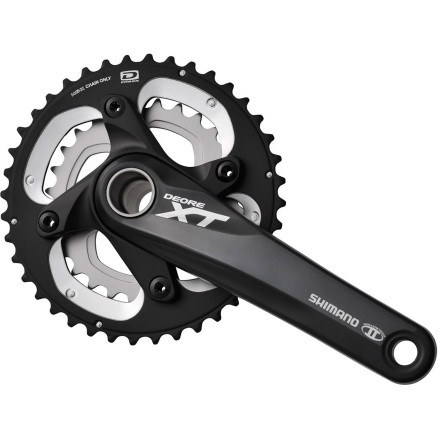 Colors

Community Images
Description
Less is more is less.
We're happy that mountain bike cassettes have evolved to have large cogs with up to 36 teeth in diameter, and for a few reasons. For one, it means we can ditch the smallest chainring up front on the crankset, making our bikes both lighter and less complicated. For another, it means companies like Shimano can develop better-shifting, all-around excellent cranksets like the Shimano XT Dyna-Sys FC-M785 Double Crankset, from which any lucky soul who installs one can benefit.
Part of the reason that shifting improves is because of plain-old innovation and improvement as technology and manufacturing techniques continue to develop, but another part of the reason is because the removal of the third chainring simplifies the jobs of the other two. The smaller and larger rings only need to be calibrated to move the chain in one direction, as opposed to when the middle ring was involved, which had to accommodate directional shifts in both directions, meaning there was often a compromise in accuracy and consistency. The FC-M785 crank, and other dual-ring Shimano mountain bike cranks, like their stellar-shifting road bike crank counterparts, perform beautifully, every time, with minimal maintenance.
The XT Dyna-Sys crank's Hollowtech II arms are tremendously light and stiff and are installed asymmetrically: the right arm is pressed together with the hollow 24mm spindle at the factory, and the splined left crankarm mates to the spindle during installation and is secured with perhaps Shimano's best detail - two pinch bolts to secure the arm once the bearing preload is dialed in perfectly. We find it a superior design in terms of installation, performance, and durability.
The Shimano XT 2x10 Hollowtech II Crankset FC-785 is Black with a silver inner ring, and has a 104/64mm bolt circle diameter. It comes with either 40/28-tooth or 38/26-tooth gearing options. It's available in 170-180mm lengths in 5mm increments, and a threaded Shimano bottom bracket is included.
Hollowtech II Crankset
Compatible with Shimano
Share your thoughts
What do you think of the
Shimano
XT Dyna-Sys FC-M785 Double Crankset
? Share a...