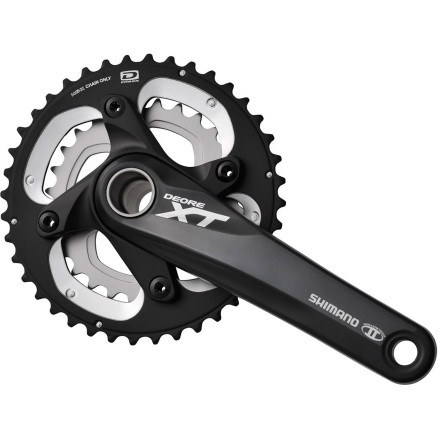 Colors

Community Images
Description
Less is more is less.
We're happy that mountain bike cassettes have evolved to have large cogs with up to 36 teeth in diameter, and for a few reasons. For one, it means we can ditch the smallest chainring up front on the crankset, making our bikes both lighter and less complicated. For another, it means companies like Shimano can develop better-shifting, all-around excellent cranksets like the Shimano XT Dyna-Sys FC-M785 Double Crankset, from which any lucky soul who installs one can benefit.
Part of the reason that shifting improves is because of plain-old innovation and improvement as technology and manufacturing techniques continue to develop, but another part of the reason is because the removal of the third chainring simplifies the jobs of the other two. The smaller and larger rings only need to be calibrated to move the chain in one direction, as opposed to when the middle ring was involved, which had to accommodate directional shifts in both directions, meaning there was often a compromise in accuracy and consistency. The FC-M785 crank, and other dual-ring Shimano mountain bike cranks, like their stellar-shifting road bike crank counterparts, perform beautifully, every time, with minimal maintenance.
The XT Dyna-Sys crank's Hollowtech II arms are tremendously light and stiff and are installed asymmetrically: the right arm is pressed together with the hollow 24mm spindle at the factory, and the splined left crankarm mates to the spindle during installation and is secured with perhaps Shimano's best detail - two pinch bolts to secure the arm once the bearing preload is dialed in perfectly. We find it a superior design in terms of installation, performance, and durability.
The Shimano XT 2x10 Hollowtech II Crankset FC-785 is Black with a silver inner ring, and has a 104/64mm bolt circle diameter. It comes with either 40/28-tooth or 38/26-tooth gearing options. It's available in 170-180mm lengths in 5mm increments, and a threaded Shimano bottom bracket is included.
Hollowtech II Crankset
Compatible with Shimano
Dyna-sys 44/28 double
Familiarity:

I gave it as a gift but have feedback to share


Can I use a 44t ring with the dyna-sys double (44/28)? Will the dyna-sys FD work with my existing XT shifter?
Old time amigo
Familiarity:

I've put it through the wringer
Have just over a thousand miles on these and no issues. From xc to chair lifts they are spot on. Work well and are pretty light. Using them with all XT drivetrain on my SC Blur LTC.
really too big for my mother's xs bike...
If you're talkin' arm length, the smallest they come in is 165mm. If it's gear inches, then you'll need to swap out those rings.
why spend more on XTR?
Familiarity:

I've used it several times
as with several components in the shimano line, I find it hard to justify the additional cost of the XTR crankset vs. the XT crankset. this 2x (mine is 40/28) is incredibly stiff with only minor weight concessions. i paired it with the e-type XTR front derailleur and XTR shifters. set-up is incredibly easy, and shifting is smooth on all trail conditions. solid performance/price ratio.
XT ALL THE WIZZAY!
Familiarity:

I've put it through the wringer
I've been using XT cranks on many of my builds since the late 90's. They are relatively light weight and eXTremely durable (see what I did there?) Sure, they are not as lightweight as XTR's, but you only need those if you're some kinda pro racer! Seriously, who are you trying to kid?! The most awesome thing about these XT cranks (besides coming in 2 different colors, hollah!) is that they are quite affordable, even more so when they're on sale! The included BB installs easily and is smooth like buttah. You won't be disappointed with these cranks.
Unanswered Question
Hello, you send to Brazil? free shipping...
Hello, you send to Brazil? free shipping?
If I got the 28-40, could i replace the...
If I got the 28-40, could i replace the 28 with a 26?
Yes, you should have no problem swapping out the 28t with a 26t. You can actually go down to a 24t if needed. That's the smallest you can use on these double-ring cranks.
Workhorse
Familiarity:

I've put it through the wringer
As we all know XT is the workhorse of Shimano. Not only will it not break the bank but it will last forever. I ordered my girlfriend a full XT groupo because I knew it would withstand the punishment. I just upgraded her group to a 1X setup with a wolftooth and I must say that I'm jealous of her little ripper now.
Unanswered Question
Is the listed weight of 740g including the...
Is the listed weight of 740g including the BB or no? Other websites list it and comparable cranks at around 820g. Shimano itself does not list weights of their products. Hard to find the truth it seems. Have any customers here weighed theirs?
Unanswered Question
specs say BB Threading: English, yet lists...
specs say BB Threading: English, yet lists a press fit bottom bracket part number. So is it press fit or threaded?
Will this crankset work on frame with a...
Will this crankset work on frame with a PF30 bottom bracket?
Yes, I'm running it on my Dogma XC 9.9 with a Chris King PF30. you will need the adapters for the PF30 (sold separately), on Chris King it is conversion #2 for 24-mm MTN.
Solid
Familiarity:

I've put it through the wringer
This crankset combined solid Shimano shifting performance with a package this is lightweight and Strong for a steed from XC to DH. DH? Really? Yes, the 104 BCD allows you to run a single ring easily if you'd prefer. From the hollow crank arms to sturdy chainrings, this crankset can take some abuse. It includes an English threaded BB.
The Standard in Cranksets
Familiarity:

I've put it through the wringer
Shimano's Hollowtech II system is the best crankset design on the market. It delivers top-notch stiffness with bombproof durability. When the time comes to overhaul your crank/BB (which isn't very often with Shimano), the simplicity and ease of doing so is also the best out there. The non-driveside crankarm is secured with triple redundancy, so there is simply no way it will loosen. My only complaint with Shimano doubles is the chainline is a bit closer than with SRAM, something to note if you are running any sort of guide system.
You Don't Actually Need "Better" Crank
Familiarity:

I've put it through the wringer
The Shimano XT Dyna-Sys Double crankset is a get it done well component...Light, stiff, and solid...the Dyna-Sys chainrings are stiff and shift awesome. Don't hesitate to upgrade your heavier, old crank with this badass...you won't regret it.
You get all three. It's a wonderful thing. Truthfully, you could run most any crank from Shimano and be happy with it. This one looks better, is a tiny bit stiffer and lighter, and shifts marginally better than lower-tier cranks. Well worth the dollars.
My current bottome bracket is a 73, is...
My current bottome bracket is a 73, is this one compatible with the 68/73 standard
Best Answer
Yes, the BB comes with spacers to run with 68mm frames.