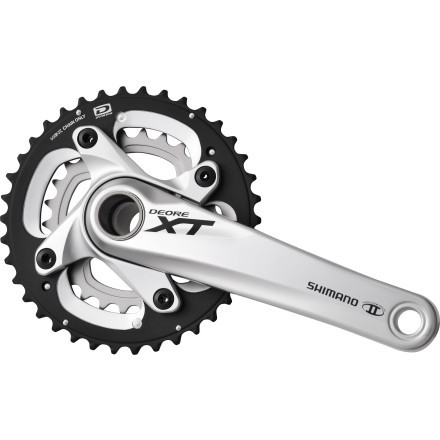 Community Images
Following the XTR model, Shimano's trail-tested XT group now offers more options that help tailor the components to suit your riding preferences or favored terrain. This Shimano XT 3x10 Hollowtech II Crankset FC-780 is like its 770 predecessor in many ways, notably the Hollowtech II construction that ensures its stiffness, strength, and lightness. However, XT 780 cranks are now available as 2x10 or 3x10 configurations like the one here. Compared to XT cranks of old, the tooth differential across the chainring set has been minimized and the chainrings are optimized for use with Shimano's HG-X 10-speed chain.
The premise of the 3x10 gear configuration is that you can have a huge overall gear spread with improved performance. Part of this comes with the move to 24/32/42 tooth chainrings. The smaller jumps between the chainring tooth counts make the front shifting better than ever, yet you'll still get all the "granny gear" you need if you use it with the available 36t rear cog. Upping the cool factor for these cranks is the carbon-encasing-steel sandwich for the middle chainring. It stiffens up the ring and helps it last longer.
The Hollowtech II arms have been reshaped with an asymmetric design that's different yet evokes the sophistication of XTR. The right arm is pressed together with the hollow 24mm spindle at the factory, and the splined left crankarm mates to the spindle during installation and is secured with perhaps Shimano's best detail -- two pinch bolts to secure the arm once the bearing preload is dialed in perfectly. In our experience, it's a superior design in terms of installation, performance, and durability.
The Shimano XT 3x10 Hollowtech II Crankset FC-780 is Black and has a 104/64mm bolt circle diameter. The outer two rings are ramped and pinned for easier shifting. It's available in 165-180mm lengths in 5mm increments, and the bottom bracket is included.
work horse
Familiarity:

I've put it through the wringer
Great price and a great crank set, for the money hard to beat!
Quality
Familiarity:

I've put it through the wringer
Very stiff crankset with a firm strong feel. Great price and prompt dilevery from Backcountry as always...
Unanswered Question
I have a 2003 giant rainier I'm getting chain suck. I replaced the chain...no help. I'm thinking I should replace the crankset and bottom bracket. It has a nine speed rear cassette and a 22/32/44t crank. I was thinking of replacing it with a shimano XT Dyna-Sys Fc-M780. I'm assuming the bottom bracket has english threads. Do you think the shimano is a suitable replacement? What tools will I need to install the new crankset?
I have a 2010 trek fuel ex8 with the original shimano 3x9 drivetrain,I want to replace the cranks with a new xt crank but all the ones I have viewed online are listed 3x10 except the silver xt hollow tech 2 which is out of my price range,so how do I know which xt 3x crank is compatible with my bike???and is a new chain required???
Short answer, yes this crank will work*.



*Long answer...Drive trains work best when each part used was designed for that groupset. A 9 speed drive train will work with a 10 speed crank, but your front shifting won't be as awesome as it could be. 10 speed chainrings are narrower than 9 speed. Also, I wouldn't use a 10 speed chain with a 9 speed drivetrain for the same reason.



Let me know if you have any other questions. btowery@backcountry.com
The description states that the Bottom bracket is included, Could you please specify which shimano BB model is included?
Hi,



We also sell that bottom bracket separately. Here is a link so you can check out exactly what you will get:



http://www.competitivecyclist.com/shimano-xt-bottom-bracket
great crank at reasonable price point
Familiarity:

I've put it through the wringer
fantastic durability, with absolutely NO issues on quality, construction at all. price point is much better than XTR with similar reliability, especially for the average user who is not concerned with a few extra grams. the triple seems to be going the way of the dodo bird at this point, but I still find it useful in places with extreme elevation changes. i'm running it with a 9-speed set-up on my old Fisher, but upgraded to the 2x10 on my new Dogma XC. I have mine set-up with Stages power meter, a nice extra for those of us that are addicted to DATA.
Stands up to abuse
Familiarity:

I've put it through the wringer
Ive got a set with 3 years of freeride, mini dh riding on it and its handled everything Ive thrown at it. I run a 2x10 with a bashguard and it has been a great set up.
Solid and Lightweight
Familiarity:

I've put it through the wringer
This has been a solid crank for me during mountain bike races and the causal weekend ride. Durable and ready to perform, this is a great crank.
GREAT CRANK!
Familiarity:

I've put it through the wringer
I replaced my SLX crank with this XT and I can really feel the difference. I have an XT cassette, and front derailuer and i have to say this crank works great with other XT components.



Light weight and responsive, this is solid crank!
I love triples. I just put a hard to find Ultegra triple on my new road bike. I've always used triples and probably always will because I've become accustom to the same gearing on the 10 different rides I do near my house. The XT is trustworthy and durable. I'm going to put one on the new 29er hardtail I'm building up.
what is the weigt of this crankset?
what is the weigt of this crankset?
Well Made, but Do Your Homework
My other bike has an SLX crank set and it rides good and works well. The M780 crank set will not make me go faster, but it will stand up to more punishment because of the superior manufacturing processes involved in making it. If you are going to invest in a M780 make sure you've already worked out the gear ratios you want on your entire drivetrain. The gear ratio between the M780 chain rings (24/32/42) and the Shimano M771 cog set (11/36) that I own are so close that I have to work harder than I want to in order to avoid overlapping gear combinations. I hardly use the granny gear going uphill and when I go all out with the 42t chain wheel on a downhill incline, I'm not getting the speed I want. Maybe a 2 x 10 with a larger chain wheel is my next step. Do your homework before you buy.