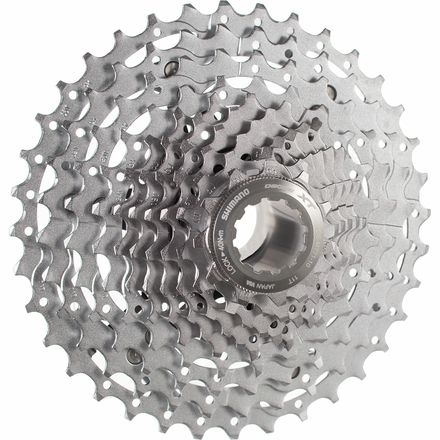 Colors

Community Images
Description
Ten speeds of XT joy.
The Shimano CS-M771-10 XT Cassette continues the company's Hyper Glide tradition. It employs special ramps and pins along the teeth of the cassette to allow effortless and smooth shifting across the entire range, ensuring it will earn its place in Shimano's history of desired and reliable cassettes.
While the smallest four cogs are installed individually, the six larger ones are each attached to two lightweight alloy spiders - three per spider - to maintain stiffness while keeping weight down. The low 286 gram weight of the XT cassette doesn't come at a sacrifice of durability, however, as each cog is formed from plated steel and is guaranteed to last.
The Shimano CS-M771-10 XT Cassette is available with three different cog options - 11/32t, 11/34t, and 11/36t. It is technically compatible with any 10-speed drivetrain, but Shimano strongly recommends only using it with its Dyna-Sys 10-speed shifters and derailleurs.
Plated steel cogs
Compatible with Shimano's Dyna-Sys 10-speed shifters and derailleurs
Share your thoughts
What do you think of the
Shimano
XT Dyna-Sys CS-M771 Cassette
? Share a...
Unanswered Question
I have 10 speed Ultegra 6700 grupo. Want a 32 tooth low cog. Please advise.
I have a road bike with Ultegra 6700 Ten speed grupo. I want a 32 or 34 or 36 tooth 10 speed cassette to work with Ultegra 50-34 crank. Do I need a long cage der.?
I have the same setup and same problem. You will max out on a 11-32 cassette. From my research you want to buy: Shimano M771 9 speed rear derailleur. See: https://www.youtube.com/watch?v=bMszBZ2fA84
http://velonews.competitor.com/2014/02/bikes-and-tech/technical-faq/technical-faq-mixing-and-matching-10-and-11-speed-shimano-and-campagnolo-drivetrains_315933
Wolftooth Giant Cog Modification
Familiarity:

I've used it once or twice and have initial impressions
I purchased this cassette to support a Wolftooth Giant Cog (40t) conversion of my 1 x 10 drive train - works incredibly well all put together. Check out the Wolftooth web site for more information.


I opted for the Wolftooth 16t cog to replace the cassette 15 & 17 cogs and I think that was the right move.

So far so good (1 ride), but will check back later in the season.

Don't forget to buy a new chain if you're going to convert to the GC.
xt cassette
Familiarity:

I've put it through the wringer
works awesomely, until it breaks. I rode it pretty hard for 2+ years, until the alum arms for the larger chainrings sheared and broke. just ordered another.

something to note: these later models (2014+) fixed an issue that the earlier (circa 2012) models had: the older model's small cassette chainrings had narrow profiles with spacers between the rings. Since the interface between the chainrings and freehub body was as narrow as the chainring teeth themselves, if you pedaled hard, the chainring would cut into (and mar) aluminum freehub bodies. The newer models have the spacers between small rings integrated into the rings themselves, thus increasing the interface area between ring and freehub body, and reducing the marring of the freehub body.
What does the 11-36 weigh?
Familiarity:

I've used it several times
This cassette weighs 335.4 grams.
XT Quality
Familiarity:

I've put it through the wringer
This cassette is super durable and shifts crisp. Exactly what you come to expect from Shimano. I have it paired up with single ring in the front and it works great.
Excellent
Familiarity:

I've put it through the wringer
Shimano line of xt is the excellence of mid level builds, great equipment for the price!
Another great XT product.
Gender:

Male

Familiarity:

I've put it through the wringer
This is the best shifting affordable cassette available. Lasts a long time and shifts great when using an xt chain. It also is compatible with the extended range 42T cogs from 1up, wolftooth and others where you have to remove the 17T. I use a xtr on the race wheels and xt for training where the small weight penalty is nothing. Use a chain gauge and replace the chain when it stretches out of tolerance. These cassettes last a long time if you keep them clean and the chain lubed.
Can't go wrong with XT quality
Familiarity:

I've put it through the wringer
This 10 speed 11-36 cassette is a tough one to beat. It's plenty durable for logging big miles and it also shifts great and keeps the chain running smoothly. The profile of the teeth is nicer than that of SRAM options. It's not as light as XT, but for general use or for training purposes you can't go wrong.
Hi,
Can I replace my Shimano CS-HG62-10...
Hi,
Can I replace my Shimano CS-HG62-10 11-36 with this ?
My bike is equipped with
Rear Derailleur: Shimano XT RD-M786 SGS Shadow Type / 30 Speed
Front Derailleur: Shimano SLX FD-M671-A / 34.9mm
Shifters: Shimano SLX SL-M670-I Rapidfire plus / 2 way release Ispec clamp
Best Answer
This cassette will definitely work on your 10 speed drive train. It is a little nicer, lighter cassette than the CS-HG62, so you should have no issues with it!

Let us know if you have any additional questions.
Great cassette. Best Value for quality
Familiarity:

I've put it through the wringer
I should probably buy 1 extra one for the future. this is one of the best cassettes for the money.
Great Cassette for my 2x10
Familiarity:

I've put it through the wringer
I bought the 11-36 cassette to mate up with my 26/39 crankset. It will crawl up a mountain with ease and is very smooth. No complaints.
weight of 11-36
Familiarity:

I've put it through the wringer
Bought two of these in 11-36, weight was 335g.
When the money runs out...
Familiarity:

I've put it through the wringer
Get this cassette when you realize you just need to push more weight rather than work more for the XTR cassette. It does not do anything as well as the XTR other than last longer.
Durable, no maintenance concerns
Familiarity:

I've put it through the wringer
I spec this cassette on all of my 10 speed shimano mountain bikes without a doubt. GREAT durability out of this cassette (as long as you change your chain before it stretches too much) and awesome shift performance. Matched up with a XT 10 speed chain, the shifts are always super crisp. At the price point, you really can't beat it.
285 grams 11-32 teeth
Familiarity:

I've used it several times
I went small gear wise (32 t) cause I don't need the low gear and less chain links, less chain slap, more gear fidelity, smoother shifts, and less weight.
my used 9 speed same version was 245. a solid cassette.
My first impression of the M771 cogset is that there is too much redundancy if paired with a 24/32/42 crank-set. It is smooth though. I might make a change to an 11/32 rear next season.
i upgraded my bike recenty after I went for some steep hiils (used to have 9 speed). this is way better for my rides now, and shifts feel pretty smooth and nice

just what I needed to get to other places i wasn't being able to get :p
smooth, strong, and quiet
The shifting on the new Dyna-Sys cassette is amazing. 10 speed specific shift geometry ensures a clean shift every time, and you'll never get any "skating." This cassette is much quieter than its one-piece counter part. I like the 36 tooth big cog option.