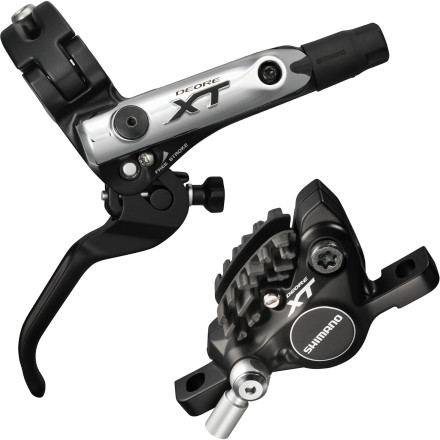 Colors

Community Images
Description
Stop it.
Just like its Ultegra road group set benefits from the trickle-down of technology from the top-tier Dura-Ace, Shimano's XT mountain bike components take their cues from the XTR series. And while the less expensive BL-M785 may not have the bling factor that the XTR M988 brakes do, they definitely share the same stopping power.
The location of the pivot has been examined and re-designed so that the arc of the lever mimics the movement of your fingers so that your squeeze will be secure each time. And, to refine the position, a tool-free adjust is able to be changed on the fly. There is also a free stroke adjustment that alters the travel of the lever before the pad makes contact with the rotor.
Working in conjunction with the latter adjustment is Shimano's Servo Wave technology. Essentially, as you squeeze the brake levers, the gap from the pad to the rotor closes quickly and then it slows so that modulation is predictable. This movement means that the pads may be set farther away from the rotors which reduces the possibility of drag. The calipers house a 22mm ceramic piston, and Shimano uses a banjo fitting for the hose attachment at the caliper. Shimano's Radiator Pads are used on the calipers. These pads feature integrated fins which help to dissipate heat so that braking power remains consistent-no matter how long the downhill is.
The Shimano XT BL-M785 Hydraulic Disc Brake has hinged, split clamps for easy mounting. It comes as a pre-bled lever/caliper/hose assembly and it's complete for each end of the bike - except for rotors (sold separately). Shimano XT Brakes will work equally well with XT Ice Tech Rotors or standard XT rotors. Please note that this brake is sold separately as either Left/Front or Right/Rear.
Hinged clamp for easy mounting
22mm ceramic piston
Integrated Radiator Fins on the brake pads disperse heat
XT brakes work with either standard XT rotors, or Ice Tech and Freeza rotors
Brakes sold individually as either Left/Front or Right/Rear
Share your thoughts
What do you think of the
Shimano
XT BL-M785 Hydraulic Disc Brake
? Share a...
My third set
Familiarity:

I've put it through the wringer
I'm on my third straight bike that I built with XT brakes. They're easy to set up, low maintenance, have consistent power with good modulation, and the price is right compared to the XTR line. They've given me no reason to consider switching to another brake, and I don't hesitate to recommend them to anyone interested.
Unanswered Question
What is the hose length front and back?
Great brakes!
Familiarity:

I've used it several times
I put these on another bike last year. They have great stopping power. They are shiny, and stand out a bit. Also will likely need to trim the lines and possibly bleed slightly as the pre-assembled cables are quite long.
Unanswered Question
Do I need an adapter for a 2015 trek remedy 7
I have 2011 elixir 5's with 180 rotor. Is it a straight switch out for the rear
Hey Keith,
You would want to get new rotors to go along with the XT brakes since they have designed the system to work best with the IceTech rotors, but yes, you can use the standard adapters that are currently on your bike to bolt these brakes to.
Thanks!
Trying to figure out what adapter I need. I have a 2012 Trek Superfly Al Elite. It has a Fox front fork but I'm not sure of the exact model. The bike came stock with Shimano SLX M666 disc brakes, so I'm not sure if the adapter would be universal to Shimano hydraulic disc 6-bolt brakes. Any ideas? Thx, R
As long as you are using the same rotor sizes the adapters you have now will work with these brakes.
Do I need an adapter? I have an older (2008?) Gary fisher paragon with a rock shox Judy race fork. Also curious if it will work with my avid 160mm G2GS rotors?
You don't need one if you using a 160mm rotor for the front. The rear will need a SM-MA-R160 P/S rear for a 160 rotor. I recommend you use Shimano rotors with these.
It looks like the question was answered below that pads come with this order. Can someone tell me if the pads are organic or metal -- assuming pads come with this?

UPDATE: also, can someone let me know what type Shimano adapters, if any, I need for these? I have a 2014 Cannondale Scalpel 3. Front and back rotors are 180mm (I'm 6'4 and ~205lbs with gear). Current adapters are for Magura MT2.

Thank you.
Assuming that the pads are sintered, to work with the shimano ice tech rotor. You will be safer with the proprietary shimano adapter for your fork/rear brake mount

You will need item # SHI0108 for the front, SM-MA-F180 P/S Front and for the rear you need SM-MA-R180 P/S Rear
Are the calipers ISO or post mount? I need to know what adapters I need (if any).
Hey Kathryn,

These brakes are Post mounts and may or may not need adapters depending on the model of your bike. I have these brakes and love them!

Let me know what bike you have and I'll sort out the adapters.

Ben
brabinowitz@backcountry.com
801-746-7564
the go to no brainer brakes
Familiarity:

I've put it through the wringer
first off they just work great, next they are inexpensive, and finally they are very low maintenance, I think I just nailed why they are the most used brake around.
Do these come with cables?
Best Answer
These come as a front or rear caliper, hose, and lever.
The Tesla is faster than the Ferrari
Familiarity:

I've put it through the wringer
Reference the title; A Tesla is about $80k and can do 0-60 faster than a $450k Ferrari. Now, it should also be pointed out that the Tesla built completely different. While these XT brakes are not fundamentally different than any other hydraulic disc brake out there, they work just as well or better than the more expensive type. I've ridden very nice bikes for years and I always equip them with XT brakes. Never XTR, never, NEVER SRAM/Avid. I'd prefer to save that money and put it elsewhere that will improve performance in a noticeable way. Get these brakes and you won't be disappointed. I promise.
Strong Enough For A DH Bike...
Familiarity:

I've put it through the wringer
... And light enough for an XC bike. If you're looking for good brakes, Shimano is the way to go. Pair them with IceTech rotors and you're set up for squeal-free stopping, because going faster always depends on knowing you can stop.
Dose the front brake come with a olive and Insert for shortening the line?
Great brakes
Familiarity:

I've used it several times
What's to say that hasn't been said? These brakes are awesome, period. Great deal for an excellent brake
what's the difference between the Shimano XT BL-M785 and the Shimano XT BR-M785?
cha ching!
Familiarity:

I've put it through the wringer
I've been riding with XT brakes for a very long time. Decided to go with the XTR this last go around and guess what....i just purchased another set of XT brakes this past week. Love em

what pads do I order to replace the stock pads that come with these brakes? The XTR Trail pads (Shimano XTR Trail (F01A) Resin) or XTR Trail (F03C) Metallic? Or other? Why is this information so hard to come by?
Great questions.

Both will work with these brakes. The organic pads resin pads work very well, but don't work quite as well as the metal pads for long hard descents. Regardless of which pads you choose, your brakes will still work exceptionally well.
Would these levers be comparable with a 2013 X9 shifter or would I need a mismatch adaptor?
they would be compatible if that is what you were asking

Are these the M-785-B or the earlier model?
Hey Elliot B,
These M-785 are the I-Spec B version.