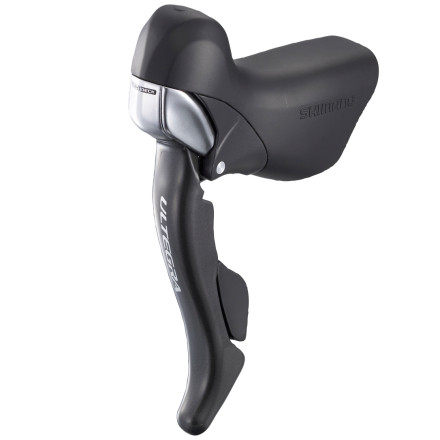 Community Images
As with all Shimano component groups, the signature piece of the new Ultegra 6700 set is the STI levers. Following the trickle-down rules of Shimano components, these share a design with their blingier brother, Dura Ace 7900, a body shape that is supposed to be easier to grasp and a changed pivot point which makes braking from the hoods easier. Like those levers, these route the shift cables under your handlebar tape. Like those levers, these have a carbon-fiber brake/shift lever blade that is shaped for better shifting; more material on the outside of the arm so there's more material for your finger(s) to find when upshifting and the levers are canted slightly outward for quicker action. The right lever can still downshift one, two, or three cogs at a time, while it can still upshift one cog at a time. The pivot and lever shape have been changed to pull more cable at the beginning of the brake lever stroke, ala their well-known Servo-Wave tech, so the brake pads can rest farther from the rim; it's also a way to, when paired with the matching brakes, increase braking power.
Of course, there are differences. The left lever still has a "trim" feature, something that was engineered out of the new 7900. The reach adjustment is achieved by inserting shims between the lever and the body. It designed to work with 6700 front derailleurs, but can work with older Ultegra 6600 and current Dura Ace 7900, but Shimano is calling it "'B' compatibility," meaning it works but you lose some features you'd otherwise have.
The right lever is designed to work with Shimano 10-speed rear derailleurs. It can work with older Ultegra 6600 derailleurs. It can also work with 7900, though it, too is 'B' compatibility level.
Using these levers with older Shimano brakes is not recommended. The feel will be "hard," and there will be very little modulation in braking power.
These levers are lighter than their predecessors, both the older Ultegra, which was 490g for a set, and last year's Ultegra SL, which came in at 447g a set. The left lever is designed to shift double-chain ring cranks, and there is a "trim" shift in order to optimize the position of your front derailleur. The levers come with Shimano cables and housing.
I have a 2002 Lemond Zurich with Ultegra...
I have a 2002 Lemond Zurich with Ultegra components I raced on for many years. After a few crashes, the shifters are beat up. Can I replace them with Shimano Ultegra ST-6600 shifters without having to replace anything else? Thanks!
Hi Rich,



You could certainly replace the 6600 shifters with 6700 shifters, and there would be no compatibility issues with the existing derailleurs, crankset, or brakes. Unfortunately, with the introduction of the 6800 11 speed Ultegra components, we are stocking less and less of the 6700 components, and it looks like these are no longer available (at least for the time being). We do have a shipment of 105 shifters on the way, and these would also be compatible.
Cable breaks
Familiarity:

I've used it several times
I get frequent cable breaks with this ST6700 shifter for the rear derailleurs. The cable breaks in the shifter. Leaving the cable stop and 2 centimeter of cable inside. Need to remove a plastic cover to get the broken cable out. Is it a flaw on this version of the shifter or is it a Shimano feature? I never had a cable break with my Campangolo shifters during the 10+ years I used it.
I adjusted the cables after about 100 miles on varied terrain. I've used SRAM Rival in the past, and the Ultegra hoods are noticeably more comfortable on long rides.
I love these shifters. I put them on my big wheel last month, and I have yet to find a shifter that can drop shift as smoothly as these when I whip a power slide around the switchbacks in Smugglers Notch. The only problem I encountered was that the handlebars on my Hot Wheels cruiser are somewhat larger than the shifters were made to work with. Nothing a quick trip to the hardware store cant fix!
Shimano Ultegra ST-6700 Dual Control Shifter
I really love these shifters. I have had them last year and this year on my training bike, and they feel great, and never mis-shift. They are very comfortable and reliable, and they come with small inserts to make the reach slightly smaller (if you have smaller hands, or prefer a closer lever).
I own a 2002 s-works specialized road bike(...
I own a 2002 s-works specialized road bike( the red&white model)
with a dura-ace 9 gear right hand shifter that broke, after 8 wonderful
years of great riding! how can i replace this shifter, and stay on the
road w/ this set up. Where can I find a shifter to purchase?
You probably have the 7700 dura-ace line. To find replacement shifters either go to your local bike shop that is a Shimano retailer or search online for new or used 'Shimano Dura-Ace ST-7700 9 Speed STI Lever'.
I have a 2009 cannondale six5 with shimano...
I have a 2009 cannondale six5 with shimano 105flight deck shifters and ultegra rear derailleur.?Will the shimano ultegra ST-6700 dual C shifters work on this bike and be an upgrade from the 105 shifters.?
, ☃bcs_badge_alumni_label☃
Yes, that will work. With cable routing that lies underneath your bar tape, these will give a much cleaner look than your 105's and are a nice upgrade!
Yes these will put the cable under the tape but your Brakes will not work as well unless you replace them and if you are using a Flightdeck it will not work with the new shifter.
Does the inner cable come with Ultegra ST...
Does the inner cable come with Ultegra ST 6700 shifter?
These shifters come with new inner cables and if I am not mistaken new cable housing as well.
I went from the SRAM Rival to these. The upgrade was worth every penny. These brake better and the shifting is much more precise. I would not hesitate to install these again. Highly recommended.