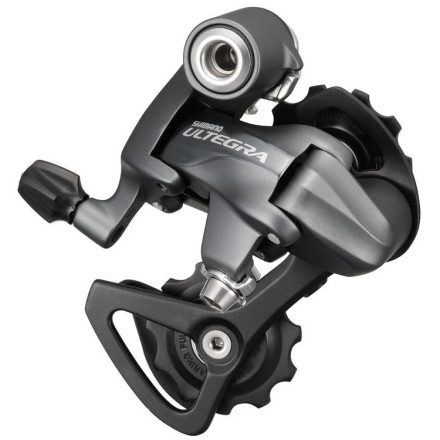 Community Images
This Shimano Ultegra RD-6700-G SS Rear Derailleur is designated as 'G' to denote its smoky grey finish. This is the same color as the electronic Di2 version, and we like how it evokes the stealthy look of its Dura-Ace counterpart. Otherwise it's the same as the standard 6700 unit.
The pivots on the body of the 6700 derailleur are wider than the previous 6600 unit, and are thus better to resist flexing and twisting when you shift under load. That's the secret sauce for better, faster shifting.
As always with Ultegra, this is a trickle-down design from Dura-Ace. So that ultimately means that it will work with 7900 shifters without problem. It will also work with older Ultegra (6600 and SL) shifters. Compatibility aside, the differences between this derailleur and a Dura-Ace changer are many. The most obvious is that this Ultegra derailleur isn't as light. There's more metal, and the pulley cage is made from aluminum rather than carbon fiber. Also, the pulleys run on bushings instead of bearings. The cage design, along with the pulley cage placement, allows this derailleur to work with cogs as tall as 28 teeth -- nice for those who want a really low gear, yet still have fast shifting.
The Shimano Ultegra RD-6700-G SS Rear Derailleur is designed to work with double chainrings and 10-speed cassettes. The total chainwrap capacity is 33 teeth, The limit screws are on the back of the derailleur, just above the barrel-adjuster, and can be accessed from the rear.
These aren't as light at durace but shifts are crisp and dependable and if you really want to shed the extra few grams, don't eat as much... just kidding, well kinda. My wife loves her Ultegra set up and has never said she wanted to upgrade.
Crispy shifts
Familiarity:

I've put it through the wringer
Yes, they are everywhere, but for a good reason; Ultegra derailleurs are amazingly good at moving a chain around. When properly adjusted and maintained, this derailleur sings. This thing shifts faster than you will ever need... perhaps faster. In a word, it is snappy. As an added benefit, it's delightfully quiet. None of that SRAM clickety-clack.
This little guy looks great on my charcoal colored Ridley.