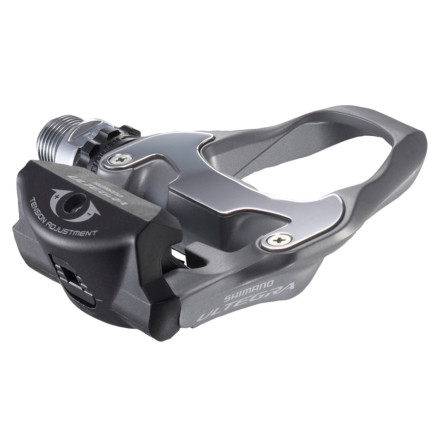 Not surprisingly, Shimano did not make any design changes to Ultegra pedals when they upgraded the PD-6620-S SPD-SL pedal to the PD-6700s. To make changes, they'd probably have to re-vamp their entire pedal line-up. Besides, the pedal is pretty good already. The only change they made was updating the finish so it fits in with the finish on all the other components in the new Ultegra group.
As with the previous iteration, it's the same steel-spindled, aluminum bodied pedal with the composite cleat retention bar. The spring tension is adjustable. Each pedal runs on two sets of ball bearings. There is a steel plate atop the pedal so cleat rub will wear the plate without damaging the rest of the body. The pedal comes with the same SM-SH11 floating cleat (the one with the yellow wear tabs). The float is three degrees either way. Stack height is 13.7mm
The pedals come with a pair of cleats and mounting hardware.
Steel plate atop pedal body prevents cleat rub from damaging pedal body
13.7mm stack height for optimal power transfer
Three degrees of float in either direction for solid 'clipped-in' feel
Adjustable spring tension for easily dialed-in settings
They're Shimano! Been using Shimano pedals for over a decade, mtn, road they all work well. I like the wider cleat on this one (which tells you how old my other pair is). Moving my old Ultegra pedals to the rain bike! Can't go wrong with these.
Great service great price great products!!!!
Best pedal for price/weight... Tried and true design. No problems
I have ridden those pedals the last couple of years and they never let me down.
This is a great pedal with the same functioning as the Dura-Ace version. A perfect pedal and great option if the budget is not quite up to Dura-Ace. It has a great platform so you feel really sturdy on the bike...
These pedals are fabulous. Very simple to use. Durable and engagement is obvious. Looks great with my other Ultegra components!
I've had mine for years. They work flawlessly.
I bought these from my lbs when i got my bike, and they are my first clipless petal. The cleat/shoe interaction is pretty simple and straight forward. The engagement action took me a little to get use to, but it is becoming somewhat natural. I never question where i am "clipped in" or not, there is a definite click, and an instant engagement. The float is nice, but i think cleat placement on the shoe is more important to comfort than float. If anything happens after i put some serious miles on them i will update, but from initial use, i expect them to be the typical high shimano quality and perform well over their life.