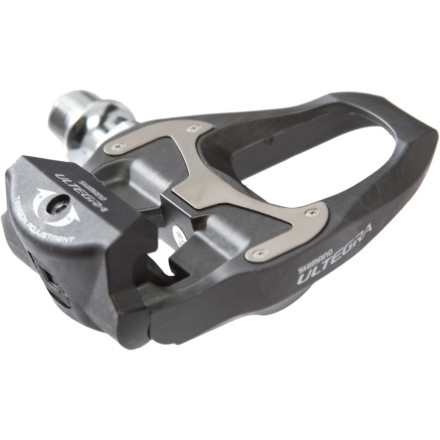 The latest in Shimano's Ultegra SPD SL pedal lineage, the Ultegra PD-6700-C SPD-SL Carbon Pedals forego aluminum for the main pedal body, instead relying on a carbon fiber composite structure, just like their more expensive Dura-Ace counterparts. These carbon Ultegra pedals are 60 grams lighter than the alloy versions.
Even with the new weight savings, Shimano has ensured that these pedals still deliver the same blissful retention and instant release that we've grown accustomed to with SPD-SL pedals. In fact, the retention mechanism hasn't changed.
The carbon composite pedal body is molded onto a machined aluminum sleeve that houses the two bearings in each pedal. The whole assembly spins on a stainless steel spindle. The new pedals retain the replaceable stainless steel wear plate that sits atop the pedal body, and it supports the SPD SL cleat for maximum lateral stability and allows a hard surface for your cleat to float against for efficient bio-mechanics.
The Shimano Ultegra PD-6700-C SPD-SL Carbon Pedals come with a set of SM-SH11 floating cleats (the ones with the yellow wear tabs) and all necessary mounting hardware. The float is three degrees in either direction. The stack height is 13.7mm. And as always, the retention preload is adjustable to allow you to dial in the perfect entry and release tension.
13.7mm stack height for maximum power without crossing go
3 degrees of float allows for minimal clipped-in movement, while still allowing the rider freedom
SM-SH11 (floating) cleats included
SM-SH10 (fixed) cleats as option
Reliable Pedals
Familiarity:

I've put it through the wringer
Snagged a pair of these pedals for my latest road build, and they're everything I could want in a pedal for my race bike. Lightweight, durable, reliable and with plenty of stiffness for an efficient power transfer. A true compliment to the eloquence and finesse of your ride.
Excellent Pedals
Familiarity:

I've put it through the wringer
The pedals are light, trouble free and stiff. I love the huge platform. I feel like I have great power transfer. No need to step up to Dura-Ace with these pedals.
Awesome constructions, very durable and minimal weight! Carbon build is very very strong!
Tough construction
Familiarity:

I've put it through the wringer
The carbon construction seems be tougher and vey very scratch and ding resistant. I have the aluminum Ultegra pedals on the other bike and they are about the same age, the aluminum ones look kind of beat up now. Part of it because the brighter color on the aluminum makes every scratch very visible.
Ultegra PD-6700-C SPD-SL Carbon Pedals
Excellent!
I never thought too much about the difference a great light pedal would make when riding. All I can say is WOW! Nice and little yet strong for heavy resistance. Definitely going to buy another set for my other bike
Will these pedals fit on old (1979)...
Will these pedals fit on old (1979) Stronglight cranks? I have an old Peugeot PX10-LE I'm trying to get into riding condition.
Pedal threads are identical in all old and new cranks, unlike bottom brackets.
I have a 1974 PX10 with Stronglight cranks. I bought new pedals after being assured that all pedal threads are the same. Well, they're not all the same. However, the pedal side on old French threads is bigger than the modern standard, so you can make a one-way transition to modern threads by having the crank side retapped. Worked for me. Most good bike shops should have the tap.