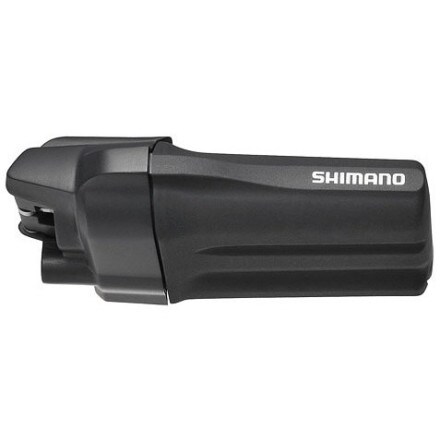 Description
Long lasting power.
The Shimano Di2 SM-BTR1-67 battery mounts securely, lasts long, and lets you know when it needs a charge.
Shimano's Di2 Groupsets are the greatest invention since sliced bread. Well, maybe not that great, but its performance is touted by cyclists lucky enough to call it their own. But, to keep it working the Di2 SM-BTR1-67 battery is a necessity.
This batter is mounted on a bracket that works in direct conjunction with a water bottle holder. The mount remains on the bike while the battery is removable for recharging. It is a lithium-ion battery that
This is the one common item between all of Shimano's Di2 groups - the Di2 SM-BTR1-67 Battery. Call it Ultegra, call it Dura-Ace, but we'll call it the one you'll need. It's a rechargeable lithium-ion battery that mounts on a bracket designed to work with bottle cage mounts. The mount stays on the bike at all times, though the battery can be removed for charging. If you're concerned about battery life, don't be. After looking at other designs, Shimano incorporated a service light on the shift wire near the handlebar. The light is activated by holding the shift paddle for a few seconds. "Green" indicates a fully charges light and a "flashing" green indicates 50per cent charge. At 25per cent it will be red and finally when the battery is critically low, it will flash red. More importantly, is that when you are not shifting, the battery goes into sleep mode.
To put all that into perspective: the battery lasts from 600 to 1,500 miles depending on weather (colder means less life) and the number of times you activate it to complete a shift. On average, it last about 1,000 miles. As far as charging it, Shimano recommends once a week. It is good for about 300 charges-six years. Unless you are riding more than 1,000 between charge opportunities, you won't need a backup. And just in case, if it dies your derailleur will stay in the last gear you used. We recommend you downshift to a middle gear after every ride-just in case.
The Shimano Di2 Battery operates on 7.4-volts and is easily recharged with the Di2 charger (not included). Once discharged, it takes 1.5 hours for the battery to receive a complete charge. It uses lithium-ion technology to maximize output and minimize size.
1000 mile average life
Battery life indicator
Approximately 300 charges
1.5hr charging time
Bottle cage mount
Compatible with Shimano Ultegra Di2 6770 and 6870, and Shimano Dura-Ace Di2 9070
Di2 charger not included
Share your thoughts
What do you think of the
Shimano
Di2 Battery
? Share a...