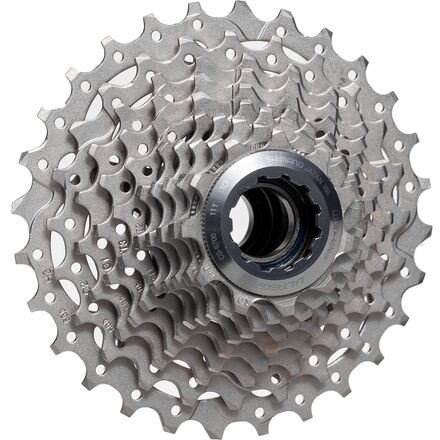 Colors
Description
Durable shifting.
With Dura-Ace being the creme de la creme of the Shimano line, why would you use anything else? Well, smart riders know that the Ultegra line reaps the benefits of Dura-Ace while giving you added durability. And while the Shimano Ultegra CS-6700 cassette is a bit heavier than its Dura-Ace brother, money saved by using Ultegra is easily translated into other weight-shaving components.
Now by a "bit heavier" we are measuring in grams, so the weight difference is negligible. The 6700 series is lighter than the 6600's and this means that the gap to Dura-Ace is slowly being closed. The largest few cogs are riveted onto aluminum carriers for durability. The ramps are stronger and designed to tighter tolerances than earlier versions of the Ultegra cassettes and the shaping has been re-designed for even faster shifting.
The Ultegra CS-6700 is a 10-Speed cassette. It is available in sizes: 11/23, 11/25, 11/28, 12/23, 12/25. It comes with an alloy lock ring. It comes in the color Chrome.
The 11/23 includes: 11,12,13,14,15,16,17,19,21,23. The 11/25 includes: 11,12,13,14,15,17,19,21,23,25. The 11/28 includes: 11,12,13,14,15,17,19,21,24,28. The 12/23 includes: 12,13,14,15,16,17,18,19,21,23. The 12/25 includes: 12,13,14,15,16,17,19,21,23,25.
Tallest cogs riveted onto aluminum carrier for durability
Variety of ratios for versatility
Share your thoughts
What do you think of the
Shimano
Ultegra CS-6700 Cassette
? Share a...