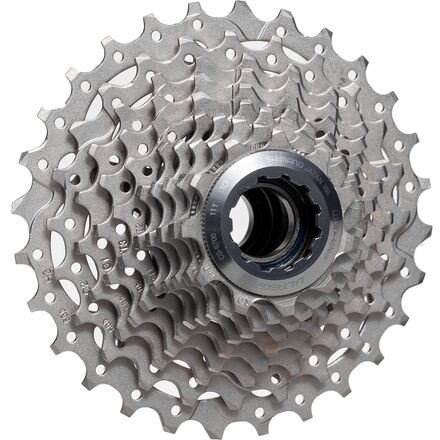 Colors
Description
Durable shifting.
With Dura-Ace being the creme de la creme of the Shimano line, why would you use anything else? Well, smart riders know that the Ultegra line reaps the benefits of Dura-Ace while giving you added durability. And while the Shimano Ultegra CS-6700 cassette is a bit heavier than its Dura-Ace brother, money saved by using Ultegra is easily translated into other weight-shaving components.
Now by a "bit heavier" we are measuring in grams, so the weight difference is negligible. The 6700 series is lighter than the 6600's and this means that the gap to Dura-Ace is slowly being closed. The largest few cogs are riveted onto aluminum carriers for durability. The ramps are stronger and designed to tighter tolerances than earlier versions of the Ultegra cassettes and the shaping has been re-designed for even faster shifting.
The Ultegra CS-6700 is a 10-Speed cassette. It is available in sizes: 11/23, 11/25, 11/28, 12/23, 12/25. It comes with an alloy lock ring. It comes in the color Chrome.
The 11/23 includes: 11,12,13,14,15,16,17,19,21,23. The 11/25 includes: 11,12,13,14,15,17,19,21,23,25. The 11/28 includes: 11,12,13,14,15,17,19,21,24,28. The 12/23 includes: 12,13,14,15,16,17,18,19,21,23. The 12/25 includes: 12,13,14,15,16,17,19,21,23,25.
Tallest cogs riveted onto aluminum carrier for durability
Variety of ratios for versatility
I currently have a Dura Ace 7800 (10 spd) front and rear derailleur with a Compact front crank set (50/34). Would the Ultegra CS6700 cassette 11 x 28 work with my setup?
I have been asking my self the same question there are a few answers at this link - http://www.velocipedesalon.com/forum/f40/7800-cassette-supply-drying-up-27886.html



JR
Great Cassette
Familiarity:

I've put it through the wringer
I use the 11-25 on a DH bike and it works great. Shifts super crisp and is fairly light weight
Solid Shimano Performance.
Best for the Money
Familiarity:

I've put it through the wringer
I have used DA, Ultegra, Sram 1050/1070/powerdome and a few other smaller brands, and keep coming back to the ultegra. The higher end cassettes wear out too quickly, even for racing only my DA cassette was toast after less than one season and the Sram Red was not much better. Ultegra is the best balance between shifting performance, weight, and long life. For 85 bucks you really can't beat it. In fact i have an Ultegra 11-25 that i have over 30,000 miles on and its still truckin.
rock solid performance at reasonable $
simply works. not too heavy, very strong/durable, and the price isn't outrageous. i'm running dura-ace cranks on main bike, and ultegra cranks on my 2nd bike, both 53/39 with the 12-30 ultegra cassettes which give me some extra range, especially at the lower-end for climbing. the jumps on the bigger cogs in the cassettes are noticeable to the eye, but shifting is still very smooth with both bikes using Ultegra Di2 derailleurs. great all around product.
If you want to shed a few grams, then put that croissant down. No need for Dura Ace, and compared to Sram's older high end cassettes these Ultegra cassettes are much cheaper and quieter. Worth every penny, and when you can find them for around 50 it is even sweeter. Shifts are smooth and quiet.



I use Rival shifters, brakes, and rear derailleur with an Ultegra 12-25 cassette, Ultegra front derailleur, Sram Red 53/39 crankset, and yokozuna cables. Couldn't be more satisfied with the performance of my Frankengruppo drivetrain
Is this a 10-speed or an 11-speed?
Is this a 10-speed or an 11-speed?


10-speed. The 6800 series is 11-speed.
Solid and reliable
Familiarity:

I've put it through the wringer
My favorite cassette by far, great shifting and price allows me to have enough cassettes for training and race wheels.
I have a 50/34 compact front and 12/25...
I have a 50/34 compact front and 12/25 10-speed Ultegra CS-6700 rear cassette on a 2012 Cervelo P2. I'm not a small guy and struggle on some of the local IMWI hills. Would the 11/28 rear cassette work and do I need a new chain? Thanks for your advice! Peter
The 11/28 would work as long as it is within specification of your rear derailleur, may require a medium cage. Check your RD model number on shimanos site and it will give you that info. As for the chain, you should be fine.
Performance at the right price
Familiarity:

I've put it through the wringer
This cassette offers many different sizes for different terrains. I use a 12x23 on the flat roads where I live and a 11x25 when I travel to the mountains. The shifting is excellent and the price point allows you to replace the cassette as it wears out without breaking the bank.
Excellent
Familiarity:

I've put it through the wringer
I think I've said this before on other items but its true: Its Shimano! its going to be awesome. I've ridden Dura Ace, 105 and Ultegra and for the money Ultegra wins hands down. I went with 11-28 for cross season.
I have a FSA Gossamer 50/34 crank with...
I have a FSA Gossamer 50/34 crank with Ultegra 6700 Rear and Front Derailleurs. Will this cassette work on my bike (it is a 2013 Cervelo P2)? What gearing would you recommend for New England's hilly terrain?

Thanks,

CM
This cassette will work. Go for the 11 x 25. On a compact crank a 34/25 ratio will get you over the hilly terrain.
This is a fantastic cassette. It is very durable and light weight. I got the 11-28 to help assist in climbing our steep Utah canyons. The gear ratio is awesome and definatly helps to easy my achy, aging knees! It sucks getting old.
upgrade for my Pinarello FP Team
Gender:

Male

Familiarity:

I've used it several times
my '12 FP came with the 105 cassette and immediately upgraded to the Ultegra completing the drivetrain to full Ultegra components. I went with the 12-25 ratio that the stock set up called for.
Great affordable replacement for D-Ace
Live in Utah and spend a lot of time climbing, my bike came with Dura-Ace and I just couldn't bring myself to dish out the cash for an 11-28 Dura-Ace cassette. Really negligible weight difference and way cheaper. My last Ultegra cassette went 3 years commuting and was still fine when I sold my old bike. Best value in cassettes, unless you race for a living this is the one.
Will the CS-6700 11-28 cassette work as...
Will the CS-6700 11-28 cassette work as replacement for CS-4600 10 speed 12-30? What do you think about chain length?. Bike is full TYiagra compact double 50/34 up front.

TKS!
I would recommend that you consult your local bike shop mechanic (and you could be a nice person and buy him or her a drink in exchange for the advice). But if you are the "do it yourself" type... this would be a suitable replacement, you won't miss that 30 tooth cog. Ultimately, chain length will not be a problem, although you may have to shorten the chain slightly. Just ensure that your current chain is compatible with the CS-6700 (and isn't worn out). If it is significantly worn or stretched, get a new one.



That said, I would check the minimum capacity of your rear derailleur, verify that it can work with an 11 tooth cog (it probably can). The upper capacity won't be an issue since it currently manages 30 teeth. Hope this helps.


I pulled the dura ace 12-25 in favor of the 11-28 6700. Why? Because of price. Works just as well as the 7900 at 1/2 the cost. Sure it adds a couple of grams but to be honest I can't tell the diffrence. I wanted a 11 for the down hill and 28 for the climbs. I have loved having the extra high and extra low gears here in Utah. We have some good hills and I have a few extra pounds I haul around. All the rest of the parts are 7900.
Write your question here...I have a 52/39/30...
Write your question here...I have a 52/39/30 triple crank and a 11-25 cassette. I want to ride the GranFondo in Santa Rosa. Cadence is dropping quite a lot on practice hills. Will a 12-28 cassette work for me? Do I need a new chain?
Yes, the 28 tooth will help a bunch. However, if you have the cash, you would be better off with a compact double crank (50, 34). That 30 tooth front gear is not doing you any favors, and 39 is a few teeth too many. 34 front + 28 rear = mountain climbing status. Nothing will stop you!



If you stick with the triple crank and throw on a 12-28, you will need more chain. Good luck.
I have a Shimano Ultegra FD-6700 derailleur...
I have a Shimano Ultegra FD-6700 derailleur setup on my bike with a 53x39 SG-X crank. Can I run the 11x28 with this and if so, do I need to change my chain length? Thanks.
Yes, 11-28 will work well with your described kit. However, FD does not impact chain length. More importantly, what is the size of your largest sprocket in your current cassette? If it is anything other than 28, you may need to adjust your chain.
Good enough shifts, but some noticeable limitations when shifting under load. Understandably not Dura-Ace or SRAM Red, but I expected a little more from Ultegra.