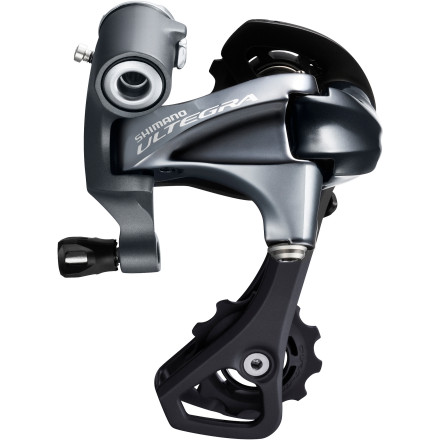 Colors
Description
An improved shifting experience.
Shimano's Ultegra 6800 Rear Derailleur got some serious upgrades from the 6700 series. It's more compact, lightweight, and features consistent shifting across the cassette's whole 11-speed range—a welcome improvement. A redesigned spring mechanism gives the RD-6800 an equal, positive sensation regardless of the direction of your shift, or the size of the sprocket that you're shifting to. There's no more feeling like shifting down is such a slog.
The Ultegra 6800 Rear Derailleur reduces shifting effort in the lever, connected by Shimano's proprietary, polymer-coated shift cable. The cable knocks out unnecessary mechanical drag and ups the shift accuracy improved by the redesigned spring. You'll find your shifting experience with the Ultegra 6800 groupset on par with Dura-Ace and Di2 systems.
Vivid Index Technology
Proprietary, polymer-coated shift cable
Handles up to a 32-tooth cog with the GS (long) cage model
SS (short) cage option available
Designed for use with Shimano's PTFE derailleur cables
Designed to work exclusively with the complete Ultegra 6800 component group
Are Ultegra 6800 rear derailleurs interchangeable with Dura-Ace 9000 rear derailleurs? For a bike with all Dura-Ace 9000 components, can the long cage version of this Ultegra derailleur be installed, along with the CS-6800 11-32 cassette to achieve lower gearing with a full size, or a mid-size crank-set?
Yes you can interchange these. All shimano road derailleurs are compatible with each other.
Silky smooth shifting!!
Familiarity:

I've put it through the wringer
I've been a long time 105 user believing that they get the trickle down technology from the Dura-Ace stuff, and you are always playing the trade off game between increased performance and increased cost.. After a test ride of new 11 spd Ultegra equipped bike I was hooked. This thing shifts smooth and quick. It's as good as Dura-Ace was a couple of years ago (again, the trickle down of technology). Plus, you get another gear! Combined with the PTFE cables this is one slick setup.
This is ok with 11-32 cassette?
is this derailleur ok with 11-32 cassette? Thx




can this be used on a 10 speed
can this be used on a 10 speed
This will not work with 10 speed. It is 11 speed only
Will the Ultegra 6800 work with a 2012 -...
Will the Ultegra 6800 work with a 2012 - 10 speed Tiagra system?
Yes, the indexing is in the shifter, not the derailleur. Be sure to adjust the H/L stops for your installation.