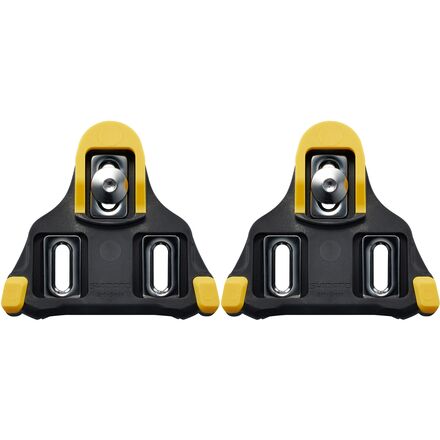 Colors

Community Images
Description
Step in with something new.
Shimano's SPD-SL Cleat Set includes two cleats and all the installation hardware you'll need. The cleat set is compatible with all Shimano SPD-SL pedals, including the Dura-Ace PD-7810 and the Ultegra PD-6620 models. The SM-SH11s are the Black/Yellow floating cleats with 6 degrees of float—this is the stock cleat that comes with the Dura-Ace and Ultegra SL pedals. Or if you prefer a fixed cleat with no float, there is the option of Shimano's Black/Red cleat, the SM-SH10.
Replacement cleats for Shimano SPD-SL pedals
Includes two cleats and all installation hardware
Black/Yellow floating cleat with 6 degrees of float
Black/Red fixed with zero float
The Yellow cleat gives you some floatability (but not an excessive amount), which for an avid mountain bike racer I am used to, and I like on the road as well. For road racers the red no float might be a better option depending.
The cleats are great and allow no slip rubber so you don't skate on the kitchen tile floor, or in line at the coffee shop (if that's your bag).

Arguably, pedal and cleat combinations are a function of price, and personal preference. IMO on the road they engage well with my Shimano Ultegra pedals and offer a firm, solid platform. I am pleased with the setup allowing me a nice setup for long days in the saddle, and shorter more intense training rides. Enjoy!
What is the difference between fixed and floating? I ride fixed gear
Some people prefer a fixed cleat, some need float, and most people don't know because nearly all pedal/cleat systems are floating unless you request otherwise. If you do go with fixed cleats, alignment becomes much more critical. It also depends on your personal physical characteristics and bike setup.
These Work, Replace Regularly.
Replacing your cleats is one of those small things that can really make a difference in your pedal stroke. Nobody likes a loose feel in their pedal stroke, and a brand new pair of cleats brings back a solid and confident feel. These do the job and are not very expensive.



Tip: to reduce wear an tear on one cleat, practice clipping out with a different foot each time you come to a stop, and avoid walking around whenever possible.
what can you say
Familiarity:

I've put it through the wringer
I go through a few sets of these every year, they do what they need to and the price is right.
Are these cleats compatible with the 9000...
Are these cleats compatible with the 9000 D/A pedals?

Thanks!


You would need item #SHI0664 for the Dura Ace 9000 pedals. They are slightly different.
Not much one can talk about on cleats. These work and entry/exit are easily performed. My only complaint are the cleats are rather easily worn down depending if you walk alot on them or are able to walk on your heels. Either way they work with the Shimano pedals and are easily found and bought. Never had one to break to date and it has been 10 years using this system. 4 stars because nothing special here.
Keep them on hand
Familiarity:

I've put it through the wringer
SPD pedals are great, but the cleats do wear out in about 1,500 miles. Keep a pair of these on hand, when you put them on it will feel like you just got a fresh straight razor shave and haircut, thinks are just right and tight.
If you have a pair of cleats that are worn out, but your pedals are still good to go get this now! Even if you don't need a set of cleats right away it is always better to get them now, rather than wait for disaster to occur!
I bought these to use on my commuter. Work fine, a little bit of movement makes them comfortable and the engage / disengage easily.
Can't Complain
Gender:

Male

Familiarity:

I've used it several times
It would be hard to review a cleat system without mentioning their partner in crime, the pedals.



I bought these to match up with some Ultegra pedals I picked up used. While we are in the dead of winter at the moment, I've managed to put a few miles on the system and can say that the upgrade was money well spend.



I came from the Time system of pedals and these cleats feel slightly lower profile and "grippier" when not clipped in to the bike. This is good for avoiding the embarrassing floor slips that are especially common in the wet winter months.



Engagement to the pedals is firm and obvious; you know when you are locked in. I elected for the yellow model as I prefer a bit of float in my cleat. Mounting hardware worked perfectly with my DMT shoes.
Unanswered Question
Can I use the cleats on an indoor spinning...
Can I use the cleats on an indoor spinning cycle? DC
for the shop : when do you plan to sell...
for the shop : when do you plan to sell RED cleats shimano ??? Thanks
Best Answer
Looks like they are available now :)
I like these cleats because it maintains my foot steady on the pedal. Thats important to me, you should feel comfortable and secure.
In my experience these cleats wear out very quickly. The yellow parts either wear down or snap off. A few years ago I converted to these from SPD cleats and I'm thinking that wasn't the best idea.
These are the best cleats ever, I have never felt so secure in the pedals before. I don't ever want to ride anything else again!
From all the research i did quickly they seem to need a Look Cleat but i don't know which one there is the older classic Look Cleat and the newer Delta Cleat you might try asking Schwinn. The Y may also have Cleats for Sale.