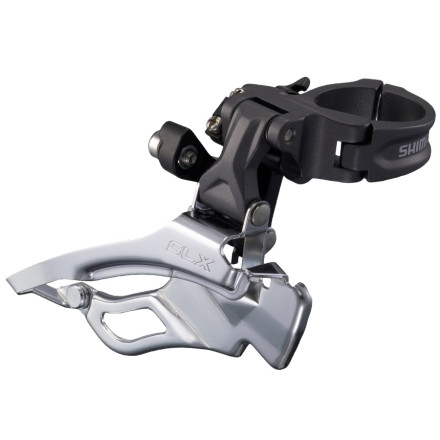 Lighter and more durable than the previous generation, Shimano's SLX FD-M661 Front Derailleur is designed for MTB triple cranks. What differentiates this version is the wide link design, trickled down from XT and XTR front derailleurs. What it means is longer lasting quickness of the shifts -- showroom wow, down the trail, a few years from now.
The SLX Front Derailleur has a compact cage design that gives additional swingarm and tire clearance, and angled limit screws give easier accessibility with various suspension designs. It can accommodate a maximum chainring size of 44 teeth.
The Shimano FD-M661 SLX Front Derailleur for MTB Triple is what we'd call a high-clamp or bottom-swing design. Shimano's Dual Pull lever arm allows it to work in harmony with top- or bottom-pull cable routing, and the Multi-Clamp will work with 28.6, 31.8, and 34.9mm seat tube diameters. This SLX Front Derailleur is designed to run specifically with 9 speed chains and cassettes.
FD-M660: for triple crankset, top-swing
FD-M661: for triple crankset, down-swing
FD-M665: for double crankset, top-swing
FD-M667: for double crankset, down-swing
FD-M660-E: (bottom bracket mount) for triple crankset, top-swing
FD-M661-D: (direct frame mount) for triple crankset, down-swing
What do you think about this product?
Have questions about this product?
Works great on my Trek Remedy
I replaced the big ring on my Trek Remedy with a bash guard; and replaced the middle ring with a 36 (up from 34). The stock derailleur wouldn't adjust correctly given the larger gap from my small ring (22). The FD-M667 was just what I needed to make a 22-36 ring setup work well with my bash guard.
I have this front derailleur on my Santa Cruz Heckler. I have had it over a year now and it is still holding up very well. I have had very few problems with this derailleur. It stays aligned well and shifts well most of the time.