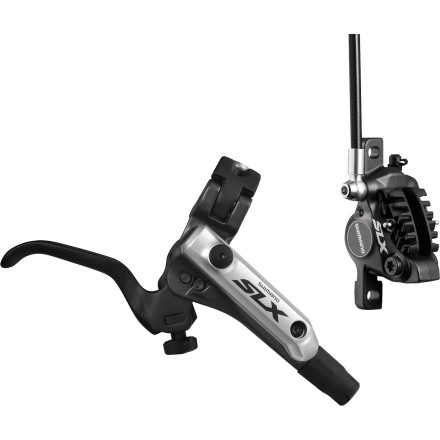 Colors

Community Images
Description
SLX Disc Brakes have the trail-taming power of Shimano's top-tier offerings, but they're optimized for value.
Gambling on brakes is a bet you can't afford to lose. Fortunately, the SLX Disc Brakes have the trail-taming power of Shimano's top-tier offerings -- but they're optimized for value. That means there will be something other than gum wrappers and lint left in your pockets.
To accomplish this, Shimano sources parts from those brakes up the totem pole, but opts for less expensive materials to keep price down. That's why the compact lever body of the SLX brakes looks nearly identical to its XTR sibling. You'll enjoy one-finger ergonomics, and Servo-Wave lever action too.
When comparing SLX to XT stoppers, the differences become even more negligible. SLX loses the chromed finish, as well as the free-stroke adjuster that's found on XT levers, but that's where the differences end. The compact, one-finger lever places the pivot closer to the handlebar than previous Shimano brakes, which increases comfort and simultaneously reduces hand fatigue.
Its Servo-Wave lever design provides a greater degree of pad movement in the beginning of the lever stroke, which provides the brakes with a firm feel. Deeper into the lever stroke, where the brake pad engages the rotor, the degree of pad movement is reduced. Basically, this provides excellent modulation, which you'll be thankful for, since these have tons of power on tap.
The caliper gets the same two 22mm diameter ceramic pistons as the XT version, and are chosen for their heightened resistance to heat. The stock sintered brake pads are excellent at managing heat buildup, however, if you regularly find yourself descending for an hour or more at a time, these are easily upgradeable to Shimano's IceTech finned pads.
The SLX brakes run on Shimano's propriety blend of environmentally friendly mineral oil, rather than the caustic DOT fluid found in many other disc brakes. This takes the hazard out of brake service, such as shortening brake lines or the occasional bleed. Speaking of which, Shimano includes a spare barb and olive, so you're able to shorten your brake lines in order to keep your cable routing nice and clean.
The Shimano SLX Disc Brakes are sold individually as both a front and rear and in the color Silver. They do not include rotors or brake adapters.
Solid
Familiarity:

I've put it through the wringer
Like everyone else has said... these brakes work great and are an incredible value. If you have extra budget and want more bling and/or less grams there are better options, but otherwise these are a no-brainer.
same feel as my XTs
Familiarity:

I've put it through the wringer
If you were blindfolded, you wouldn't be able to distinguish these from XT brakes. Shimano is making the best brake on the market at the moment, I love these.
SLX for the WIN.
Familiarity:

I've put it through the wringer
These are some of the best brakes that I have used for what I need them to do. They might not be as fancy as the XT, but for the price these really can't be beat. I was using Deore brakes before these, which are just fine, but upgrading to the SLX has been one of the best decisions I have ever made. Everything about these brakes makes them the perfect choice for a trail brake that always stops.

The one-finger lever is one of my favorite things about Shimano brakes and feels so good for my hands. Delivers plenty of power and doesn't make my hands tired. I also have small hands which is one reason I like the SLX brakes because they are so adjustable, I can make them fit the reach of my hand without sacrificing any of the pulling power of the lever.

Another thing that I really like about these brakes are the finned brake pads to help keep them cool while bombing down those single track runs. But that shouldn't matter since you shouldn't be using the brakes anyway. But when you need them, they will be there to stop you.

After riding SLX brakes, I won't go back to Deore. For the price you pay, these brakes do everything! Just buy them already!
Stopping Power
Familiarity:

I've put it through the wringer
Best brakes you can buy on a budget. Perform just as well as the XT's at a cheaper price. Virtually no fade when teamed up with ICE Tech rotors. Can't say enough good about these so I won't just buy them!