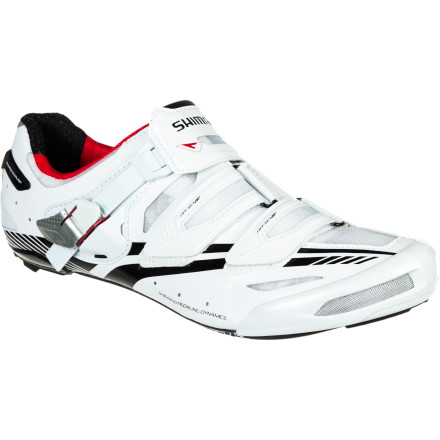 Description
The new age of efficiency.
It's a rarity that one shoe can combine comfort with rigidity. After all, by definition, the two are at odds with each other. However, not every shoemaker has the pedigree or the ambition to innovate that Shimano does. And for its latest top-tier offering, the SH-R320 Shoes, Shimano pushed past the limits of comprehension. The ideology was simple: redefine drivetrain efficiency at its initial source, the feet. And with heat-moldable insoles, customizable uppers, carbon fiber outsoles, and the new Dynalast technology, the SH-R320 achieved Shimano's goal with power, poise, and ease.
So, you probably asking yourself how the R320 has outpaced the already venerable SH-R315? Well, Shimano's newly developed Dynalast technology played an integral role in this achievement of placing 'power to the pedal.' With a unidirectional carbon fiber weave, this outsole increases efficiency while still allowing a calculated level of flex. This is possible due to the sole's variable stiffness and density that accommodates the movements of the arch. But, if you're an R315 owner, this is probably all sounding familiar. But, new to Dynalast is something that you don't have, a hollow channeled carbon outsole. This design is multifunctional -- increasing surface area, heightening rigidity, and concurrently, decreasing weight. Dynalast has also helped to redesign the heel cup of the R320. Now, it features a carbon reinforced, nylon monocoque cup that contributes to an increased level of stability, while also strengthening the shoe's hold on the foot. This is essential, as most pedal efficiency is lost from heel slippage. However, through the combination of the increased outsole stiffness and the newly secured heel cup, when compared to its nearest competitor, Shimano claims that the R320 experiences a 5% reduction in lost pedal efficiency. In more tangible terms, this equates to five seconds of gains over 25 kilometers. And in even simpler terms, this means free speed.
Furthering this power transfer are the R320's securing straps. The shoes feature two asymmetric, hook-and-loop straps that allow you to control the shoes' internal volume. Shimano has given these a broad, angular, and offset design that makes them simple to grab and adjust while in the saddle, should you need to make any on-the-fly adjustments. Controlling the overall tightness and security is a Shimano micro-adjust, ratcheting buckle. This system allows you make incremental adjustments with an elongated ratchet fixture. And when examining all three straps, it becomes obvious that they all work in unison with the R320's anatomic, Dynalast last design. This means that the entire shape and structure of the shoe has been mapped to conform to the male cyclist's foot throughout the motion of cycling. And if you require even more conformity, the uppers are even customizable through Shimano's heat-moldable Custom-fit technology.
And along the lines of the uppers, Shimano used its new stretch-resistant, Rovenica synthetic leather for the support structure. This material is similar to other high-end synthetics in that it's more durable, lighter weight, and better to look at than traditional leather. To keep your feet cool, Shimano placed ultralight open mesh at the points of ventilation. Additionally, the R320 features a large ventilation channel between the outsole and the toebox. And in all honesty, we can't think of a more effective ventilation design that's in use today. Even better, Rovenica and the mesh work in cooperation to keep the elasticity of the shoes extremely high, while providing the utmost in breathability and moisture management. Going even further into the realm of comfort, Shimano has designed the cleat mount to include 11mm of extra fore and aft cleat adjustability. So, you can now create the most comfortable and efficient power interface in Shimano history.
And of course, no top-tier Shimano shoe would be complete without Shimano's customizable, heat-moldable insoles. This system allows you to conform the insoles to a custom mold of your feet. This brings obvious advantages in both comfort and arch support. And over the long leg in the saddle, your custom shape will nearly eliminate the threat of abrasion.
The Shimano SH-R320 Shoes are available in whole and half sizes from 36.0 to 50.0 and in the color White. Please note that these shoes are only compatible with standard three-hole road cleats.
Share your thoughts
What do you think of the
Shimano
SH-R320 Shoes
? Share a...
Best shoes on the market
Familiarity:

I've used it several times
I've been wearing the custom-fit Shimano's since the r300's came out. They keep getting better. Out of the box the fit is amazing. Supple upper, great support and nice adjustable arch. Great ventilation. Nice stiff sole. No hot spots on your feet during long rides. I highly recommend spending the extra $50 or so a shop will charge to have these heat molded to your foot. They are unbelievably comfortable after this process. In my opinion (and for my feet) better than anything else I've tried. I've tried Sidi 6.6's, high end Diadora's and a few other brands but Shimano's are consistently the best.

They also last a really long time.
Awesome !!
Familiarity:

I've used it several times

Fit:

True to size
Well worth the extra money to get a top level shoe, good ventilation and fit.
Excellent
Familiarity:

I've put it through the wringer

Fit:

True to size
Love these. I was looking for a shoe with a tall toe box as my SIDI Genius shoes were creating sore spots on the top of my toes and it hurt... a lot. These have completely solved the problem. Love the fit, light, comfortable, no complaints.
These are really special
Familiarity:

I've put it through the wringer
I had been riding in 315's for almost two years. The 315's were legendary (and a favorite in the pro peloton). I didn't think they could be improved. They have been! And not just by a little.

The new 320's are significantly lighter, feature a better heel cup gripping system, better walking pads (beefed up in the rear), the Dynalast system has been fine tuned, and the sublime hollow-channel, cross-weave carbon fiber sole is as light and effective as ever (now in matte carbon). In addition, and this was key... the structural support/design along the interior arch has been much improved -the only real weakness of the 315's.

It is two other features, however, that set these shoes apart from the rest and makes them really special.

(1) An unrivaled Ventilation system. The 320's feature a metal mesh "grill" in the front combined with breathable inserts throughout the upper (and one in the sole) to facilitate flow-through ventilation. This feature keeps your feet drier, cooler, and less clammy. It makes a very noticeable difference, especially during hard riding even in mildly warm weather.

(2) The 320's also feature a very roomy, wide toe box so that you can power "down" without constriction or pinching of your toes or forefoot. I can wiggle my toes fully; yet the heel and midfoot is totally locked in. Thus, I can power down flat for full power. And my foot is cooler and drier. Fantastic.

Let's face it, a top-of-the-line road shoe from any of the Big names is usually a really good shoe. But, the fact is there is -nothing- out there quite like these Shimano 320's. If Shimano 320's are in your cycling budget, buy them. You won't regret it.

FIT: Shimano 320's are certainly wider in the forefoot than regular SIDIs. The 320s will fit an average to slightly wide foot very well.
Comfortable so far and great under power
Familiarity:

I've used it several times
I haven't had these long, but I've been pleased so far. I have a normal arch in my right foot and low arch in my left. The mid/small insert has worked well with both feet. These shoes are super stiff (similar to the Bont Vaypors I tried) and in my opinion stiffer than 2013: S-works, Giro Factor, and Bontrager RXL all of which I've tried recently. I don't know if it is the dynalast system or not, but these shoes felt seriously springy (not flexible, which would be bad) under hard standing efforts. They are definitely pro-quality. I don't know how they compare weight wise to the other shoes I've had because I am a heavy rider and don't pay attention to grams, but they definitely felt light on my feet. Some people have said these are not good winter shoes, but riding in typical March weather 40-60 in NC I have not noticed these as any warmer or colder than other shoes. The mesh doesn't add a noticeable amount of wind, but I suspect it'll help to dry the shoes faster overnight after a rainstorm or extra sweaty summer rides. I definitely recommend these shoes, but only if they feel comfortable out of the box. Heat molding the insoles didn't really do anything, and heat molding the uppers only makes them tighter (the only advantage being the heel cup tightening). This heat molding isn't like the change you get with the Bonts where you can see the heel and sides move around. On the other hand, the insoles are really high quality (much better than Bont and better than Giro's x-static kit). They are a little higher arch than Specialized BG which is also a very good insole. And they feel similar to Bontrager's inform insoles (though I didn't try molding those). Shimano doesn't have the metatarsal button. The huge downside is price (I picked them up from Compt Cyclist while they were on sale), but if you're looking for a comfortable race shoe and not just a slab of carbon to wear for 5-6 hours a weekend these are it. There's a reason these are so popular in the pro peleton.
It's Right for Me!
Gender:

Male

Familiarity:

I've put it through the wringer
This Shimano R320 shoe feels light and my foot is ninety percent more comfortable than my second choice, Tarmac, since I don't have to reach down about every hour and tighten a loosened boa knob. The R320 is a very well vented shoe so be sure to have a pair of windbreaker shoe covers in your bike wardrobe for those cold long rides. This is the first time a bike shoe fits my foot like a fine glove fits your hand, you just do not notice it's even on you. Great job Shimano! Lets just hope I'll always keep white shoe shiny new looking, oh no, where's my cleaning rag?
Light, stiff and comfortable
Familiarity:

I've put it through the wringer

Fit:

True to size
I am coming off of custom road shoes - they were going to be almost impossible to beat for fit and weight. These did the job. they are really well ventilated (not a winter shoe, for sure), very light, and the power transfer is excellent. They fit my foot very well, with no slipping in the heel.
Unanswered Question
Do you know where I can get replacement...
Do you know where I can get replacement insoles for these shoes?
They got it right!
Gender:

Male

Familiarity:

I've put it through the wringer
In recent years I tried the 310's and 315's, but they just never fit right. I've had serious foot issues the last few years, so bad I had to use custom orthotics that were too thick for most shoes, and, while much better, it still wasn't perfect (and only certain cycling shoes would work with them).
After reading a bit about these and hearing good things online, I decided to give them a shot. No more orthotics. I've been using them since early January exclusively. I don't use my other shoes anymore and I haven't used the orthotics with these shoes at all. They got it right- the arch support, the design of the shoe, even the sole and the adjustable fore/aft.
Wow, just WOW! I love them- I don't even think about my feet anymore when I ride. They're comfortable. I haven't even had them custom molded.