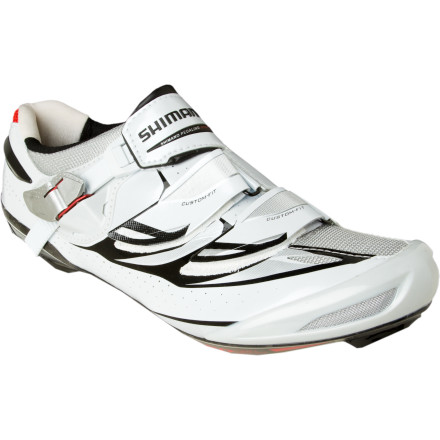 Detail Images

Community Images
Stick the Shimano SH-R315 Shoes in your oven, shove your feet in, and when they cool, they'll fit perfectly, thanks to heat-moldable insoles. A full-carbon soleplate ensures excellent power transfer, while the just-a-hair-over-500-grams weight means you'll hardly notice them while you're grinding it out in the mountains.
Hook-and-loop straps and a micro-adjust buckle allow you to dial in your perfect fit
Anatomically curved last for proper foot positioning and comfort
Rovenica synthetic leather is soft and pliable, yet durable enough for many seasons of use
Anti-slip lining keeps you locked down, even when you're leaving it all on the road
My first roadbike shoes
Gender:

Male

Familiarity:

I've used it several times
Just got into road biking and realized that your feet are important to keep comfy on long rides. Was reluctant to buy shoes online as i am between a 13 & 14 in street shoes. But this deal was so good i took the plunge and bought the 48 wides and they fit perfectly. Have put 200 miles on my bike and on these shoes in the last week & a half and my feet feel great. At this price you can't beat them.
The shoe is really stiff with a roomy toe box and very sharp looking. I had to return/exchange it because it ran a bit bigger but this shoe is a winner!
Quality, Comfort, SPEED!!!!
When I first received these shoes I was a die hard SIDI user and was dreading using shimano again. I have dura ace level two series before this. Everything was wrong with them, everything, color fit, external buckles, everything.

Sponsoring a pro team definitely paid off for them. With lots of input and research they redesigned these shoes and made them great.

first off they are unbelievably stiff, the buckles are off set and give a nice snug fit even on my narrow feet, secondly they look 100 times better. The most important thing that impressed me is how long they last. I am a neo pro and had no idea how to treat me shoes... I walked in garvel, ran, and just absolutely worked my shoes... they should have been broken in a month (like my last pair)

not only did they last longer then my other shoes, it was the first time I ever wore one set of shoes in a season! They have been wrecked in, they have had cleats pulled off and I have walked miles home due to a damaged bike and they still work now. I think they can keep going another season.

buy these, you will not regret it
I love these shoes. They are so light and so comfortable. Usually if you combine those two things, you are left with an under-performing shoe in terms of power transfer, but these shoes are super-stiff and all power goes straight to the pedals! There is also a non-slip thingy in the heel cup which really works well. I love doing these shoes up as tight as possible towards the end of a race, and they remain just as comfortable.
Unanswered Question
Do you ever have these in stock in size...
Do you ever have these in stock in size 42.5?
Does the SH-R315 come in a wide width for...
Does the SH-R315 come in a wide width for size 44?
It does, we just don't have that size in stock right now. Check out the R240, it is in stock in the 44 E. http://www.realcyclist.com/shimano-sh-r240-custom-fit-cycling-shoe-mens
Is you feet are really wide i recommender go with a 44.5, but is you used a 44 in other normal cycling shoes, a 44 shimano will fit you remember this shoes at custom.
These are what I'd call the best shoes on the market. Super comfy fit, if you have your own custom foot beds, even better! Very Stylish, easy to keep clean, Ive raced mine in the rain twice and they still look close to new. These are a must have!
Very light and well ventilated shoes. They can be customised a little bit, but they are so comfortable straight out of the box, that I don't think I will get anything done to mine. If you want a top end shoe, these are definitely a great shoe for you. The velcro straps are particularly great, as they don't have a "memory", and will go to wherever you want them - something else that helps them be so comfortable...
Very light shoe and comfortable. I would recommend it more for a wider foot. They look great too!