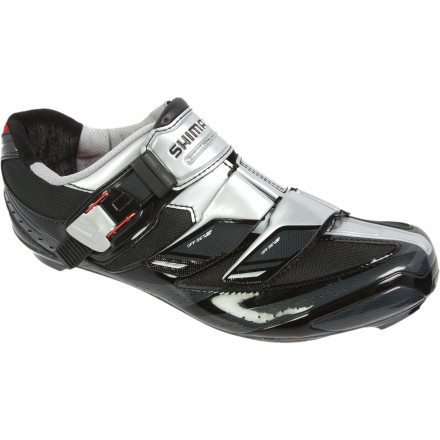 Detail Images
The Shimano R191 Cycling Shoe features synthetic leather and 3D moisture-control mesh uppers for slipper-like feel and maximum ventilation. A metal-fiber knitted lining reduces heel slippage to eliminate blistering and wasted energy. The carbon composite sole ensures optimal power transfer, while oversize micro-adjustable buckles ensure your feet are snug when it's time to attack.
ok and smooth ride on short rides only
Familiarity:

I've used it once or twice and have initial impressions
ok and smooth ride on short rides only but for longer rides like century ride (100 miles) or beyond 50 miles you will suffer with severe toe pains esp the little pinky toes on your dominant leg/foot.
SUCH A LOW PRICE! What a steal!
I haven't worn it yet though.
I can't believe I got these new for $110! Granted they were unboxed and from Ebay but that is amazing deal for such a high quality shoe. I often see them selling for around $210-$220 and I after using them I think they're worth that. The synthetic leather upper is soft but not too soft. You want some firmness and that's present. The carbon soles are very stiff and provide outstanding power transfer. The straps are ergonomic, highly adjustable, and easy to use. The shoe comes in half sizing and that's a huge plus because I was able to get the perfect fit. Overall the shoes are incredibly comfortable and a pleasure to wear. I've done 50-70 mile rides in them in very hot weather with no hotspots, numbness, or excessive sweatiness. My only suggestion is that a replaceable walking pad like what Sidis have would be nice.


Fit awesome, you can't go wrong !
They fit perfect I'm a 10.5 US and the 45 fits me fine.

You can't beat them for the price when they are on Sale. Picked up a pair for $110.00
I got these as a foul-weather shoe to replace my ten year-old Sidis. They seemed to be solidly built, with a secure, easy-to-use ratchet. However, I can't speak to the rigidity of the Shimanos' sole, or any other matter relating to power transfer, etc., since these went right back into the box after I tried them on. The glossy, plastic-like outer shell on the 'lowers', surrounding the metatarsal area, seemed overly rigid and unyielding, once the straps were tightened even slightly. This resulted in a pretty uncomfortable fit--for me, anyway. It might be okay for those with narrower feet, although mine aren't that wide. I thought about trying a half-size increase, but they fit well otherwise. I thought that they might 'break-in' after a couple weeks and wondered if I should hang onto them. Then I realized that maybe it's not so much that this shoe is uncomfortable. It's just that Sidi shoes are SO ridiculously comfortable. The outers totally conform to one's feet. No fishing line-and-knob set-up. No need to cook them in the oven. They just fit. I've worn many brands through the years and nothing compares.
Sweet Shoes!
Gender:

Male

Familiarity:

I've used it several times
Shimanos just fit me great. Offered in half sizes too. That combined with the quality of materials and nice look of these 191s makes them a great choice.