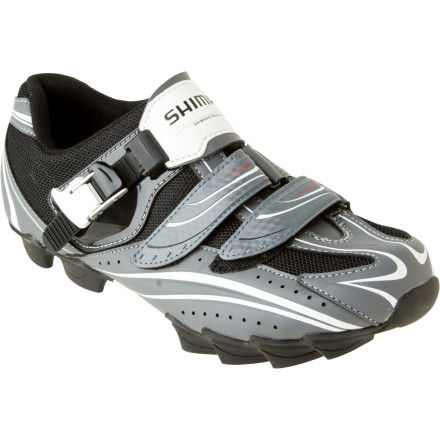 Detail Images
Dive headlong into the clipless world with the Shimano SH-M087G Shoes buckled firmly to your feet. The M087G features a synthetic leather rand mesh upper for three-season comfort, and a molded rubber outsole for excellent grip in almost all conditions. A combination of traditional hook-and-loop straps and Shimano's Micro-Adjust buckle let you dial in the fit and support you need. Reflective hits on the heel keep you visible to motorists, and two-hole cleat compatibility gives you a wide range of pedal options.
Unanswered Question
Are Shimano SH-mo76 shoes water proof?
Are Shimano SH-mo76 shoes water proof?
Unanswered Question
So I have had 48s of these for a while now...
So I have had 48s of these for a while now for road and MTBing, they are fine on the trails but after 20 miles on the road my outer arch absolutely is killing me. Is the pain in that location telling of a fit issue? Too small?



And one thing I have always wondered: how tight to you close a cycling shoe? I'm not sure if the pain is from being too loose or too tight.



Thanks!
Good, up to about 2 hours
These shoes are awesome for commuting, spin class, and short MTB rides. They're comfortable, wide, and reasonably stiff. They're not so awesome once you pass the two hour mark. After that, they seem to head downhill, fast. The thin insole takes its toll on your feet, and you start to feel the recesses in the plastic underneath. Awhile later, you feel the bolt holes for your cleats, and by the time you're at around 4 hours, everything hurts.
Basically, these are badass entry-level shoes, but if you ride a lot, you'll want something a little nicer.
So far I'm loving these shoes. They were comfortable from the first ride. Stiff platform. Excellent power transfer for an MTB shoe. The ratcheting strap keeps the heel planted. No blisters, soreness, or hot spots.

I ride both MTB and road and I wanted one set of shoes for both. The logical choice was SPD. I have a set of Shimano PD-M540 XC pedals on the MTB and Shimano PD-A520 touring pedals on the road bike. These shoes offer smooth engagement and release with both sets of pedals. Engagement is slightly more difficult on the touring pedals but they have a slight platform so that's to be expected.

Overall I'm very pleased with my purchase.
Shimano SH-M087G "It's the shoe's"
I've been riding in my spin classes with my shoes for a few weeks now! They are the best! Lots of control, very stable! I feel like I can ride for hours (back to back spin classes every week). If your looking for a shoe.....This is the 1!
Sizing info for great entry level shoe
FYI, a 50=14(US), 51=15, and 52=16. Those are different than standard EU sizes--I found out the hard way and had to exchange one pair for a bigger size since there's no sizing chart on this page for these shoes. Shoes are great, BTW. Flexible enough to hike a bike if you have to (with an aggressive tread to boot), but stiff enough to give you some extra oomph.
This is my first clip-less pedaling shoe. I got the 45 wide, which fits my foot well. The shoe is fairly stiff (especially compared to a walking shoe) and transmits force to the pedal very well. These shoes are quite comfy. The velcro straps and rachet buckles are easy to engage and easy to adjust. Soles give good traction on slippery ground. Plus, the price is good and these were on sale! I would highly recommend them as an enty-level shoe.
hello I wonder if you send bike shoes for...
hello I wonder if you send bike shoes for Brazil.Obrigado
Hey,

We sure can. Just add the item(s) to your cart and fill out the necessary shipping information to get an accurate shipping quote.
Is 21oz the total weight of a pair or each...
Is 21oz the total weight of a pair or each shoe?
Josh is correct. The 21 oz is the weight of an individual shoe. So combined they are 42 oz! Not bad eh?
Performance for a great price
With all the features of our high end shoes, these have been turning heads at only $115. It has all the necessities- a stiff fiberglass sole, anatomical velcro straps and a buckle, and an aggressive outsole.